I had just hung up the announcement, and was having lunch downstairs, when a van stopped, drove on … stopped … backwards … no, further … or just have a look … backwards …
People had already spontaneously stopped by to ask if the caravan was for sale
Then it just arrived. It was not for sale then. But now it is. Marco & Rita prefer the apartment when they're here, so the caravan has become redundant for them. Voilà. Whoever wants it can take it. Well, in exchange for some nicely colored banknotes of course.
"It's a Hobby" says Marco proudly
"Yes, or a way of life" I answer – but I misunderstand, because he means the brand. Ooooo! A Hobby, not a hobby! The best brand for caravans, I have now learned. I think it's a bit weird a name for a brand, but okay. You come across weirder. He also has a last name: Umfe Prestige. And a number: 650.

I receive a crash course "What is a caravan, what do you do with it, and how does it actually work?"

So in a few hours I know more about those things than I've ever known in my life. I was right though: it's a way of life. Fortunately I can now pass on all that wisdom to those people driving their van back and forth.
"It's a very big Hobby" I say with pride as I open the door. "Go ahead, are you okay with boarding like this?" (I forgot the step) It doesn't take the couple long to check it all out, because they know a lot more about caravans than I do, crash course and all. They're circus people, it turns out, so they live in those things.

"We usually get them in France," explains Sónia. "They are cheaper there than here, but if there is one here, that obviously makes a nice difference in driving back and forth. "You are quite good at that", I refer to their arrival; luckily the joke is well received.
"Hobby is a good brand" agrees the man of the couple
"But I'm afraid it's too big for us, and too heavy. How much does it weigh?" Look, ha! So now I know. "Sixteen hundred kilos" I answer, "and yes, you can sleep with 6 people in it."
Sónia points to a door: "That's the closet, isn't it?" Yes, a spacious wardrobe, a shoe rack underneath, shower, toilet – you have everything you need, but in a small size, and right next to each other.

You don't have to walk far in a caravan!

I walk with them to their van, and get a leaflet. They've just been to Verride, I see, that's not far from here. I went to a circus once when the kids were little, and I really enjoyed it! It was small, there were only a few people doing everything. The cashier was also the juggler, and did the snacks and drinks during the intermission. She was sawed through by the magician, who was also the dog tamer, and got the tent up (and down).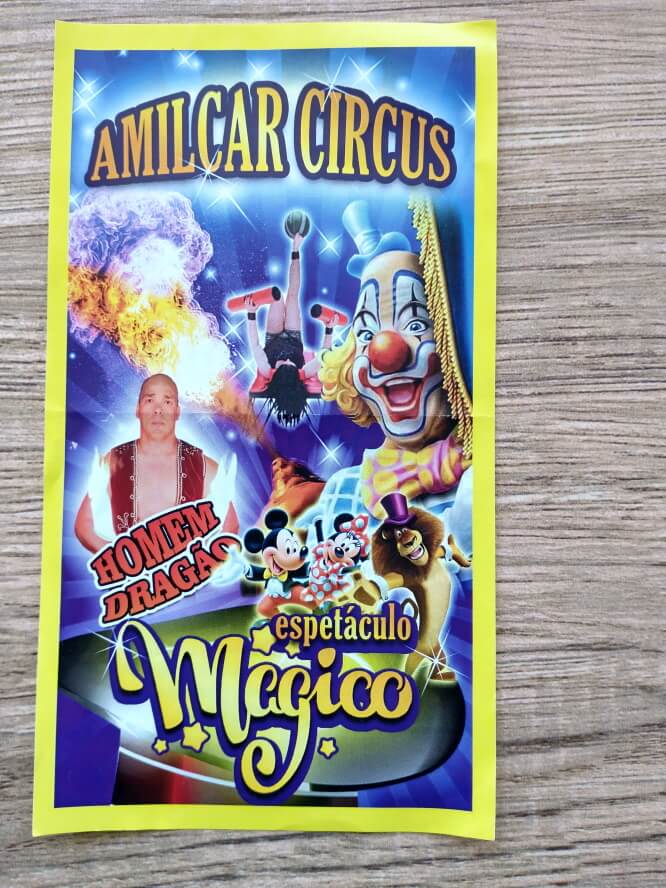 I'll certainly go to see them when they're around again. There's something magical about the circus
Anyway, this Hobby is not for them. Doesn't matter. I grab the photos and put an ad on OLX and CustoJusto. After five minutes (!) the phone rings. Senhor e senhora Carvalho. They are looking, and now they think they have found what they want. If they can come by tomorrow.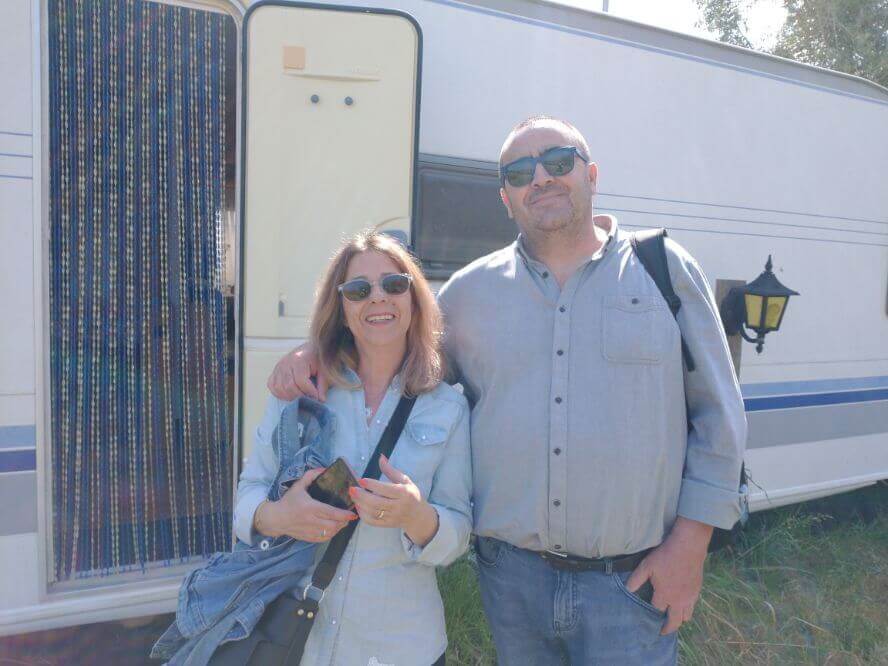 Immediately I have confidence in them. Senhor Carvalho sounds like a serious man. He's sharing his Facebook page so I can see who he is, what he does, and where he's from. They have always had a caravan, they are real outdoor people, but now live in São Martinho do Porto. That is a nice place with a cute little harbor, about 80 kilometers to the south.

However, the municipality has decided that they will close the campsite in order to have a project developer build things on it. That is financially much more profitable than leaving a bunch of weekenders there in peace and freedom. Oh, if only those stupid bureaucrats would realize that life is so much more than making money and inventing rules.

Then they would make life a little less impossible for people.

Fortunately, senhor and senhora Carvalho have now found their Hobby! As you can see in the picture, they are very happy with it. I am also happy that the caravan is being sold so quickly. And the old owners, Marco & Rita, are also happy because their Hobby is in good hands.
That's how happy you get when you have a Hobby!
.
We moved here in 2000 from Rotterdam, Holland to the Termas-da-Azenha, Portugal.
A big step, especially with two small children.
We are busy to rebuild one of portugals cultural heirlooms: Termas-da-Azenha, an old spa which has been turned into several holiday houses, rooms and a campsite.
You'll find mosaics and paintings everywhere.
Since 2018 we call ourselves the first B&B&B in the world – Bed & Breakfast & Bathrobes. You can buy a home-made unique bathrobe/housecoat with us.
Each week a little blog about what is happening around us. An easy read. A few minutes in another world. A little about what it going on in Portugal. If you plan your holiday to Portugal, it might be a nice preparation
You can subscribe to this blog- see at the right side of this page »
You'll get it every weekend in your mailbox.
On Sunday morning we publish it on our Facebook, on Instagram and on Pinterest.