Termas da Azenha
Holiday rentals in Portugal
The first and only Bed & Breakfast & Bathrobes in the world
About us,
about me
Hello! How nice that you are here to have a look! My name is Ellen, I have been living in Portugal since 1999 after we fell head over heels in love with the country back then. We – that is: my ex, my 2 sons and me – went all over the country to find out where we would most like to live. That has been quite a long process. There were also two small children involved, and then you are a bit more careful.
We ended up here, and I've never regretted it. These have been good times, although it hasn't always been easy. From the beginning of 2005, we separated and I have been managing this alone. I have raised my two sons here, and our little village has been renovated, refurbished, mosaiced, improved, and not to forget the most important thing: receiving guests.
We have done a lot with volunteers – except for installing electricity and breaking down very thick walls. I really enjoy making very large mosaics.
In this way, our village is increasingly becoming an attraction.
I like to make mosaics, as you can see, and what I often hear: "You can see something different in every corner." People like that. The overarching theme is fairytales, but often the lesser known. You can put a lot in there. And Alice in Wonderland is there too, as are the 101 Dalmatians. On the walls at the reception you will find the more famous archetypes from fairytales: the frog, the princess, the witch, the prince on the horse and more of those things.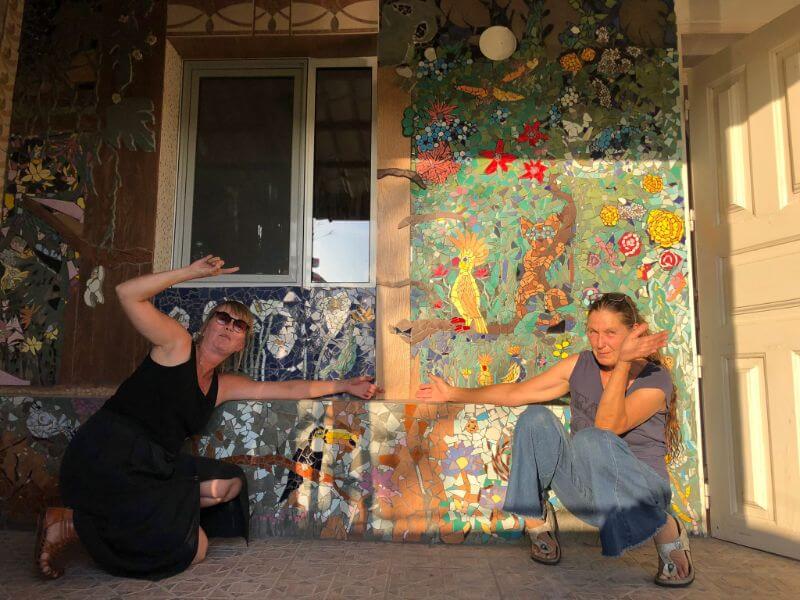 About us,
about him
Broes, my youngest son, has been working with me for years. He grew up here, together with the oldest, and stayed because he likes the outdoors more than living in a busy city. We have the space here so we don't get in each other's way. And working together is no problem; we have known each other for a while.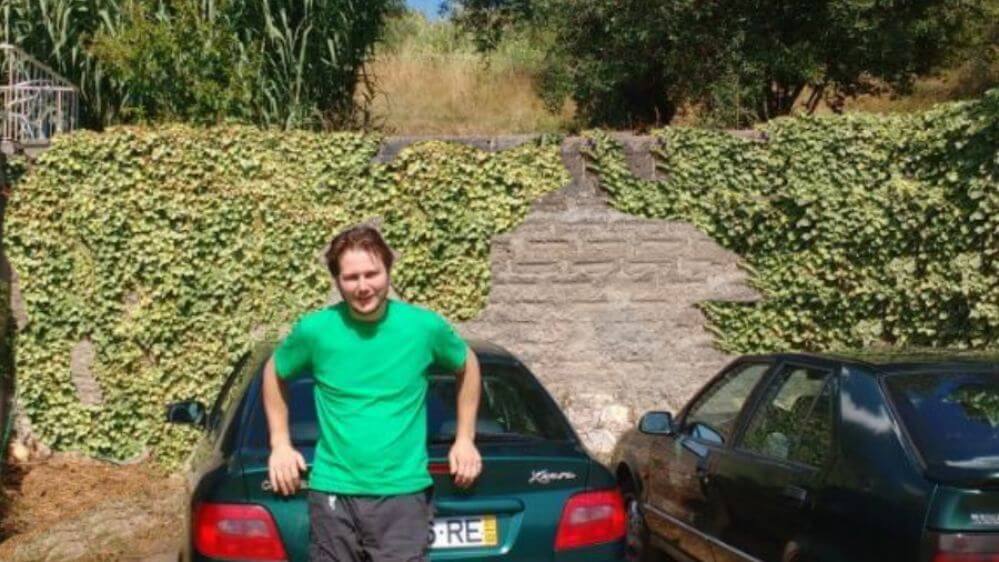 Broes does the heavy lifting – literally, because he has a little training corner in the big room of the bathhouse. A bench, a Roman chair, weights, bands, gloves – it's all there. If you want to use the equipment: talk to him.
If you need something else, you can also contact him. He speaks perfect English and Portuguese, and of course Dutch.
About us,
about you
The nicest aspect of this all is when you will go home happy and rested – weather the stay was for 2 days or for 3 weeks. We don´t do everything for you, it´s not an all-inclusive, but we sure do everything in our power to create a free, informal and relaxed atmosphere. Everybody can do whatever he or she wants (always within the boundaries of civilization of course), so if you want to chat having a drink on the terrace, or during meals, or if you prefer to stay private with your family – it´s fine.
Charge your battery at Termas-da-Azenha