Termas da Azenha
Holiday rentals in Portugal
The first and only Bed & Breakfast & Bathrobes in the world
Termas-gowns are bathrobes to live in!
celebrate your holidays in an oasis somewhere between heaven and earth

It seemed logical to add another B to our B&B. The B of Bathrobes. Especially in this day and age where everybody is supposed to be at home for the majority of time. Not always a good feeling to walk around in sweatpants. It's comfortable maybe, but it gives you a feeling of neglect, who cares, a feeling of indifference. These robes are comfortable, but you look great in them! No reason to panic if someone rings the doorbell – just put on your matching mask and show off.
If you see one that you like, click the button and follow the instructions. We uploaded videos on YouTube of most of them. When we received your payment through bank transfer or Paypal (please don't forget the name and the size!) we'll send it right away to you. Please allow 4 to 5 business days for the shipping. If you want a robe tailor made for you, contact us: info@termas-da-azenha.com. A tailor made robe will take about a week to make, and a few days for the shipping. Patiência ….
Our bathrobes are made by a portuguese seemstress, Gina, who adores sewing and is very good at it too! Ellen, the owner of the Termas-da-Azenha and creative millipede, likes to choose special fabrics and models. The combination of both results in a strong team.
We aim to make a unique robe for you – a piece of clothing that is so comfortable, that you will never buy another! A robe to live in. We only hope to see you as a customer again, when your coat is completely worn-out. Or if you just want another of course …
For now: scroll down to get an idea of how they could look. Interested? Mail to: info@termas-da-azenha.com or whatsapp: +351 – 916 589 145.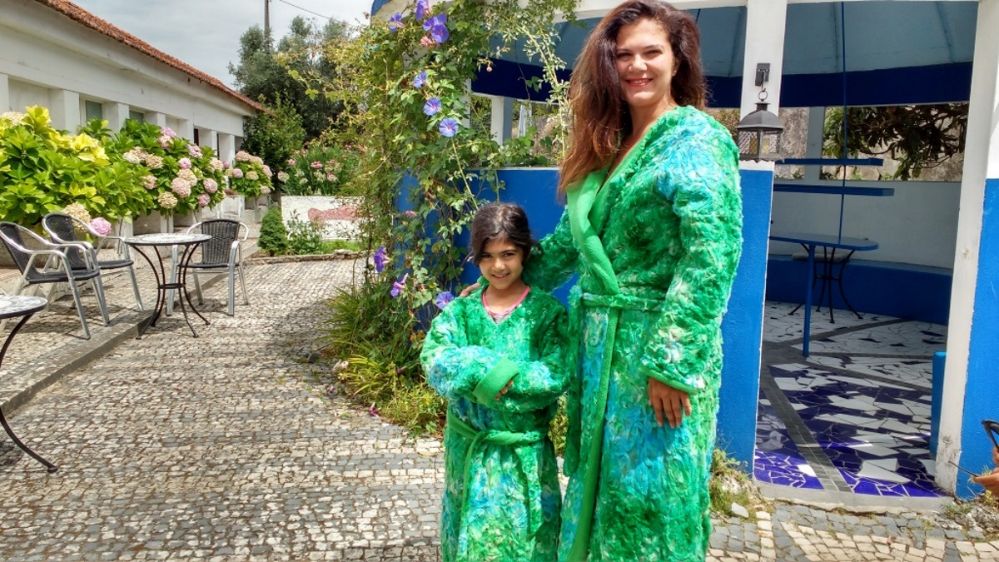 "Green Glitter", size M and S, bathrobes made of viscose and fleece lining. Together 120€. Size S 50€. Size M 70€. Plus shipping.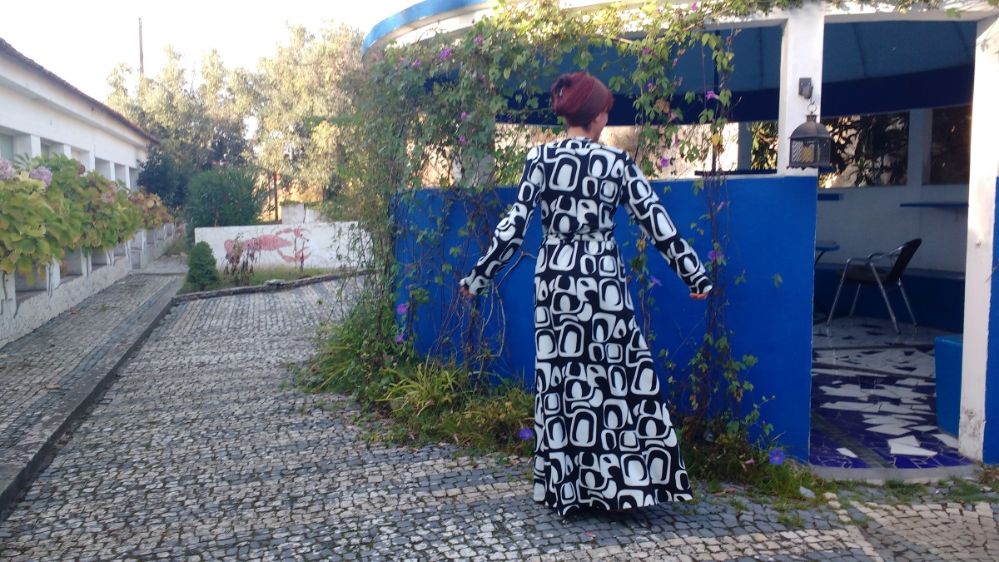 "Elegance", size M and L. One of the bathrobes of breathing polyester (no ironing) and fleece lining. 80€ Plus shipping.

We make unique pieces, that is to say: all these models are one of a kind, but they come in various sizes. So every unique piece comes in S, M and L.
If you want a housecoat, bathrobe, dressing gown tailor made for you, contact us: info@termas-da-azenha.com.
The models are shown by our greatly appreciated guests, who adored working with us in these shoots.
If you want to model: book a room and enjoy the experience. And if you want to try our bathrobes and housecoats in person, same thing: book a room and enjoy the experience. No obligation of course.
My sisters support this initiative in a way, that I thought it was appropriate to honor them in the company name: N.E.T. Enterprise.

We upload a new blog every Sunday morning. A few minutes in Portugal each week. From the comfort of your own home.
Beaches, castles, riverbeaches, hiking trails, overgrown ruines, cozy village markets, luxury shoppingmalls and lots of birds
Contact us if you want to know more or have questions. We'll gladly make time for you.