Termas da Azenha
Holiday rentals in Portugal
The first and only Bed & Breakfast & Bathrobes in the world
All the things you can do & enjoy in our little holiday village
celebrate your holidays in an oasis somewhere between heaven and earth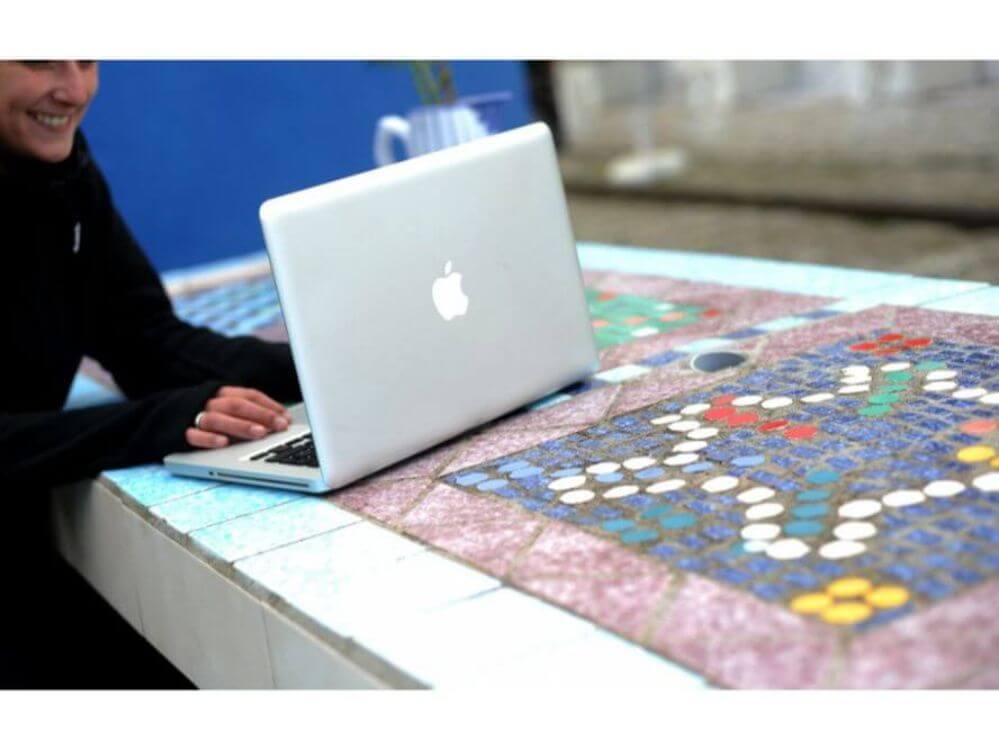 Holiday rentals and a B&B with good internet.
Free wifi in the rooms, in the houses,  on the village square, and even on the first part of the campsite.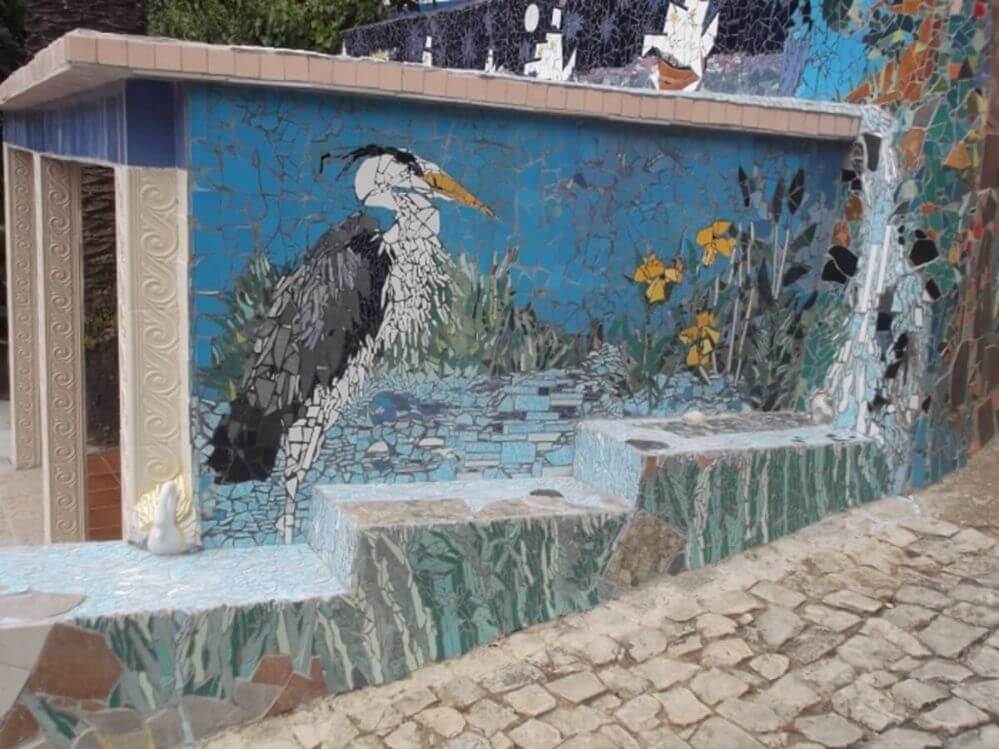 A few terraces with lots of mosaic around the old bathhouse. This is the Chessterrace.
There's the Fairy Tale Terrace, Alice in Wonderland and Elize and the 12 swans. All with a nice view over the fields as well.
The village square has lots of mosaics as well.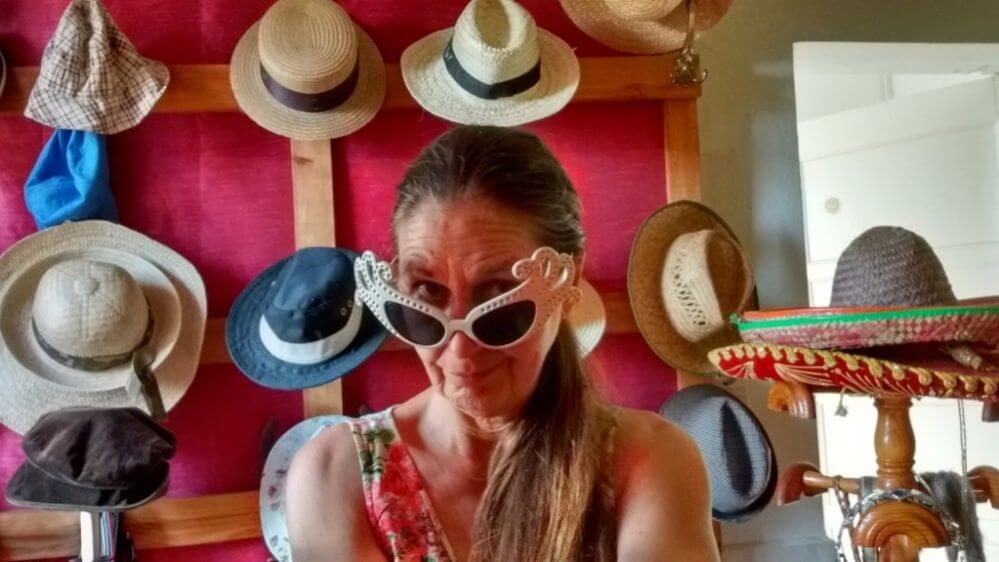 The Fancy Dressing Room – one of our unique especialities.
A room full with glitter dresses, pirate costumes, high heels, hats, and more.
Lots of fun, not only for children!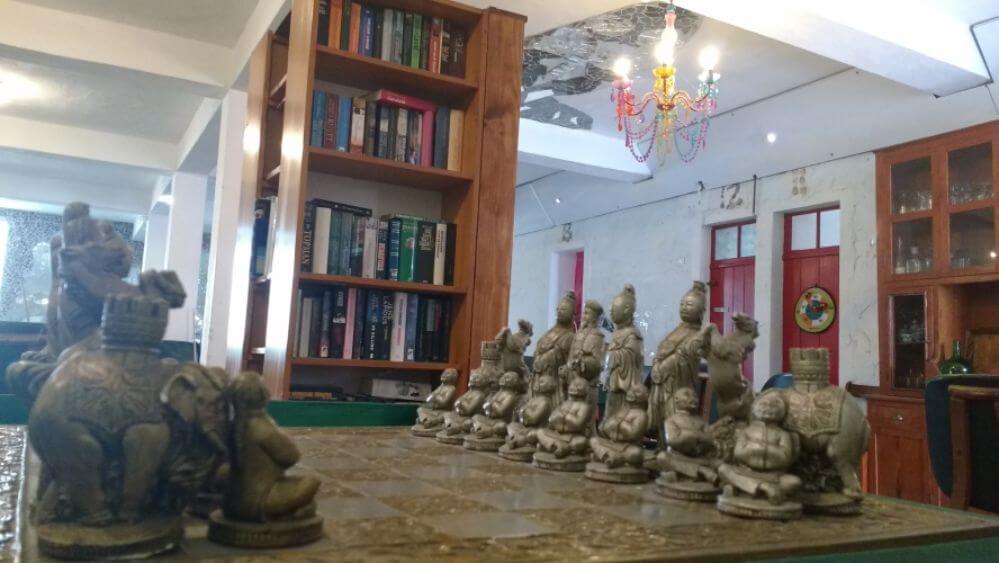 Dutch, english, portuguese books – you find the tower of books in the big room of the bathhouse.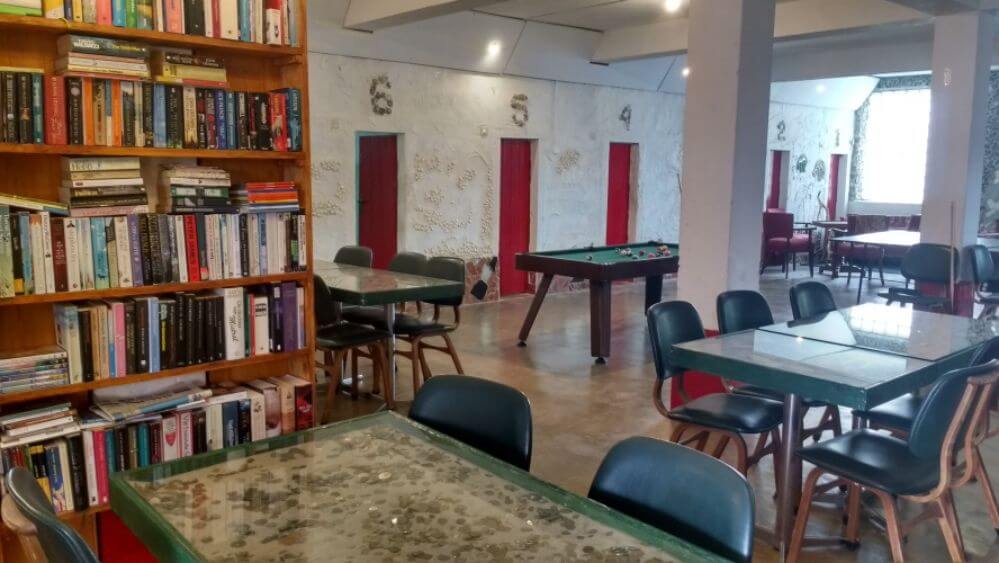 In the big room of the bathhouse you find pingpong, pool, foosball, the Fancy Dressing Room, boardgames, an antique chess set, books, the fitting room for the bathrobes, and a nice place to sit.
Cool in summer, warm in winter.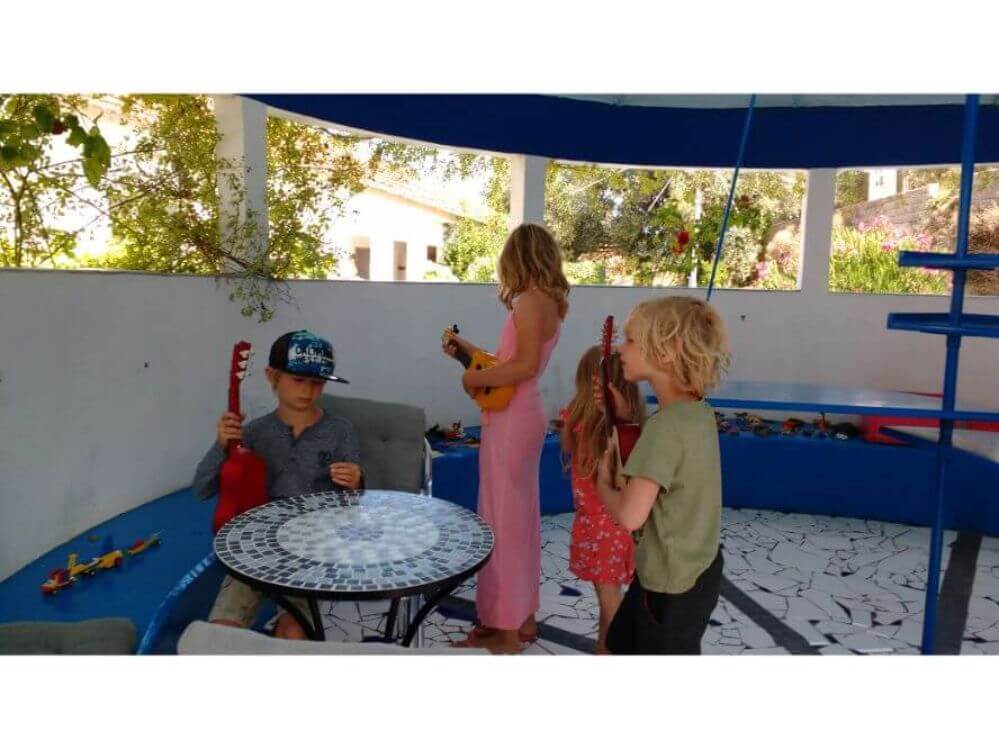 The Pavillion is a lovely shady place, where we put the Lego and the Duplo in summer.
If there are lots of dinnerguests, we sometimes serve dinner (type buffet) there.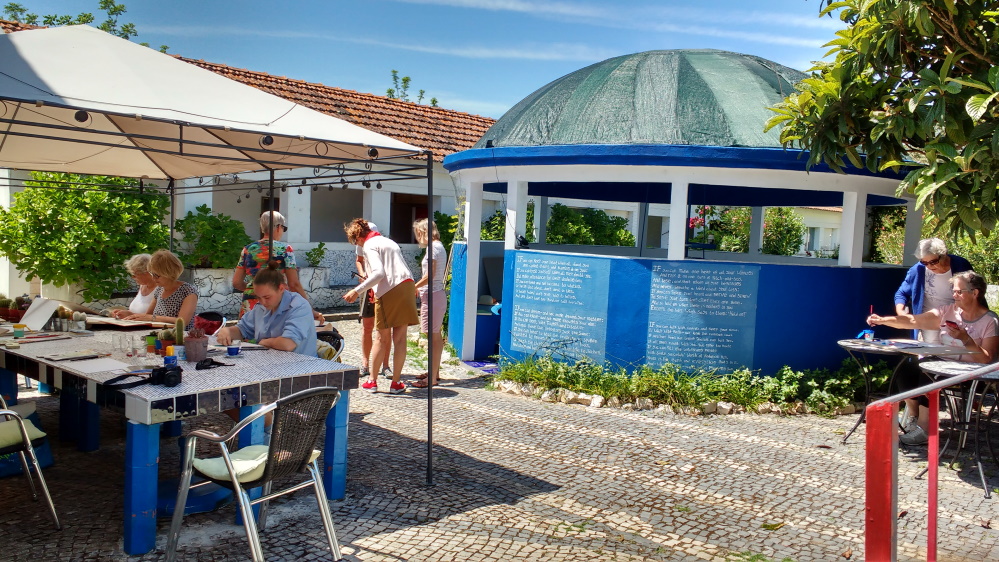 During the off season, we rent out the whole venue for groups, like this painting course. We had Tai Chi, yoga and mosaic workshops, organized by the course leaders, guided and catered by us. Also groups of scouts, cyclists, bikers, and big families found a hospitable welcome here.
Talk to us about your plans!
whatsapp: +351 – 916 589 145
Only possible in April, May, June, September and October.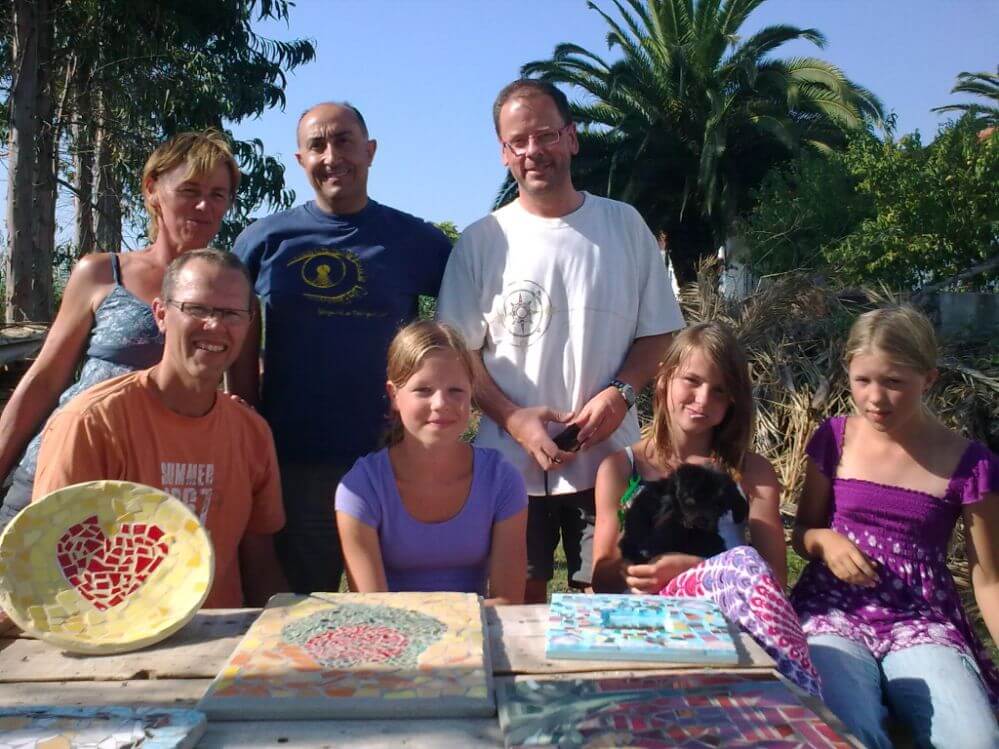 The 3 M's: meals, mosaic workshops and massage
Mosaic workshop (on demand) – a day of learning and making your own work of art is superfun, and you take a beautiful present with you.
40€, materials included.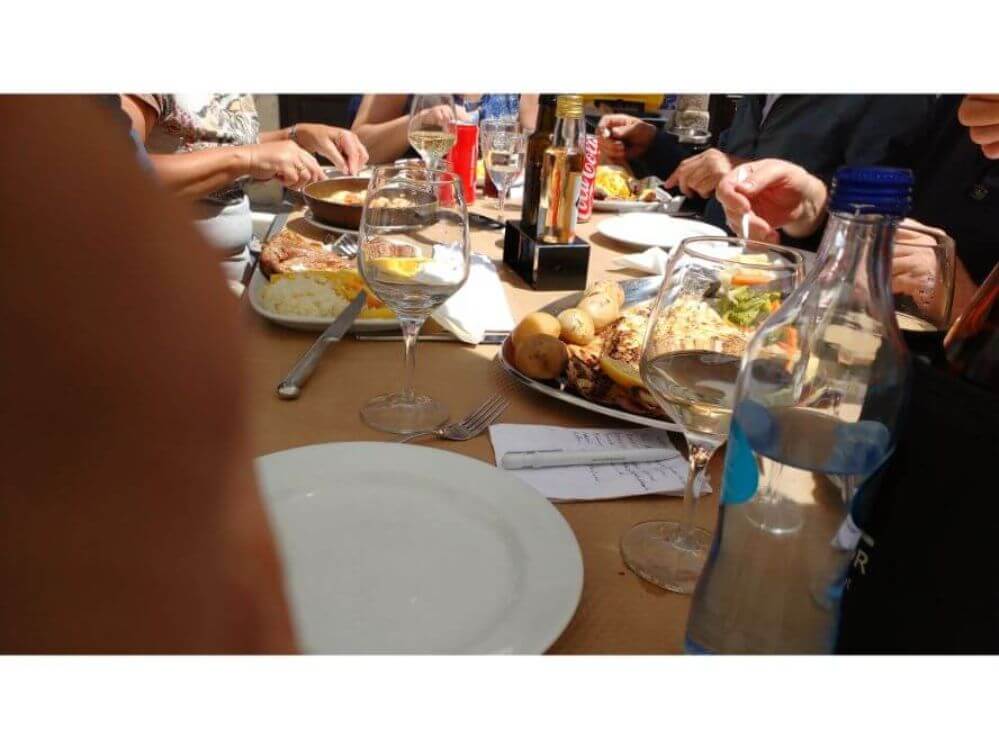 The 3 M's: meals, mosaic workshops and massage
In summer, we cook every day for our guests. You can book a nice meal on the day itself, but preferably before noon. There's place for 12 people. You can indicate what you don't and what you do want to eat. We do meat, vegetarian, vegan. Dinner means: main course, water, wine, dessert.
Adults: 10€, children till 6: 6€.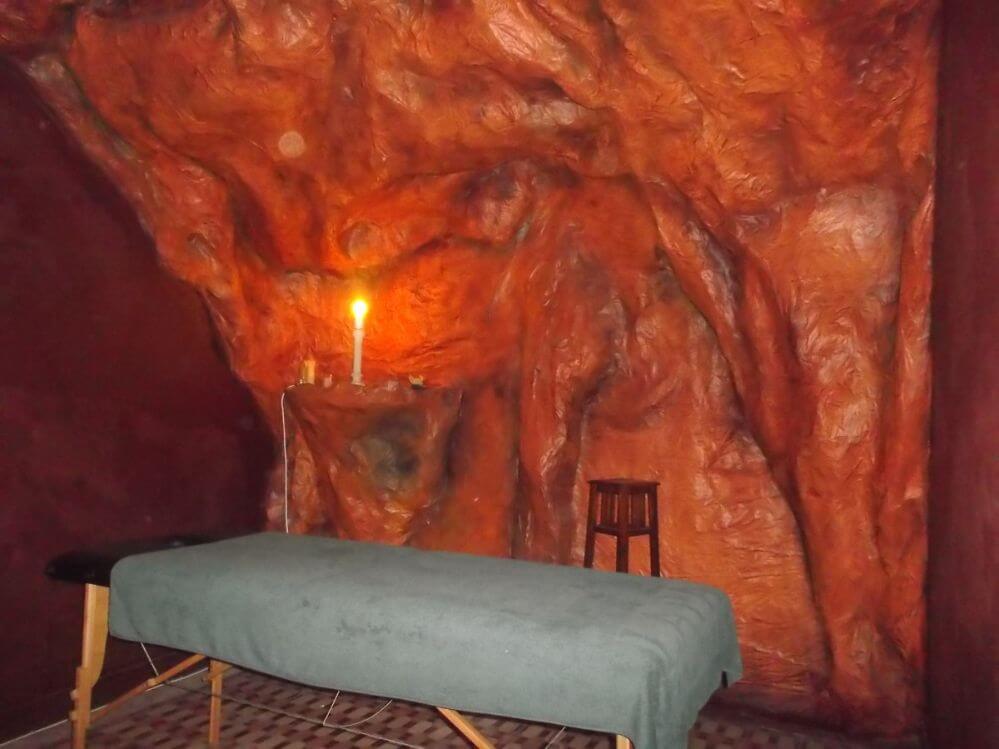 The 3 M's: meals, mosaic workshops and massages
A massage is definitely the best way to relax completely on holiday! We do relaxing massage, sports massage and shiatsu.
It's nice if you have a little bit of time. A massage takes 45 minutes to an hour, and costs 30€.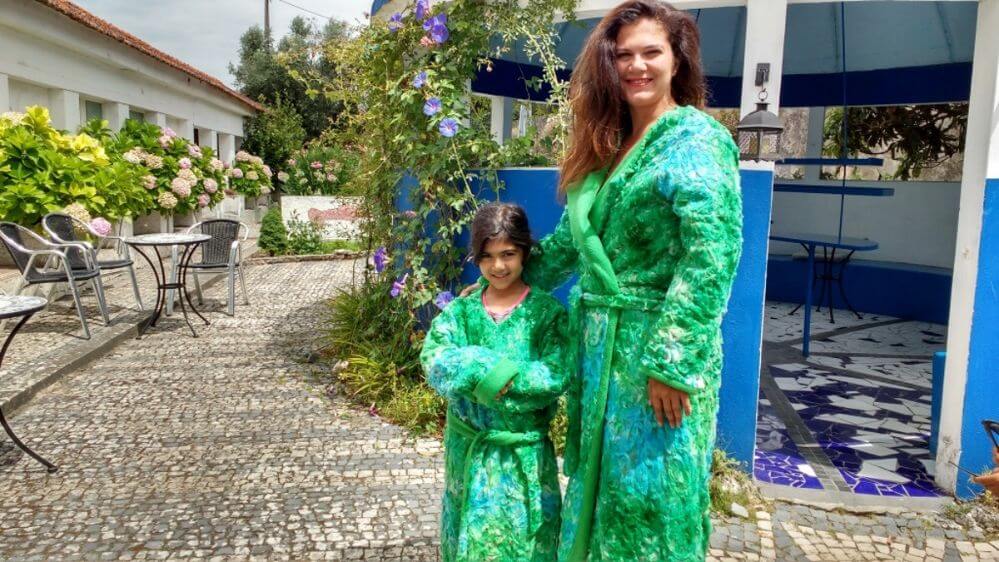 We design & manufacture bathrobes and kimonos – a nice extension of our B&B. This is the third &B.  There designed by Ellen, chief of Termas-da-Azenha, and sewn by Gina, a portuguese professional seemstress. We make our Unique Pieces or the TwoSided Ones (wearable on both sides). You can order a tailor made one. Completely to your own wishes. From 60€.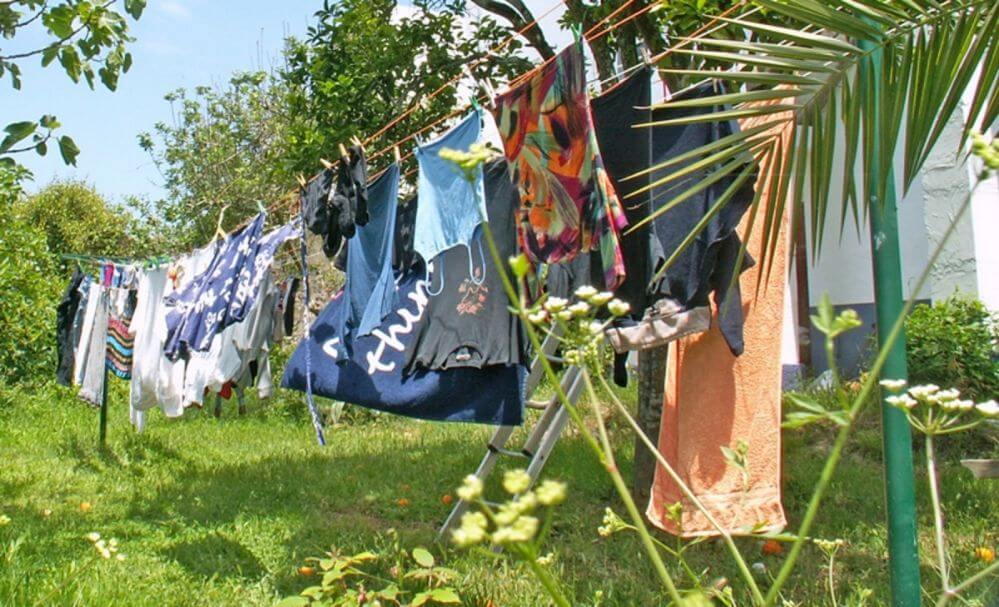 Last but not least: laundry. Even on holiday the chores continue. Laundry is one of them. No worries, put it all in a bag, and we'll wash it for you.
Normal wash: 6,50 / we wash it & hang it: 9€ / we wash it, hang it, and fold it: 15€.




We upload a new blog every Sunday morning. A few minutes in Portugal each week. From the comfort of your own home.
Beaches, castles, riverbeaches, hiking trails, overgrown ruines, cozy village markets, luxury shoppingmalls and lots of birds
Contact us if you want to know more or have questions. We'll gladly make time for you.