I'm having a nice walk with Mira when my phone rings. I always answer with: "Termas-da-Azenha, bom dia" though in Portugal it's common to just say "Estou", which simply means "I'm here", but I think that's a bit short for the majority of (international) potential guests.
"Hello, this is Malu, I am calling about the TV program "B&B full of love"
Do I know it? And would I like to participate? Oops, that's quite an early morning surprise! Eh… I know it vaguely from hearsay, that is to say, I've read something about it… somewhere… I can't remember where, sorry. And I haven't watched dutch TV for a long time, so yes, sorry, I don't really know what it's about.

Malu is a very understanding woman, who gets that you don't immediately shout Yay! and Yes, nice, count me in!, or at least is very good at pretending to get it. She explains the concept, and then suggests: "I could send you a link so you can see what you think?"
Yes please. It's from commercial television, so you can't just search the internet to watch B&B full of love, I guess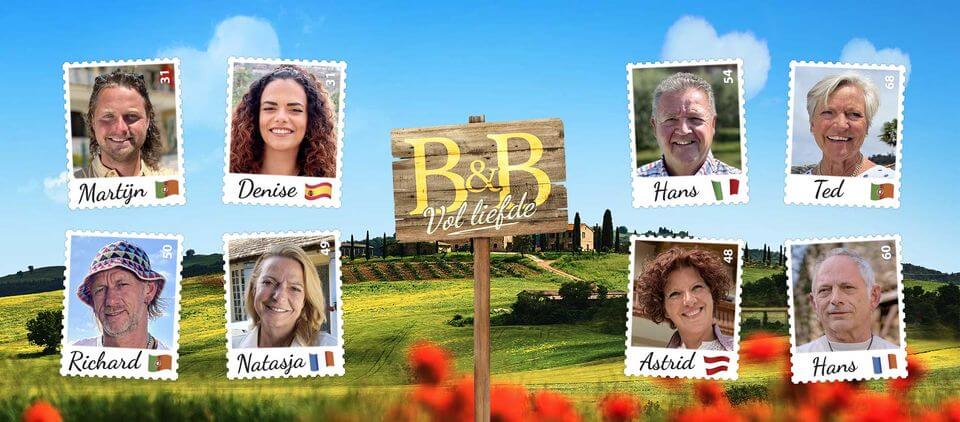 A few hours later I'm back in my kitchen, exhausted from the hiking and the thinking, and I click the link. It's the first and the last episode of the last season, so there have been three seasons already. It is incredibly popular, I now understand, a million people watch it every day! A million and counting…

What is it? "A dating program like The Bachelor/ette, but with people of all ages and all walks of life, and one of them is a single B&B owner. If you like the owner, you can respond, and if you're chosen (by the single B&B owner) you are invited to stay at the B&B to see if it's going to be a match. And to be filmed, day after day, during 7 weeks.
Malu explaines the concept, but unfortunately the reference of the Bachelor/ette is of no use to me because I have never seen it too. "I'll take a look," I promised, "and then I'll contact you afterwards, is that okay?" Yes, that's fine, but she'll also send a registration link.

Now that's having confidence in your concept!

When I'm done watching, I'm sold. It was made with respect for the participants, from what I can tell, and while it's not something I would spontaneously watch, it still grabbed me. Not in a way that makes me addicted to it, as I read in various places upon further research, but it is fascinating enough and fortunately only a bit cringe-worthy at one point.
But of course I haven't seen the episodes in between
I'll call a friend because I don't know what to do. "This is not something for me", I'd say "Seven weeks of being filmed!" but she's completely enthusiastic and shouts: "I'll ask for a vacation, and come to you for moral support if you're going to do it!" Yes, that would help, for sure, but I still get cramps when I think about that everywhere-present camera, which will record everything you think, do and feel.

I'm calling a friend. He doesn't know the program either, but will look at the forwarded link. He later texts: "I watched with tears in my eyes. Yeah, you have to do this!" Another friend saw it once, and advised exactly the opposite: "You're not going to do this, are you? Please say no!" My sister puts herself in my position and also thinks I shouldn't do it.

Gee, what a difficult decision this is!

I think back to 2007, when guest chef Dietmar came here with his Maria via the German program "Goodbye Berlin". We had never met each other before, but we immediately had to repeat their arrival a few times; the camera had complaints the first time. That is Very Awkward, I assure you.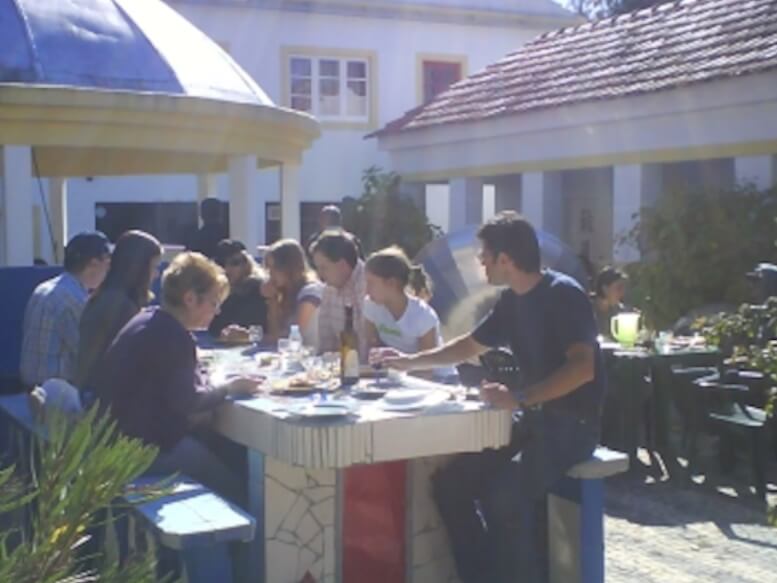 Later I was dragged before that all-seeing eye a few more times to comment on how Dietmar & Maria were doing. Then the director stands behind the camera and asks something, you kind of have to repeat the question and then give your answer. I found it very uncomfortable, especially because I was busy and the guest chef's performance was a bit disappointing in various areas. And I also had the feeling that they would edit in such a way that you look like a complete idiot.

That camera is horrible – on the other hand: who knows what great consequences it could have.
But… is this a B&B full of Love?
Good question. The only two options are Yes or No. Not like I'm now: one minute yes, the next no.

Hmm. One camera eye becomes two million human eyes.
Good morning, what a difficult decision!
.
We moved here in 2000 from Rotterdam, Holland to the Termas-da-Azenha, Portugal.
A big step, especially with two small children.
We are busy to rebuild one of portugals cultural heirlooms: Termas-da-Azenha, an old spa which has been turned into several holiday houses, rooms and a campsite.
You'll find mosaics and paintings everywhere.
Since 2018 we call ourselves the first B&B&B in the world – Bed & Breakfast & Bathrobes. You can buy a home-made unique bathrobe/housecoat with us.
Each week a little blog about what is happening around us. An easy read. A few minutes in another world. A little about what it going on in Portugal. If you plan your holiday to Portugal, it might be a nice preparation
You can subscribe to this blog- see at the right side of this page »
You'll get it every weekend in your mailbox.
On Sunday morning we publish it on our Facebook and on Instagram.