I wake up with a quenched-burnt smell in my nose. Once you've smelled it, it's unmistakable. It was to be expected, yesterday afternoon the whole sky closed up, and you could see such a typical red burning sun. "Ai, this is not a nice veil cloud, like monday, this is completely wrong" I sighed to Hugo, foster son and resident technical all-rounder.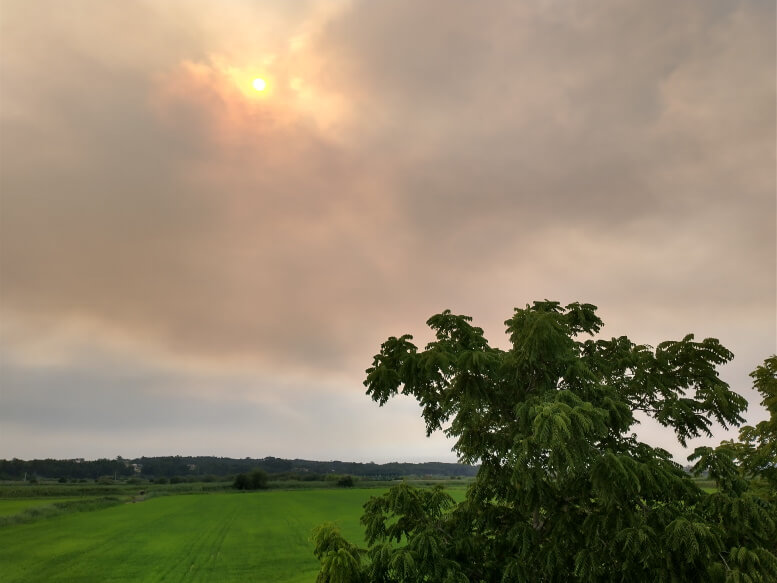 "There is a huge forest fire towards Pombal, Guia, Louriçal" he replies, "the fire is approaching houses too."

We both look a little gloomy at that beautiful sky. Now the Portuguese fire brigade is great, well organized and well equipped, only the crew leaves something to be desired. Fewer and fewer people are joining the volunteer fire brigade, is the story – a sign of the times? Everyone for himself; a forest fire doesn't give a damn.

The fire brigade mainly protects the houses. Logically. You can't just extinguish a burning forest, but that is the housing of a lot of animals. So, what happened? There are already billions of homeless and victims.

– 9 million little birds, who cannot orient themselves in the dark, because forest fires do not keep to official times;
– a few larger bird species; swallows, blackbirds, storks, owls are homeless;
– 6 billion insects, including our favorite bees, bumblebees, butterflies (and in the caterpillar phase), – – – beautiful beetles and beetles, which can't run or fly that fast;
– badgers, weasels, voles, shrews, mongooses, wild boars, who do not know where to go;
– and even the fish thought it was way too warm in the water.

It's kind to chew on that for a while.
There have been – thank to all the good gods – no human casualties, not even among the brave firefighters, but there is again a lot of nature damaged. Unfortunately! Especially because it would be preventable by not to cram the entire country with eucalyptus and pine plantations. There are gorse and brambles growing underneath, which burn like a charm, despite the cleaning obligation.
Very content that our camping guests left in time and according to plan
Today it is not so pleasant to breathe. The whole valley is full of smoke. Campers Brian and Ruth, ironically, left for the area that was heavily affected by forest fire in 2017. Then there were human casualties, and quite a lot, and a lot of residents lost everything. A national drama.

One of those residents, an English emigrant, as an engineer and expert in perma culture, had repeatedly warned against the abuse of the land. Always waved away as a stranger who knows nothing about anything, and certainly not about portuguese traditions.

That's what Ruth tells me during one of our go-between-everything-chats. She has already made herself immortal anyway by calling out: "Are you the creator of all this?" and pointing around the great hall, wearing one of my favorite kimonos. Son Broes had received them, and I didn't meet them until the next morning.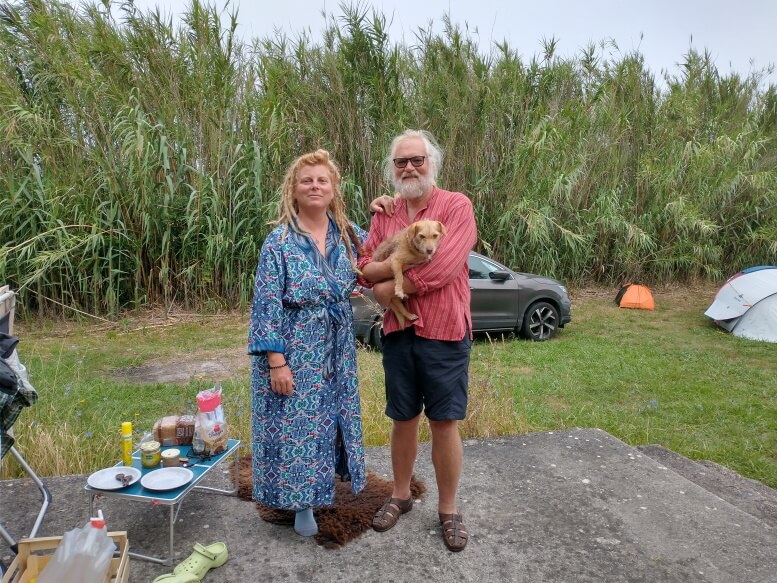 In addition, they have a little darling of a dog. Her name is Tuesday, and she has her own tent (shown in the photo). Can't get any cuter
After the invigorating bath – certainly invigorating in her case, because the medicinal spring water soothes the pain in your joints – they spent some time in the main hall with the rack of kimonos. I was hopeful that she would buy one. Kimono sales have been down for a while: there were no guests in our B&B&B (… &Bathrobes), and an online store is a lot more work than all those web design course providers, sales coaches and marketing gurus would have you believe.
It ended up being three!
"I'm going to wear the red one at my oldest's wedding. It's a beautiful feminine model, with a skirt, and because of that fixed belt you don't run the risk of it falling open. Do you happen to have a scrap of fabric left? Then I could cover my shoes with that too, and maybe make a hair band."

This is creative fire.

"I'm really looking forward to picking up sewing again," she says during another go-between-everything-chat. I can imagine. Every now and then I run over of ideas but no time to execute them all. "I just can't find a good mannequin, they can never be wide enough to represent a normal female figure. Always too skinny." I nod enthusiastically: "Come upstairs with me, I made one myself, from a floor lamp, chicken wire, strips of sheets and old T-shirts."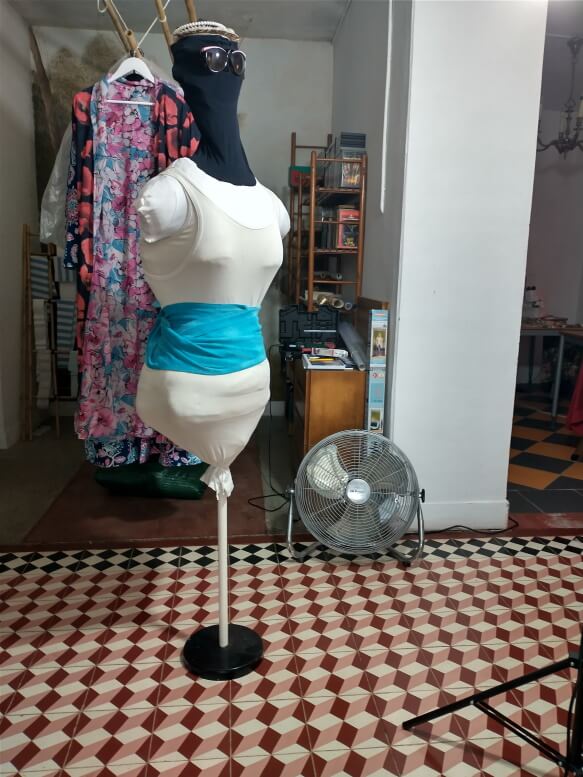 "Yes, great! I was thinking of paper mache and chicken wire, but this is of course even easier." I nod: "Yes, and less vulnerable. I'm not very good with glue, but I have a beauty of a papier mache massage room. Made by a couple of volunteers, years ago." She admires "The Cave". Later in the day we meet again: "Do you have someone to give those massages in that super cave of yours? In other words, do you have to book that in time? We will be leaving tomorrow of course…"
Unfortunately! I have to disappoint her in that, because I do it myself, those massages, but I'm pretty busy with other things now. And they have a deadline. Next time …?
"Yes, it could very well happen that we come back for a few days after the perma culture course. It's just not really on our way back to France, but we'll talk about it with the three of us. I think Tuesday feels like it." And she walks away with a wink.

Would be nice! And this also makes me want to give a go at that webshop again. Would be nice too.
–
We moved here in 2000 from Rotterdam, Holland to the Termas-da-Azenha, Portugal.
A big step, especially with two small children.
We are busy to rebuild one of portugals cultural heirlooms: Termas-da-Azenha, an old spa which has been turned into several holiday houses, rooms and a campsite.
You'll find mosaics and paintings everywhere.
Since 2018 we call ourselves the first B&B&B in the world – Bed & Breakfast & Bathrobes. You can buy a home-made unique bathrobe/housecoat with us.
Each week a little blog about what is happening around us. An easy read. A few minutes in another world. A little about what it going on in Portugal. If you plan your holiday to Portugal, it might be a nice preparation
You can subscribe to this blog- see at the right side of this page »
You'll get it every weekend in your mailbox.
On Sunday morning we publish it on our Facebook and on Instagram.