You never think about it that much. About little things that make your life easier.
Water for example. In combination with sponges that help to keep the healing water in the bath
When we first got here, there were always a lot of people passing by. They had heard that there were people in the Termas again! All those people came because of the word "Termas". What makes portuguese people travel? Good food and (healing)water. Water is traditionally a special thing. Strange actually, because normally 'special' means scarce from an economic point of view, and that is certainly not the case with water here.
Otherworldly water
Everywhere you go, especially in the mountain and coastal areas, water flows from wells or taps alongside the road. Very occasionally it is not drinkable (não potável), but usually it is pure, clean, great quality mineral water. Directly from the plain of Spain; very often subterranean water.

We also have underground water here. It comes from the mountains, and goes, as water does, to the lowest point. We live in the delta of the Mondego and "our" water arrives underground. It goes to a very deep underground lake, which unfortunately we cannot reach, but which people have known about for a long time (*), and then flows through our bathhouse. And that is our bathhouse without quotes, because the building sure is ours.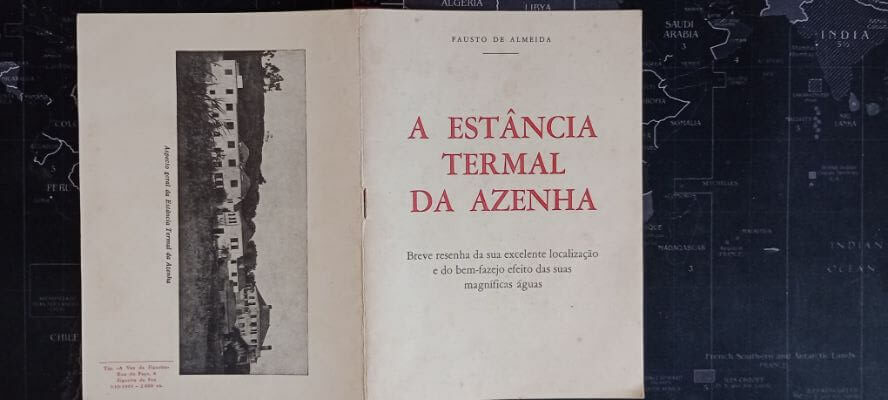 Water belongs to the government
The portuguese government believes that they are the only ones who can say something about the water in Portugal. The previous owner – Dom João Henriques Foja de Oliveira – somehow got a pipeline in that subterranean lake, so the 5-star mineral water flows through our bathhouse. Unfortunately, no one knows where the pipeline is, because it was not mandatory to register those things in those days; bureaucracy wasn't invented yet.

The government may think the water is theirs, but it flows through our bathhouse. And we can't stop that, because who knows what happens next. Maybe the hill explodes. Then you get a very strange tsunami – from the land instead of the sea.
Watery visits
We have already had unannounced visits from the Ministério de Geologia e Economia, Minas, and Saúde. Suddenly there are 15 officials in front of you who want to see the water. Now, there have always been quite a few people who wanted to see the water, and take it with them in large bottles, but those are 'normal' people. You're shocked when such an official delegation suddenly shows up on your doorstep, believe me.

The second time this happened to me, there was even an official who thought that perhaps we were taking advantage of the situation and allowing people to bathe illegally in the baths. "I'm sorry, what do you mean?" I replied in bewilderment, "do you really think anyone is interested in taking medicinal baths in THIS bath? And that we earn a fortune from it that we do not report to the tax authorities?"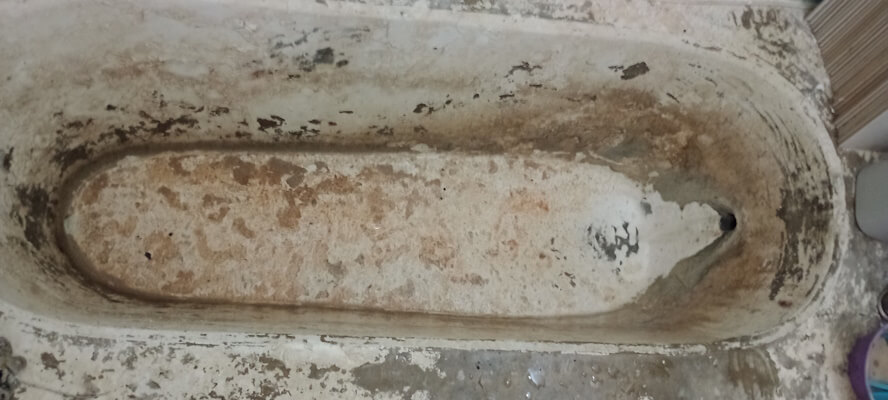 Very special train of thought. Fortunately, after the tour and over a cup of coffee, they understood that I can't do anything about it, the water just keeps flowing. And that it should. Because otherwise you could get very nasty consequences. You can't put a sponge or a pair of socks in that subterranean river.
That's what those first visitors did: they just put a pair of socks in it. Worked like a charm. I thought it was genius.
I love people who come up with very simple solutions to problems
And I learned that you don't need an official stop at all, because what should you make it of? It's an old bath, the hole is quite big… For our visitors who needed baths in our healing water, I couldn't use a pair of socks of course.

I came on a sponge. You can easily wash it, and if it doesn't work anymore, I can use it as a grout sponge for the mosaic. And now I have found an even better sponge, a loofah. Made from natural materials, so I can even throw it on the compost heap when it's outworn.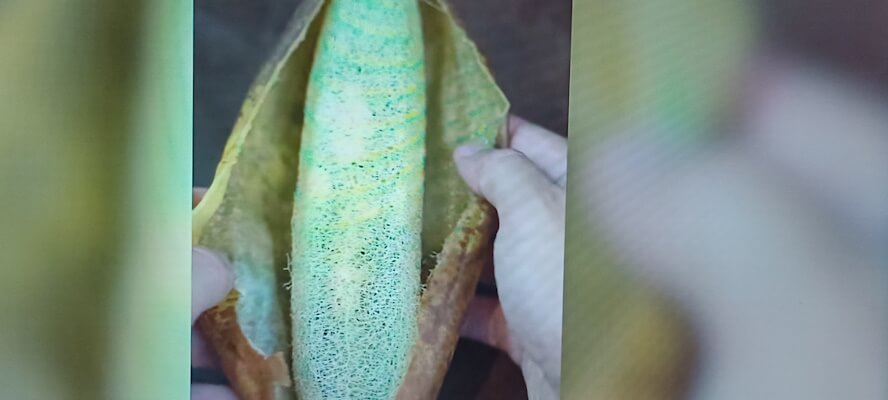 Even better than a pair of socks, as a water stop! You can even grow them yourself. Watch this on YouTube.

(*) In 1711, Doctor Fonseca wrote an entire treatise on this water – that it cured skin diseases. And it still is. For hundreds of years. People today tend to think that their ancestors were kind of backward because they didn't even have electricity or smartphones, and used water and herbs to heal themselves, but they clearly weren't. Maybe it's the other way around… we are the fools who know little comparatively.
.
We moved here in 2000 from Rotterdam, Holland to the Termas-da-Azenha, Portugal.
A big step, especially with two small children.
We are busy to rebuild one of portugals cultural heirlooms: Termas-da-Azenha, an old spa which has been turned into several holiday houses, rooms and a campsite.
You'll find mosaics and paintings everywhere.
Since 2018 we call ourselves the first B&B&B in the world – Bed & Breakfast & Bathrobes. You can buy a home-made unique bathrobe/housecoat with us.
Each week a little blog about what is happening around us. An easy read. A few minutes in another world. A little about what it going on in Portugal. If you plan your holiday to Portugal, it might be a nice preparation
You can subscribe to this blog- see at the right side of this page »
You'll get it every weekend in your mailbox.
On Sunday morning we publish it on our Facebook and on Instagram.