"Olá, muito bem-vindo!" I say with a radiant smile and an outstretched hand to the newly arrived Spanish guests, "Posso falar em português – Can I speak Portuguese? E pode falar espanhol comigo – then you can speak Spanish to me." They come for the Sunset festival.
The group of young men nods
No problem, and we know each other from last year. Then they also came to the Sunset festival in Figueira da Foz. A new festival for electronic music organized on the beach under the big clock.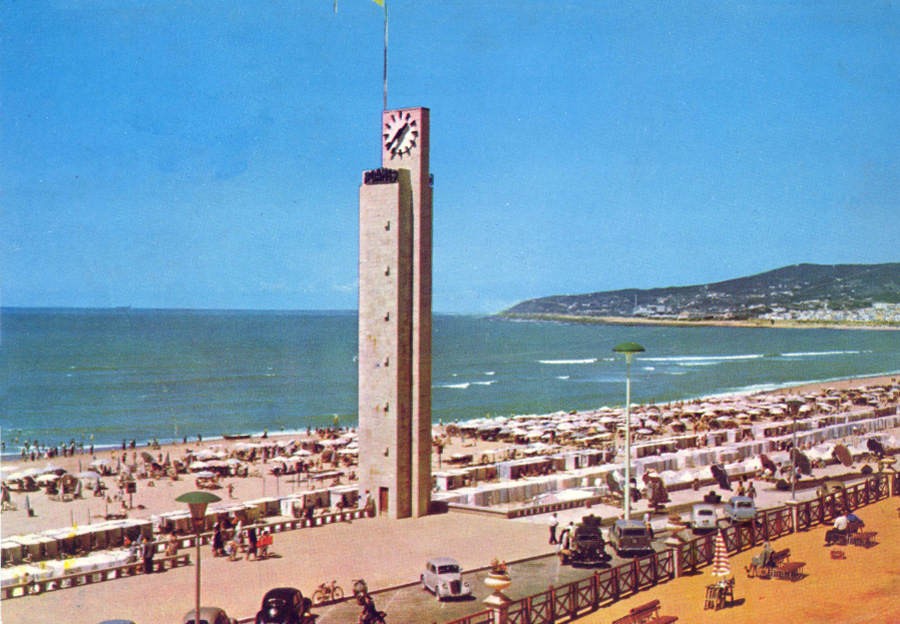 The picture is when it was just finished in the 40's, and probably the clock is now in shock because it's too old and dignified for this kind of music …
The Spanish group has grown, last year 5, now 9 men
Like the other groups who come back for a day or 3 maybe 4. There is even 1 group that goes with 8 people in a house meant for 5 – just because they like to be here during the festival.
Groups of young men, groups of young women, and mixed. A group of older women – groups of elderly men an older mix is something we have not had here yet …;) Perhaps this will happen, this year seems to be "Group Years". Nice though.
Figueira is full, all hotels are full, for the Sunset festival
and everyone walks all the time over the street. If you are staying in the Termas, you will drive to the open space of the countryside after the festival and you will have rest. In Figueira you wake up to the flair of your fellow festivalers, but here from the singing of the birds.
The best of two worlds
The following guests arrive. It's busy – relatively speaking. There are 6 groups, divided between 8 houses and 2 rooms. This man does not smile so radiantly, he does not know it here yet, he's coming for the first time.
He booked Casa Oliveira for 2 people. Then there's room enough
His traveling companion is also a man. I show them the house, show everything and say by chance: "If necessary, I can of course make a bed in the other room."
I do not do this by default, with a booking for 2 people. That is usually a couple, and if it is not, they usually let them know. In this case, too. But they do not really answer, on the contrary, it slides very easily.
Fine. I know enough
It is not so easy to be a male couple in a traditional and catholic country. Portugal has legalized gay marriage years ago, and it came to the news with the first couple to marry. Two women. That's easier to take than two men.
Rainbows for everyone
Do not ask me why. It makes no difference to me – I assume that everybody has to do what he wants, and you always have that freedom, as long as you do not deny the freedom of another. I respect everybody who behaves in a civilized manner – that is, as long as you do not bother others with your noise and judge you, you can do whatever you want.
It felt as though they had a good time. Here, nobody was paying any attention to the fact that they were two men in their house.
And that will not always be like that in Portugal, I suspect at least!