Unsuspectingly I'm taking a breather, drinking and eating my lunch (last bite) when a man with a backpack and a cap comes down the stairs.
Perhaps a hiker or a biker – if you walk or cycle, you are a little less flexible in your choice of a B&B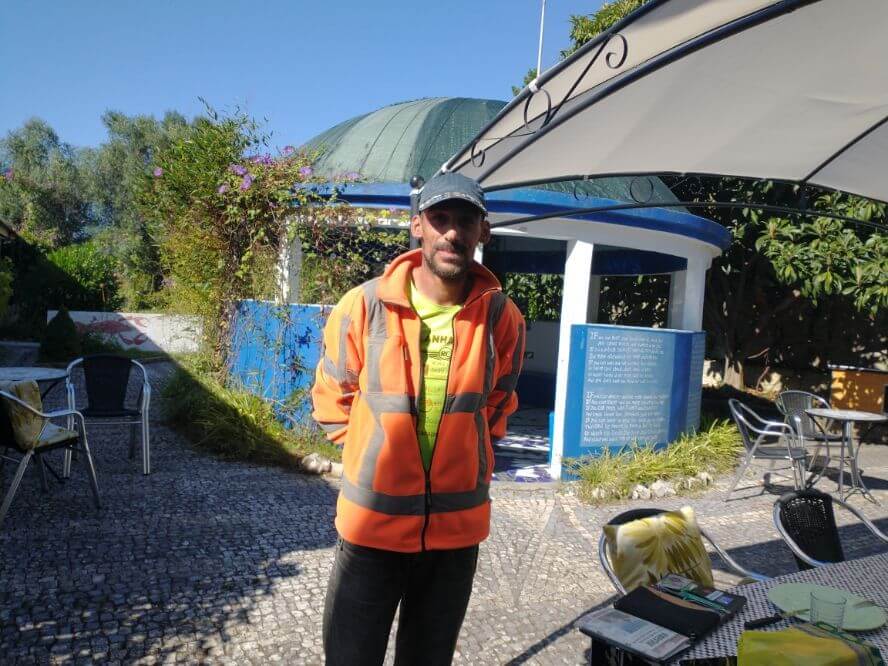 We're marked as closed, but for special guests like this we're always open.
We are fully equipped for hikers and bikers, and experienced as well.

We always have a room ready, especially for these kinds of "urgencies". Correction: had, because we haven't had that since March 2020. It flashed through my mind that I had to reinstall that beautiful habit because we are going now towards post-Corona.

Anyway, man with cap and backpack comes down the stairs, and asks for a stamp. Oh, what a pity, I don't have that any more. I did have a company stamp, but because it was used so little, it has dried up.
"Maybe a business card then?" he asks in a well-known polite Portuguese way
Yes, I do have a lot of those. After that I have a hole in my memory, because I don't know how it came about, but the end of it is that we are talking animatedly about his walking tour through Portugal.

He is portuguese, is called Miguel Portugal and has been hiking through Portugal for years.
That is a special story. Why does a person do that?
Of course I didn't ask that directly. You choose your moment for that. First I asked if he would like something to eat – because I happen to know from personal experience that a person walking (or cycling) may be hungry, and there is no shop nearby. So first eat and drink. Old fashioned hospitality.

He wouldn't sit down because then you go out of your walking mode into a sitting mode, and he wanted to go a bit further.

I admired his stamps, brazões, cards, and got his Facebook address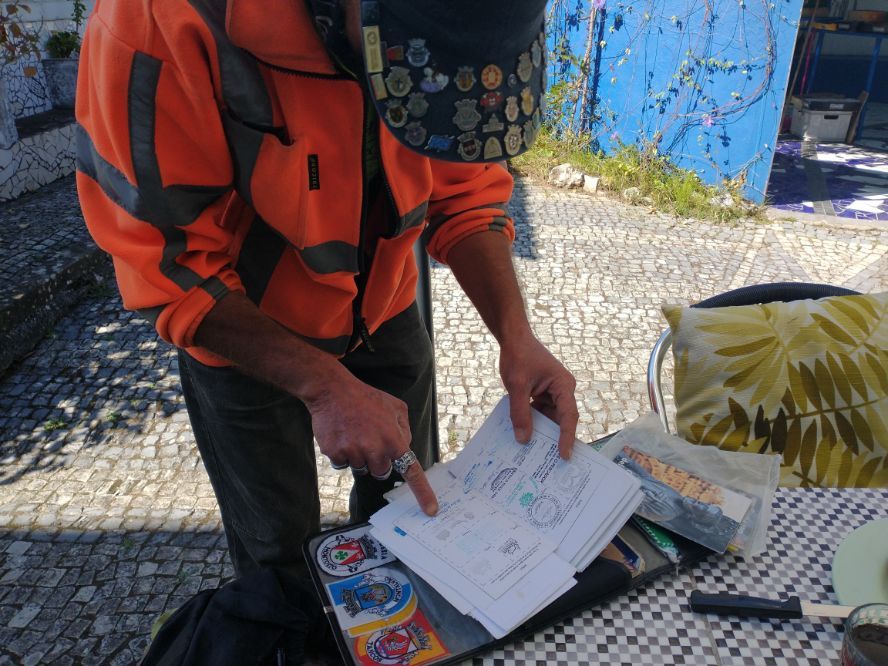 There comes the story why. He once had had a twin brother, and a sister – both deceased. He walks to implore Heaven's blessings for their eternal life. Whether you believe in that or not, it's a commitment you can only respect.
Reflectively, I go back to my last bite, and then back to room 1
Room 1 is getting a makeover. (You'll hear about that later – promise.) Two sawn planks later, another unexpected guest stands in front of me. He came from behind, through the campground, on his bike.
A long-distance cyclist! Cyclists often show up unexpectedly, and like hikers, they have their own specific wishes.
They'll get the Tavern-Treatment – again all about good old hospitality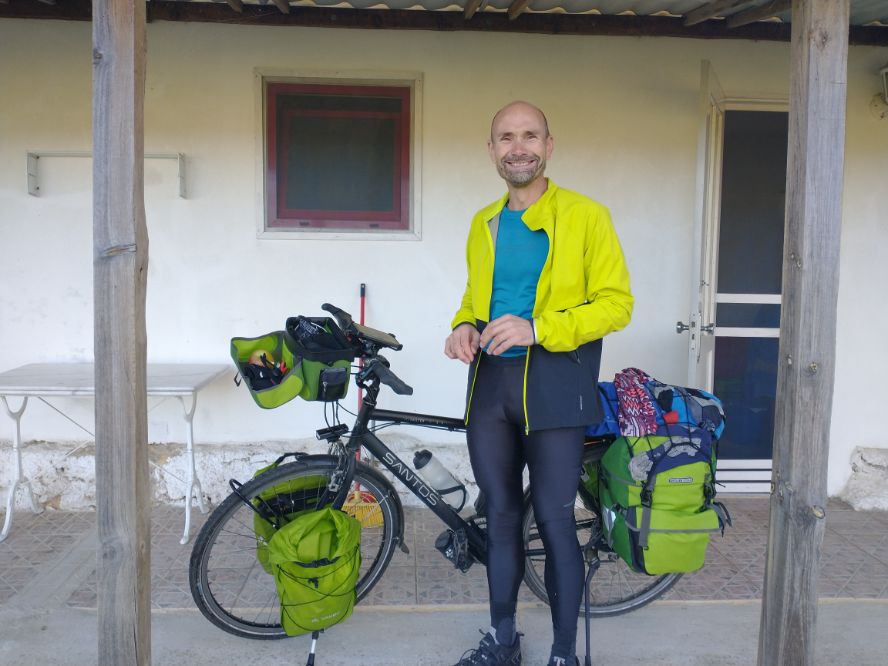 I offer him to put the tent behind the hotel rooms, so he can use the bathroom there. Rob says he started cycling for a few reasons – to sort things out without frowning and fretting; see what he wants to do with the rest of his life, and to get to know the country better, because maybe he will accept a friend's proposal to partner in a B&B near Monchique.
"I've always enjoyed being a math teacher," he says,
and I cringe a little in awe when I hear it, "but the paperwork that comes with it is really not fun anymore. I loved working with teenagers, and it went really well, but all those rules…."

He's also technical and handy, in his own words, so I consider taking him hostage and not letting him go (only for a nanosecond), because those are all wonderful qualities for someone with a B&B!

Son Broes brings him a nice warm cup of tea a little later, and makes a chat. I just make use of the last light to sand those planks, then they can go in. Rob doesn't need anything else, he has everything with him.
Ah! Yes! Wait! Connection!
No problem, we have internet (of course), save your data bundle for later.
Two special stories in one day. That also makes our B&B a bit special, doesn't it?
We moved here in 2000 from Rotterdam, Holland to the Termas-da-Azenha, Portugal.
A big step, especially with two small children.
We are busy to rebuild one of portugals cultural heirlooms: Termas-da-Azenha, an old spa which has been turned into several holiday houses, rooms and a campsite, with games like pingpong, pool, foosball, and a FancyDressingRoom.
You'll find mosaics and paintings everywhere.
Since 2018 we call ourselves the first B&B&B in the world – Bed & Breakfast & Bathrobes. You can buy a home-made unique bathrobe/housecoat with us.
Each week a little blog about what is happening around us. An easy read. A few minutes in another world. A little about what it going on in Portugal. If you plan your holiday to Portugal, it might be a nice preparation
You can subscribe to this blog- see at the right side of this page »
You'll get it every weekend in your mailbox.
On Sunday morning we publish it on our Facebook, on Instagram and on Pinterest.