"Senhora … bom dia …." the man is dressed in camouflage clothing, and puts out his cigarette as he steps out of his Volkswagen station. "Is the senhora going for a walk with the dog?" I nod yes, and walk back a bit because it's just a little too far to have a normal chat. I didn't see him in his dark green car.
"I'm going on a wild boar hunt, just so you know," says the man, slapping a green cap on his head
"Here, in the fields, near the road?" I ask in astonishment, because although I walk quite alertly on small forest paths, and sometimes even pick up a stone to throw at a mother boar if I happen to unknowingly end up between her and her offspring (god forbid!), but I absolutely had don't expect them to be wandering around in the fields here!
Anxious? I?
Yes, a bit actually. Wild boars are everywhere these days, because there are no more natural enemies except those camouflaged hunters with their big guns. Recently I saw a dead piglet on the side of the road, close to home – proof that they are really there.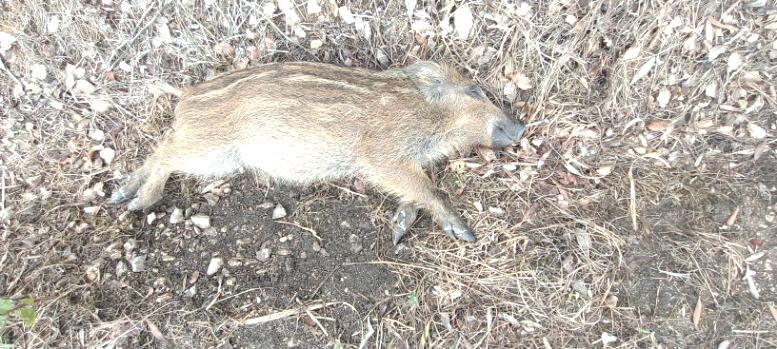 I knew, because I saw wild boars a few times this winter, also close to home
Once on the shortest walk ever: just at the end of our camping field, three wild boars crossed the road, and from this close they really look rough. Mira and I both reacted the same: we immediately walked slowly back without turning around. They can say whatever they want, that those animals smell and hear us from afar, and that they avoid people, but I still remain on guard. They too, logically, those animals are not crazy either, and they undoubtedly know intuitively that people mean trouble.
Trouble, or death.
The camouflaged hunter says: "Yes, they eat all the corn, and they make a mess of it (loosely translated). And the dog doesn't get in my way. It's not a hunting dog, is it?" No, no, luckily not. Maybe her previous boss tried to make her do that, that's why she listens quite well, but she's a shyster. Like me.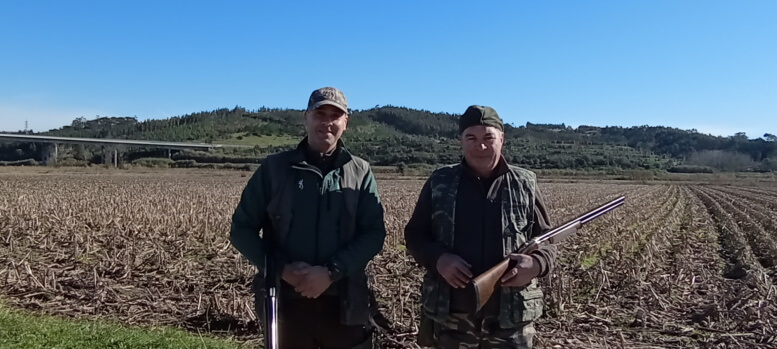 I'm definitely not a boar hunter, more a wild boar avoider
I recently saw a small herd. I went to pick up a friend at Alfarelos station, and then you have to drive a bit through the uninhabited hills. When we drove back, a group of 5 crossed at their leisure. I stopped, but even the sound and light of the car was not impressive apparently.
"Look, they don't mind us standing here with the car and all that light," said Astrid, "and they seem quite cuddly this way." Well, I don't know about that. "This is the portuguese version of a safari," I said, "but I'm glad we're in the car, to be honest. I wouldn't like to meet them on a walk." In the meantime, the animals were quietly sniffing and didn't care at all about us humans, the noise and the light.
So, maybe they aren't so afraid of people after all.
.
We moved here in 2000 from Rotterdam, Holland to the Termas-da-Azenha, Portugal.
A big step, especially with two small children.
We are busy to rebuild one of portugals cultural heirlooms: Termas-da-Azenha, an old spa which has been turned into several holiday houses, rooms and a campsite.
You'll find mosaics and paintings everywhere.
Since 2018 we call ourselves the first B&B&B in the world – Bed & Breakfast & Bathrobes. You can buy a home-made unique bathrobe/housecoat with us.
Each week a little blog about what is happening around us. An easy read. A few minutes in another world. A little about what it going on in Portugal. If you plan your holiday to Portugal, it might be a nice preparation
You can subscribe to this blog- see at the right side of this page »
You'll get it every weekend in your mailbox.
On Sunday morning we publish it on our Facebook and on Instagram.