"Okay, last check. Just open the tap completely, then I'll close it in fifteen minutes" I say to Broes, "when that cloth stays dry, it's done."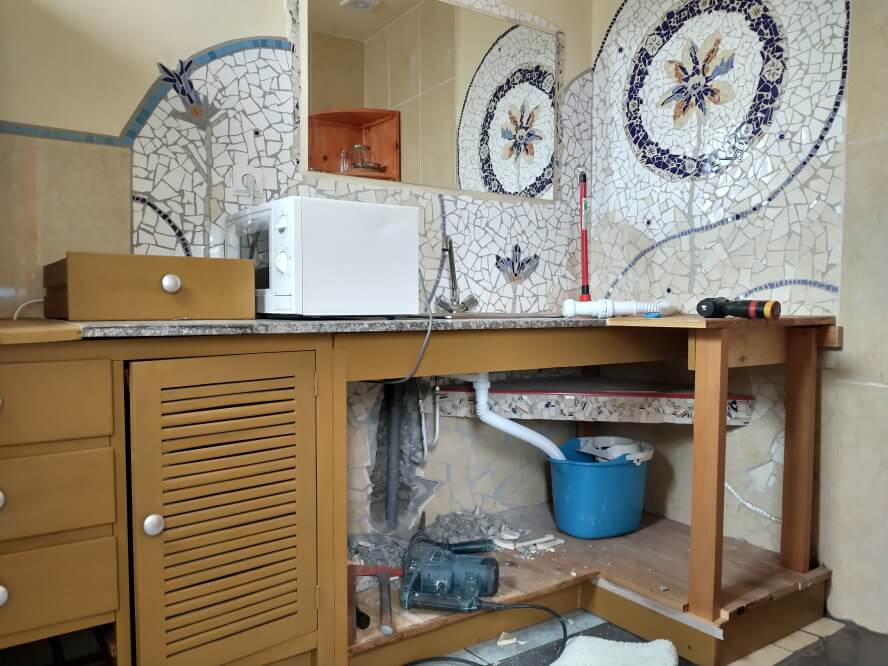 That tap has to be opened because the drain is leaking. Not a big deal, maybe a drop every five minutes, but enough to bother you. Prior to the open tap, all rubber rings were replaced, everything was tightened properly, checked, double-checked, and firm language was used.
(That sometimes helps, but most of the time it doesn't.) Water just doesn't want to be in pipes; every little hole is an escape opportunity!
Consequence of the open tap policy: a major flooding
Small disaster, because we just laid the floor boards, as the last step in this small renovation of the kitchen of apartment ½. After a few days you could still hear a swampy sound, and more water came to the surface. So, we can take it out again. Like this, they're float boards.
And: now the sink is no longer emptying! It's getting worse instead of better. Something spooky is going on!
But what?

Sometimes it takes a while to set the diagnosis. Who, what, where, when and how?
The problem was our solution
"I can cut open the wall a bit", said Broes optimistically, "then it'll hang a little lower, it can flow better, problem solved." Good idea, we thought.

Kind of annoying. You think you're done, but it seemed the only solution to get rid of that miserable drop. It seems like a small job, so cut the wall open, clear odds and ends, some repairs, and it's done!
Unfortunately. An open wall, yes. But no odds, certainly no ends, not done. A flooding instead
(even more firm language…)

Reasoning back it all makes sense.

Rubble in the tube.

You have to hang a bag on it, so that the little pieces of wall can't get into the pipe … causing a blockage.
Riddle solved!
We moved here in 2000 from Rotterdam, Holland to the Termas-da-Azenha, Portugal.
A big step, especially with two small children.
We are busy to rebuild one of portugals cultural heirlooms: Termas-da-Azenha, an old spa which has been turned into several holiday houses, rooms and a campsite.
You'll find mosaics and paintings everywhere.
Since 2018 we call ourselves the first B&B&B in the world – Bed & Breakfast & Bathrobes. You can buy a home-made unique bathrobe/housecoat with us.
Each week a little blog about what is happening around us. An easy read. A few minutes in another world. A little about what it going on in Portugal. If you plan your holiday to Portugal, it might be a nice preparation
You can subscribe to this blog- see at the right side of this page »
You'll get it every weekend in your mailbox.
On Sunday morning we publish it on our Facebook, on Instagram and on Pinterest.