I've had that experience, yes, that I painted myself in a corner. Once even literally, but in my defense, then I was very young, and there was no one around to warn me. You'll figure it out, sure, but it takes some footprints on your with sweat and tears freshly applied new paint. (And I was painting so passionately … in my first ever new own house …)

Unfortunately. Learned something again.
Usually you paint yourself in a corner in a figurative way
I know that one too. You too? I'm not going to explain that further here; there is a limit to what you can show of yourself.

Those last sentences contain a lot of what is happening in the world right now.

An unnamed person, who suffers from a serious form of overconfidence, has painted himself in a corner. Literally and figuratively. And not only he, but especially the people around him are very bothered by this.
"There are limits" – also something that unnamed person doesn't understand
Fortunately, there are many, many more people in the world who do know when the limit has been reached. Fortunately, there are many, many more people in the world who would like to live together in peace. Despite differences in culture or how you see the world.

Maybe we only realize that in moments like this. When it really matters. When things happen that shock you to your core. Things about which you can only think or say: Whaaaaa?????

I can't write a blog at the moment about how nice spring is progressing here, how nice people are who come here, how nice it is that the C-risis is finally coming to an end. Sorry.
Night after night I sit behind YouTube, clicking from one thing to another, until my son Broes walks in and shouts in surprise: "Hey, shouldn't you go to bed already? It's half past eleven!"
At a certain moment, the roles are reversed. Then your child tells you to go to bed
Like so many people in the world, I'm stuck behind the screen. Like millions, I have a huge respect for a leader like Volodymyr (no!! not Vladimir!!!) Zelensky, who, together with his Ukrainians, takes that rusty Russian robot, at the cost of an unbelievable price.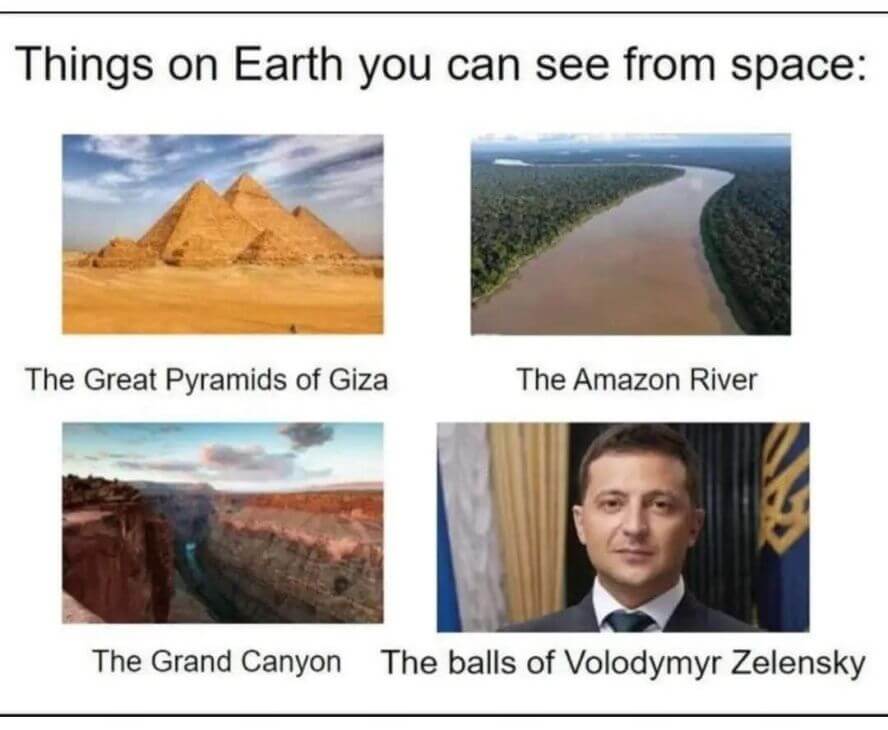 And the whole world (well, almost the whole world) shows itself (again) from its most beautiful side. Just like at the beginning of the C-risis. It just shouldn't take too long.

Anyway, my handkerchief stock can hardly handle so much solidarity. There are probably enough places on earth now that contain many many blankets, many many warm clothes, many many cans of soup, that it'll bring tears to your eyes. And all the blankets, clothes and soup will go there. Brought by …. brave truckers.

Same here. In our small community there are still plenty of people who bring their surplus blankets, coats, cans of soup to the Junta de Freguesia. A call on Facebook was enough for this result.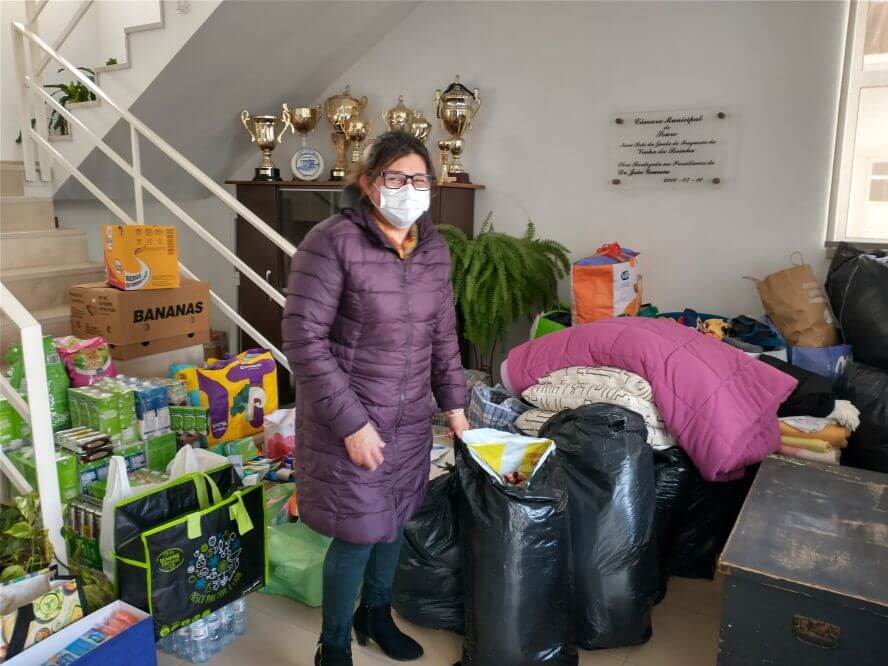 In two days – when you read this – a brave trucker sacrifices his weekend and drives from Pombal to Poland. To bring warmth (literally and figuratively) to a lot of people who have lost everything.

How is it possible that people can be so impressively beautiful and at the same time so impressively horrific?
We moved here in 2000 from Rotterdam, Holland to the Termas-da-Azenha, Portugal.
A big step, especially with two small children.
We are busy to rebuild one of portugals cultural heirlooms: Termas-da-Azenha, an old spa which has been turned into several holiday houses, rooms and a campsite.
You'll find mosaics and paintings everywhere.
Since 2018 we call ourselves the first B&B&B in the world – Bed & Breakfast & Bathrobes. You can buy a home-made unique bathrobe/housecoat with us.
Each week a little blog about what is happening around us. An easy read. A few minutes in another world. A little about what it going on in Portugal. If you plan your holiday to Portugal, it might be a nice preparation
You can subscribe to this blog- see at the right side of this page »
You'll get it every weekend in your mailbox.
On Sunday morning we publish it on our Facebook, on Instagram and on Pinterest.