All my theater clothing went, long ago, in that big truck that brought all our belongings to Portugal.
It spent the first year in boxes, because it took a while before all those things could be distributed throughout our little village.
The first occasion for using it was a colorful evening by the first group of friends, guests and volunteers
That was extremely amusing, everyone dolled up, and singing our heart out. I have a vague memory of a man in a glitter jacket with a sombrero on his head, seriously playing cards with some other strangely dressed people with hats on.
The next step came from the next group of volunteers – someone who said: "I have an idea for that little room on the first floor … one wall red, the other purple … (apparently I had an expression of disgust on my face) … ah! You'll see, it'll be beautiful! And if you don't like it, I paint it completely white again at my expense. What do you think? All your costumes and high heels can fit in there! "
The end result was indeed beautiful. The floor (mosaic of course) is gorgeous. The best part is that she will be our guest again next week, after almost 18 years. With her whole family, twins and all. I am really curious what she'll think of the FancyDressingRoom 3.0!
Because: FancyDressingRoom 3.0 is finished
After a few years, that little red & purple room was full – extending on the corridor. The FancyDressingRoom always has been an excuse for me to buy some nice clothes or heels. I no longer wear them (disastrous with those Portuguese pavement!) but it is still a weak point. Hard to resist the temptation.
A few years ago, the FancyDressingRoom went to the ground floor
Everything together: the big room with table tennis, pool and foossball, the library with all board games and children's books, and the FDR behind it. Great place, but more space. Dangerous! Before you know it, we will bulge out of there again.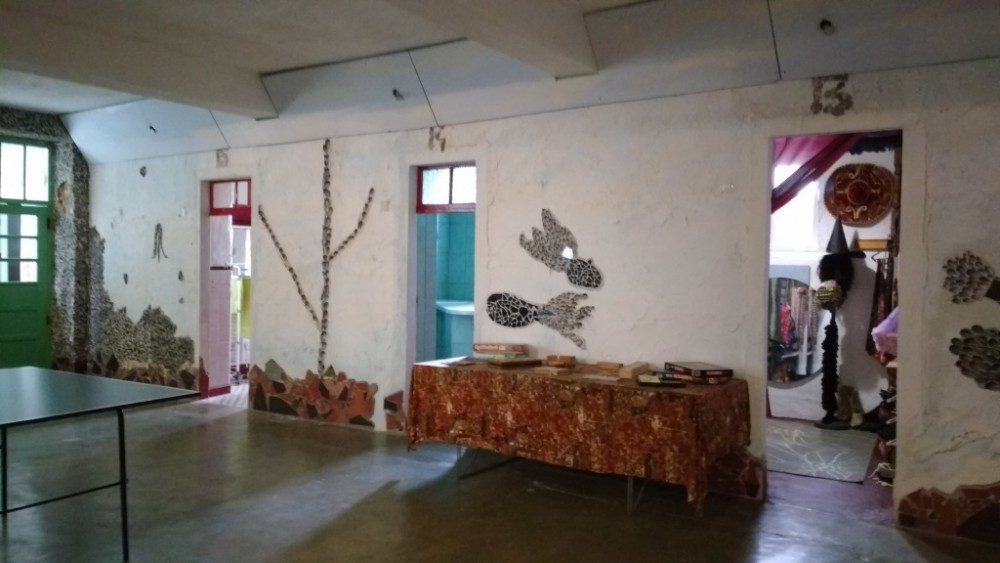 With the move, I started selecting, asking the help of my sisters. With a panel of three you have a better chance that something will be thrown out. We applied strict criteria, and indeed a lot was discarded. I immediately drove to the old clothes container in Alqueidão, because I know myself. Before you know it, I'm going to dig into those bags for that beautiful red blouse "it's a shame to throw away, it's such a beautiful color!" – and so on, ad infinitum.
I also have to control myself seriously on the market. Sometimes they have such special things you never see elsewhere
Now we had to move again: the library and the FancyDreesingRoom had to make way for the washing machines
That was a huge move, but well worth it. Now it's no longer a bit hidden behind the library, but is more part of the big room, where you can play pool & board games, ping & pong, chess & cards, read & use the internet, play the piano and become someone else.
Or just stay yourself and chat with the other guests or have a nice dinner while you admire the creations of your children.
We hope you will enjoy this little video we made to give you an idea of the unique concept of our FancyDressingRoom!