Introducing: B&B&B
I dream of a brown long house coat. The fabric is printed with yellow and brown stripes, with little flowers on them. They're embroidered by gold thread. It's a beautiful deep medium brown, like a chestnut leaf in autumn. The yellow is very modest, and the flowers and the gold thread make it real special.
From behind it falls to the ground, from the front the fabric makes a nice arch. There's the closure, something bronzy. It has a good collar, it has a perfect fit, and in my most extravagant dreams it has something like a peacock's tail. Made of half-round pieces of the same fabric. Preferably bordered with gold thread.
Nice, to daydream like that
Years ago there were two ladies who wanted to start a web shop in bathrobes, made by portuguese seamstresses. In those days it was not yet such a jungle of web shops, so that went pretty well. The ladies were not satisfied with the offer of bathrobes (terry, on the knee, making you fat, boring, not very elegant, but practical) and made their side hustle from their frustration.
I was involved: whether I could cause portuguese seamstresses. "Sure," I bluffed, but in reality I had no idea. I did not know one portuguese seamstress.
An advertisement in the supermarket was the solution
I was called by lots of seamstresses, they all wanted to make bathrobes very badly. (You don't have to expect that anymore, they already have a job at the supermarket. There are 2 clothing producers left in Portugal.)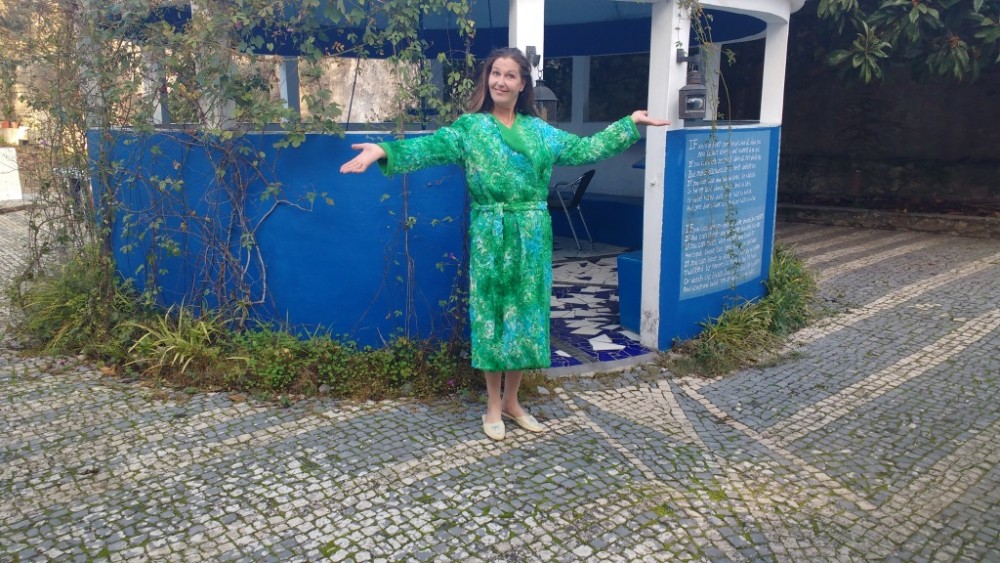 After the first selection we agreed to meet with 3 seamstresses in 1 day. The bathrobes ladies, let's call them Christina and Maria, came from the Netherlands and were hosted in the Termas for a few days.
Little side story:
Last summer was the fifteenth summer with a village full of guests. Very nice. It was a harmonious, cozy summer. Due to circumstances my son Broes and I did it together, without the "TermasTeam". That was hard work, but it was doable.
I don't rent out from saturday to saturday. You can arrive when you want (well, with a reservation, in the summer). That makes a big difference.
Cooking is a matter of organizing well. A Very Good Cleaning at the beginning of the season also makes a big difference. And further, it is getting up, going on and keep on laughing.
And if you can do that, you can do everything
For a little longer I had a feeling like: time for a new challenge. And there these bathrobes suddenly fell out of the sky. In my dreams then. After some soul searching and fantasizing, I started writing down what's involved – opening a web shop and making house coats and bathrobes, and that seemed feasible.
I requested permission from Christina and Maria to take over their idea, and luckily they gave their blessing. They had stopped with the bathrobes shop by then. It had been more work than they had thought, and it was their intention to do as a side hustle. Next to your normal life.
Yes, I know that pitfall now
I've also been sucked in, and now I'm in it over my head. There is a normal sewing machine, an overlock, a high cutting table, a thread rack, a pattern table, and there is at least 35 kilometers of fabric in a special room. There are also the finished coats, made by Gina.
Gina works in the supermarket (yes, how do you think I got that wisdom?) and is very enthusiastic about the plan. She'd rather return to her old profession yesterday than today.
Well, so, now I have to …
The ideas fall from the heavens right into my head, but it's no time for dreaming anymore – now it's time for concrete action. How does a person open a webshop? And how does that work with marketing?
This blog seemed like a good start. There are photos on the site and on Facebook. And on Etsy. Gina made a green glitter bathrobe, and a cashmere one. A pair of father-son coats. Nice & warm. Nice & cool. Long or short. Easy to roll up, to take on a holiday. A vintage bathrobe, and an elegantly long one. Not so many yet, but maybe you find a nice Christmas gift among them.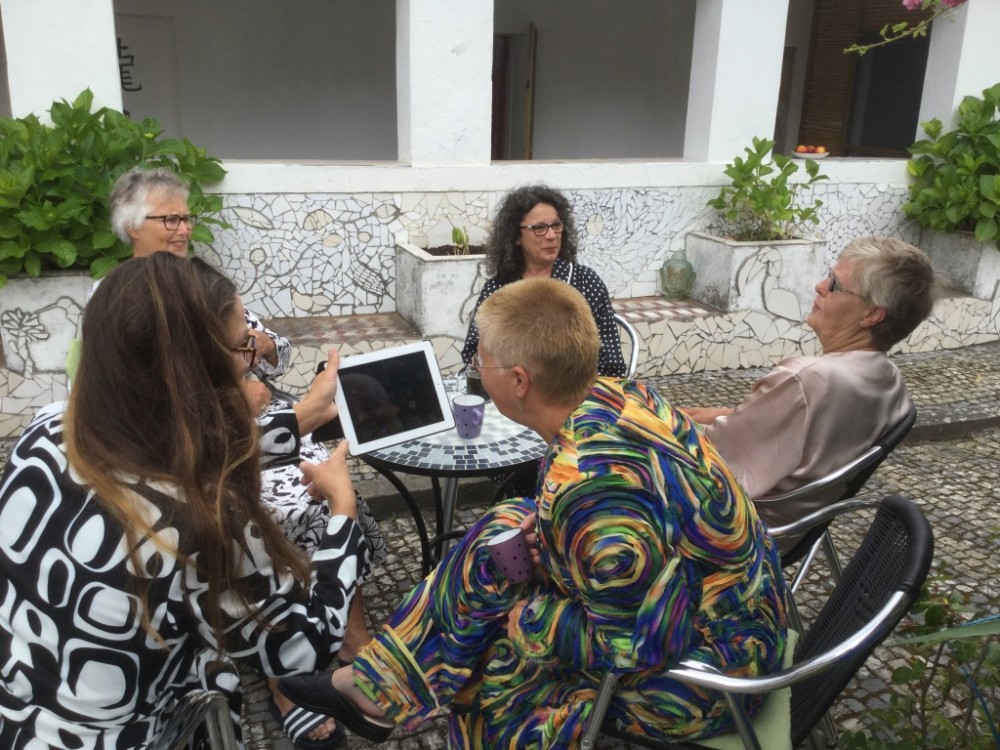 And I have found my brown-yellow-gold striped dream fabric!
Only the time is missing to make a nice bathrobe out of it …