There are people who love cycling. Just for fun.
You see a lot of groups of cyclists on Sunday morning. All tight in coloured lycra, a lot of nice bright colors passing by, and like the portuguese do: chat a lot in the mean time. There are cycling clubs throughout the country. There are not so many bicycle stores though.
In the past you could buy bicycles in the supermarket
We did that once. You'd better not. Those are worthless bicycles.
Let's say we gained some wisdom.
We have taken bicycles from the Netherlands. Thanks to the Red Bus there are four reasonable examples here. They are mainly used by the volunteers, and occasionally by the guests.
They are not super, but we could do it with them
At the moment we have a guest who likes to cycle every day. She came up with a question about whether there was a rental in the neighborhood, to which I offered ours with some trepidation, and explained that nobody knew if that bike rental would be available again this year.
A few years ago I suddenly saw a bicycle rental in Figueira on the boulevard. What a good idea! "It's an experiment", they said at the Turismo, "there is a very long bike path along the boulevard, all the way to Leirosa. This is an initiative of the Municipality to see how it goes. "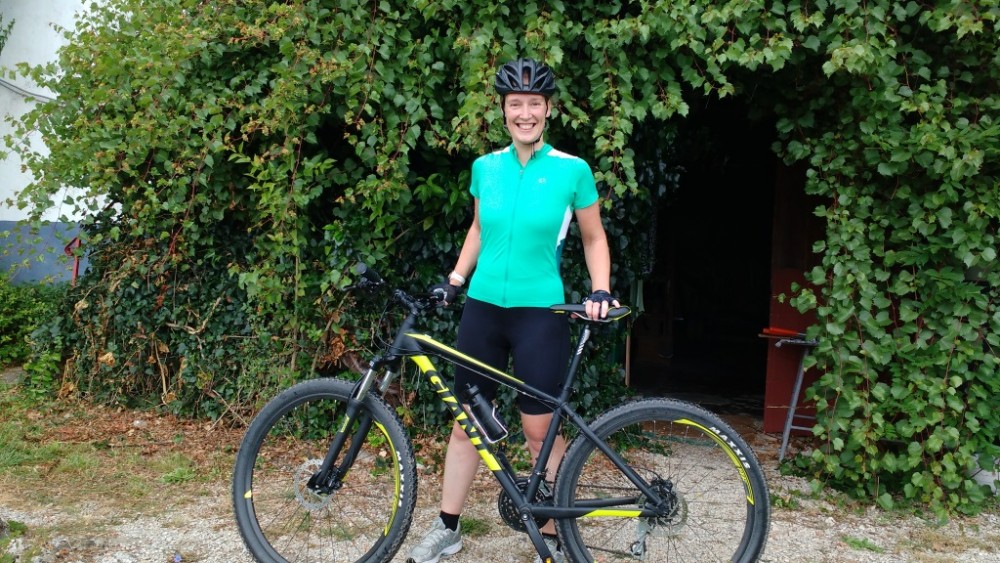 She arranged the whole thing completely by herself, surfing on the internet. I find this an impressive achievement. If you'd speak the language and know the country, it's already not so easy to arrange things, but she did it from a distance – easypeasy. That is what passion does with you; if you want something really badly, you'll arrange it.
Secretly I think: will be bureaucracy again, that the bicycles didn't come back the following year. Because well, no bike to see the following year
Shortly after, a store opened in Santa Luzia, on the road to Figueira da Foz. An initiative of senhor António Seco Santiago senior. Sale, rental, repair and all accessories (many colored lycra).
He had put down a new building, with everything for your bike at the front, and a metal workshop at the back. Smart combination, because you can hardly go anywhere for metal. Here you can have your garden fence welded, a beautiful pendant for your outdoor lamp, or as we did: make a stainless steel countertop.
The store Julia found on the internet to rent her holiday bike.
At the road they put two beautiful signs, one for each direction
Now it is normal in Portugal that you compose your company name from the name of the region and the name of your activity. Fozmáquina for example, Formilectrónio, resp. machines in Figueira da Foz, and an electrician in Formigal.
You can also use your own initials. António sénior opted for that option, with the idea of ​​doing something modern and international. He called it: ASS Bikestore.
Unfortunately, no one had told him that with his initials, it would be better not to opt for that option …
It didn't last long. When junior joined the business, it was soon over. But there is still a remnant along the way, just look: