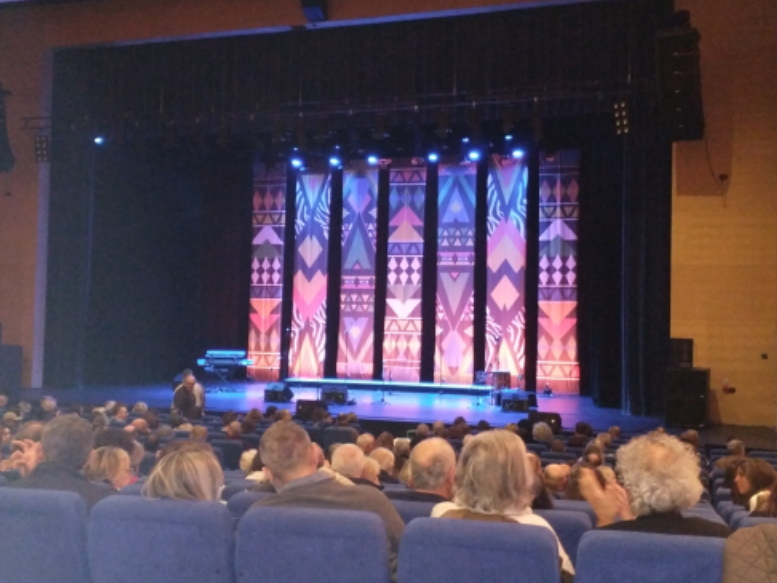 Although parking was a bit of a challenge due to the crowds, we were still fine on time. I invited a friend to come to this concert –
I had seen the announcement of the Soweto Gospel Choir a few weeks ago –
and I thought it would be fun, finally a cultural outing again, because in the outlying areas of Portugal we are not overrun by it, so to speak. I can't remember the last time I heard live music, but that is of course also due to the two C-risis years.

No crisis at all this evening, everyone is full of expectation. Almost all gray heads, with a few younger exceptions. Strange actually, because it swings like crazy! Much more than that monotonous hip-hop, which I think is like reggae: if you heard one, you've heard them all.

Well, matter of personal taste. I prefer upbeat music like klezmer rythm&blues or ska, and even the traditional portuguese music that gives you the urge to dance, and brings a smile upon your face. Unfortunately, that tradition – as it happens with traditions – is contemptuously pushed aside by the young people, who switch en masse to hard techno noise that gives you tinitus.
Maybe a bit biased, me?
Perhaps, the fact remains that the audience can clearly be called older, and that we appreciate the efforts on stage very much. It's very varied, they also do songs like Amazing Grace and You make me feel like a natural woman (good grace, what a voice! What a volume!) But most of it is african, fierce, Zulu, jungle energy.
And unintelligible, because my Zulu-ese can't even be called basic
It starts with a drum and a man who tells (in english) that this is the music with which his ancestors comforted and maintained themselves during the apartheid regime. Then the singers come on, dressed in colorful, probably traditional costumes, and it explodes. It doesn't make any difference that I don't understand the words, because the intentions and emotions are clear.

Too bad for you that I am not a talented writer who can imagine it all in such a way that you can see and hear it. In the absence of this talent, I gladly leave it to YouTube.
They got all the gray heads clapping, cheering, on their feet, dancing, waving their arms in the air – which I think is very clever, because the ability of the portuguese audience to sing along with their own music from start to finish is impressive, but I have not yet seen exuberant dancing here.

The Soweto Gospel Choir was therefore rewarded with a standing ovation – every clap well deserved!
.
We moved here in 2000 from Rotterdam, Holland to the Termas-da-Azenha, Portugal.
A big step, especially with two small children.
We are busy to rebuild one of portugals cultural heirlooms: Termas-da-Azenha, an old spa which has been turned into several holiday houses, rooms and a campsite.
You'll find mosaics and paintings everywhere.
Since 2018 we call ourselves the first B&B&B in the world – Bed & Breakfast & Bathrobes. You can buy a home-made unique bathrobe/housecoat with us.
Each week a little blog about what is happening around us. An easy read. A few minutes in another world. A little about what it going on in Portugal. If you plan your holiday to Portugal, it might be a nice preparation
You can subscribe to this blog- see at the right side of this page »
You'll get it every weekend in your mailbox.
On Sunday morning we publish it on our Facebook and on Instagram.