It was a dream. Not so much from her husband, but from her. They liked to go on holiday to Portugal, but buying a house there was just a step too far for him.
Why do you dream such a dream – your own house in Portugal?
Why does one dream of such a thing, and the other should not think about it? One of life's mysteries, probably. Tragically, her dream is now only being realized because her husband has passed away. The memory remains, but the poignant loss has worn off, and this project helps a lot with that.
"Can I stay a few more nights?" she asks the day before she was supposed to check out. "The carpenter hasn't finished the door yet, and I really need it to keep one room warm." She'd reserved a week here; nice and close. Very concentrated online translation work for about 6 hours in the morning, pulling weeds in the garden in the afternoon.
I make a face
It's quite possible that that door won't be finished in a week, two weeks – I'm trying to gently prep her a bit.
Jutta knows the Termas – from the blogs, but I don't know her. But I do know how things often go in Portugal. Fortunately I'm wrong because the door is in on Monday. "You are lucky!" I say, when I come to visit her to admire the house. It's lovely!
"I'd like to start making films again," she says next to the cute shed that is just behind the house. "I went to film school in Hamburg, but when I got married we moved out. When my husband passed away, I went to Berlin – a better movie scene, I thought, but it was a bit disappointing. That is why I decided to finally realize my dream."
You have to look through it; the house hasn't been inhabited for a long time, and was quite outdated. Doesn't matter, everything can be adjusted. As long as you know how to find the right people. Although Jutta earns a living translating films, and you can therefore assume that she has a knack for languages, she doesn't yet speak portuguese well enough to arrange workers – all the way from Germany.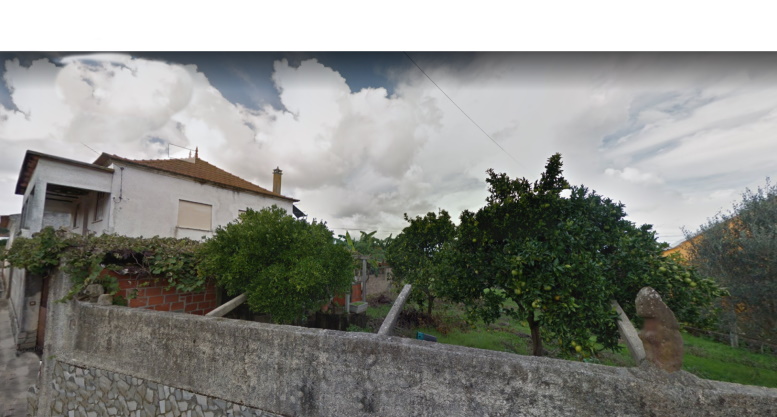 I get that. Anyway, the people you need, carpenter, builders, the sawmill – they're not on the internet. Here, everything's arranged via-via, by phone. People pass things on to each other, know about it from neighbors, hear about it in the café, have known those people from an early age.
It begins as so many emigrants begin: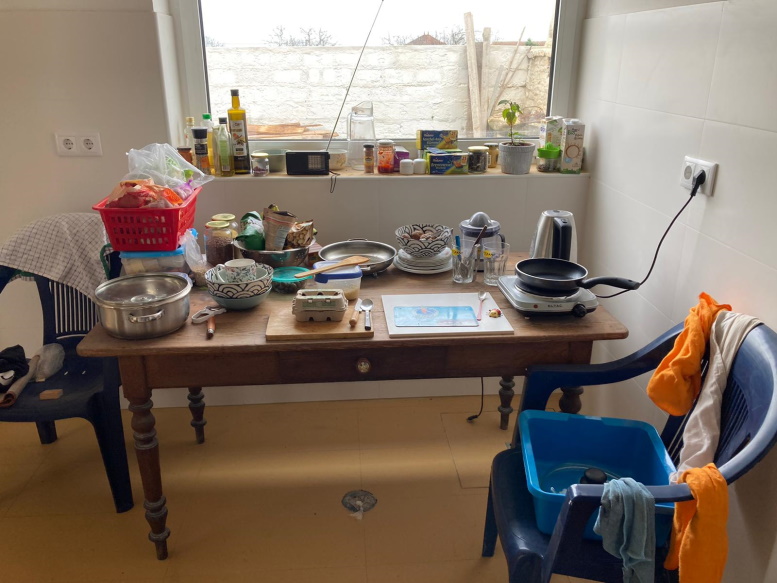 Everything improvised, mess everywhere, not knowing where to start, chaos. All you can do is pull out nettle by nettle while the carpenter lays the floor for your future bedroom.
But: the door of the bedroom is already ready
And if you're able to make such beautiful frames, the film making will be realised as well.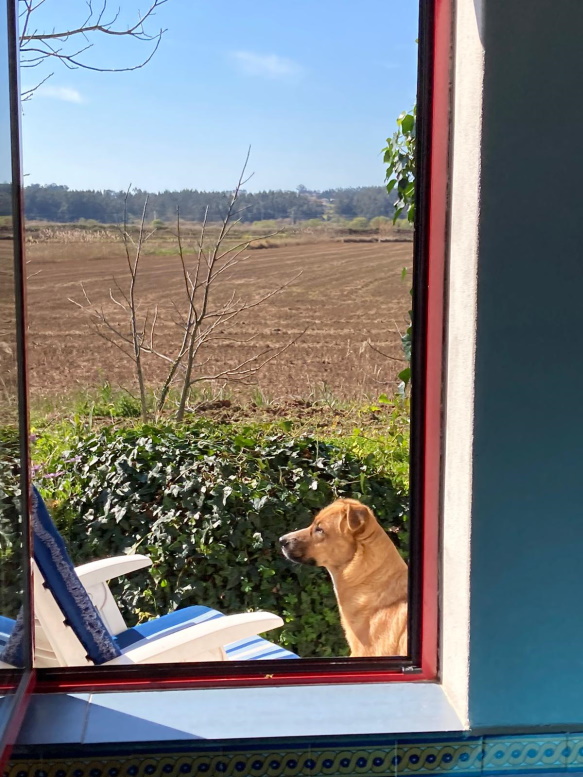 .
We moved here in 2000 from Rotterdam, Holland to the Termas-da-Azenha, Portugal.
A big step, especially with two small children.
We are busy to rebuild one of portugals cultural heirlooms: Termas-da-Azenha, an old spa which has been turned into several holiday houses, rooms and a campsite.
You'll find mosaics and paintings everywhere.
Since 2018 we call ourselves the first B&B&B in the world – Bed & Breakfast & Bathrobes. You can buy a home-made unique bathrobe/housecoat with us.
Each week a little blog about what is happening around us. An easy read. A few minutes in another world. A little about what it going on in Portugal. If you plan your holiday to Portugal, it might be a nice preparation
You can subscribe to this blog- see at the right side of this page »
You'll get it every weekend in your mailbox.
On Sunday morning we publish it on our Facebook and on Instagram.