Spring is coming, and it shows. The first campers have already been seen. The second family is packing as we speak.
There are many different types of campers
The first family came with a large camper. Understandable, because the oldest cutie is just a year old, and the second is still in mommy's belly. Then a camper is very nice, because not only you take everything with you for your oldest child, but with a baby in your belly you might be feeling less fit. Or sleeping is a little harder.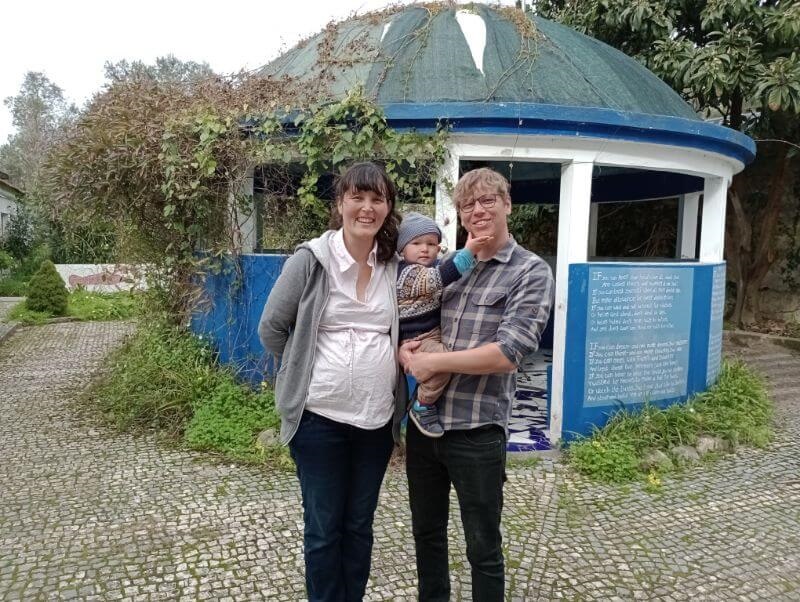 They're from Germany, and now are still able to enjoy their freedom. Once the kids are of school age, it's over. Then, as a parent, you must comply with the regime of school times, et cetera. "It's not that strict in Germany," says Dad, "but he goes to school of course, yes."

They are particularly interested in the history of the Termas. "In my country there are a lot of hot water spas," says mom, "we love it if we could take a bath." Of course you can, we still have bath cubicle 6 available as a guest bath.

A little later I hear laughter and splashing coming from that same number 6, and with a satisfied smile I walk on to the toilet block of the campsite to clean things up.
It's nice to have guests over again, especially when they're having a good time like this one
They apparently have passed on their talent for enjoyment to their offspring, because the boy is irresistibly charming and good-humoured. The next day, after their departure, a foreign number calls. Whether there is room at the campsite. "We're cyclists" the man says with a french accent. "Yes," I reply, "it's still early in the year, so we have plenty of room. Welcome."

Cyclists are always welcome, because I can imagine that you are not happy to cycle so many kilometers further because there's no space. Moreover, they never take that much stuff with them, of course, so they don't need much space.

A family of french-speaking Belgians. Father, mother and two young children. They've been on the road since September, and they'll be gone until next June. The eldest child has a healthy outer color, which ends where her bicycle helmet is. Freckled father, freckled daughter.
They've already cycled and camped all over the Iberian Peninsula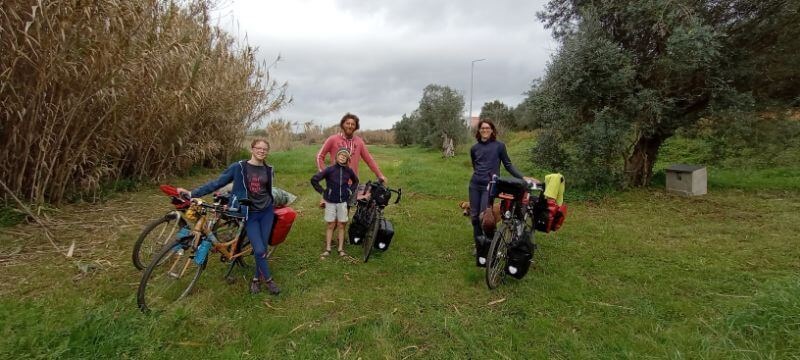 The Pyrenees weren't even the toughest – southern Spain was worse: the desert! That was really tough. "They always say that it's good when you're high and dry, but ithat was not the case then!" I joke with them. We offer them a garden table with chairs, so that they can comfortably enjoy their dinner and breakfast. They have the terrain and the whole toilet block to themselves.
I am very impressed with these campers!
What a beauty of an adventure. What an experience when you are a child, and you know that at such a young age you are capable of conquering mountains and deserts. Same goes for the camper-campers.
Probably they're campers for life
.
We moved here in 2000 from Rotterdam, Holland to the Termas-da-Azenha, Portugal.
A big step, especially with two small children.
We are busy to rebuild one of portugals cultural heirlooms: Termas-da-Azenha, an old spa which has been turned into several holiday houses, rooms and a campsite.
You'll find mosaics and paintings everywhere.
Since 2018 we call ourselves the first B&B&B in the world – Bed & Breakfast & Bathrobes. You can buy a home-made unique bathrobe/housecoat with us.
Each week a little blog about what is happening around us. An easy read. A few minutes in another world. A little about what it going on in Portugal. If you plan your holiday to Portugal, it might be a nice preparation
You can subscribe to this blog- see at the right side of this page »
You'll get it every weekend in your mailbox.
On Sunday morning we publish it on our Facebook and on Instagram.