It's only the fourth time that I'm back, so we're still in the margins of the average. Ever since I sold my old Peugeot to a portuguese man, who had to go back to the register four times because they didn't tell him which papers he had to take with him, I know that it is exceptional that you can arrange a bureaucratic thingy in one go.

I thought it was just me, that I always had to go back for this or that. Stupid foreigner, I thought.
But no, here we go again: portuguese bureaucracy, also at the MEO store
What the hell is MEO, you may ask? Mayw – that's how you pronounce it – is one of the portuguese providers. Phone provider, fiber optic cable operator, television dish supplier. We have been with meo for years (I'm going to write it in small print now, it's getting too intrusive) because there was never any other choice.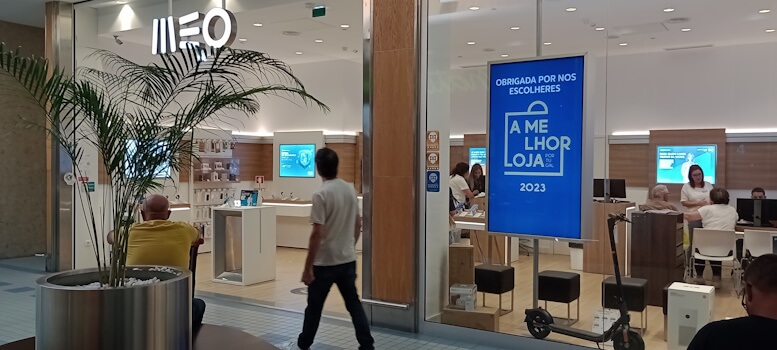 We were never really interested in the rest of the package, which you must purchase, because it was and is more about the internet for us. Landline, okay; cell phone, fine. We have arranged television with separate antennas for the 4 portuguese public channels, which are fine for most portuguese guests.
Foreign-speaking guests do not actually watch TV during their holiday.
There was a nice little Mayw-shop in Soure. Only for mayw customers, and the other provider (Vodafone) had a nice little shop on the other side of the street. You could go for charging your phone, or things you were worried about in those tiny shops.

I write in the past tense, because both are no longer there.

Probably too expensive; service is not profitable. Now I have to go to Figueira da Foz, twice as far. Anyway, it has to be done, because I really want to finally change my cell phone number. Months ago I lost my mobile phone, and that number was included in the internet-telephone-television-cell package.

First I called customer service. Mayw's isn't that bad. They have an upbeat melody while waiting, and fortunately the wait isn't that long. The lady explains to me that I can get a "segunda via" – a second version of your SIM card. That option is out, because I didn't know that, and I already have a new one, and everybody knows and uses the new number.
Fine. So then I have to fill out forms, and go with them to the store
She explains to me where I can find those forms on their site, after which we bid a cheerful farewell.
Really, Mayw's customer service isn't that bad. Of course always depending on your own annoyance level and the mood of the person helping you. Speaking of annoyance level: the graphs went up quite steeply once I was in the store in Figueira with those forms.

The bearded young man didn't ask: "Whadyewant?" not really rude, but also not really interested. Then he tried to get rid of me by asking, "Who gave the senhora these forms?" but since that was a certified colleague of his, he couldn't fob me off with that.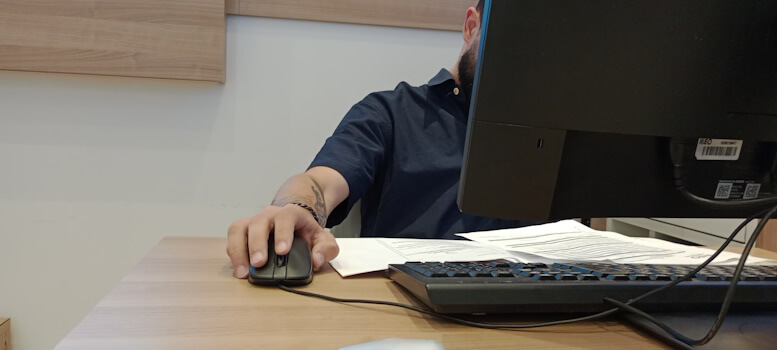 Then, according to him, I had to have a cartão de cidadão (*) – otherwise the system would not accept it
Bad luck, kid, that's your problem, I thought, explaining, "As a foreigner, I can't have a cartão de cidadão." "Yes you can." "No, I can't" I say with a slight raising of my voice and in capital letters, "as a foreigner you can't, because it also contains your ID. And that is not portuguese." He has to talk to his colleague with the ten differently colored acrylic nails. She frequently taps the light green on the paper, and apparently that helps.

In any case, he also starts tapping quite a lot on his keyboard, and rocking his left leg back and forth in the same rhythm. Then another bump comes along, apparently, because he gets up abruptly, interrupts all my philosophical thoughts about whether most people's lives are really all about acrylic nails and design cell phones nowadays, and asks another colleague something.

Something curious, when I look at it from my distance, because she looks at him askew, and recoils a little. Just a little bit, but yes, I'm just sitting there waiting, so I've entered a perceptive, contemplative state.
What else are you supposed to do while waiting half an hour?
Maybe that good boy has bad breath – not too unusual here – you don't want to get too close to that, do you? But maybe my request is so unusual, and unique, that she almost falls backwards in surprise. Who loses their phone?? And who doesn't know that you can request a segunda via???

Oh, those stupid foreigners! Anyway, he's coming back, we're going for gold apparently.
The whole session ends with a copy of the proof of application and a wink.

Oh gosh, that makes everything okay.
(*) O Cartão de Cidadão combines the citizen, tax, health service and social security identification numbers and replaces the voter card. To vote, all you have to do is show your card. It is a physical identification document, but you can also identify yourself digitally. The electronic functionalities of the card allow you to authenticate yourself in public and private portals, perform online services and digitally sign documents. To use the electronic functions you need a card reader and pin codes.
.
We moved here in 2000 from Rotterdam, Holland to the Termas-da-Azenha, Portugal.
A big step, especially with two small children.
We are busy to rebuild one of portugals cultural heirlooms: Termas-da-Azenha, an old spa which has been turned into several holiday houses, rooms and a campsite.
You'll find mosaics and paintings everywhere.
Since 2018 we call ourselves the first B&B&B in the world – Bed & Breakfast & Bathrobes. You can buy a home-made unique bathrobe/housecoat with us.
Each week a little blog about what is happening around us. An easy read. A few minutes in another world. A little about what it going on in Portugal. If you plan your holiday to Portugal, it might be a nice preparation
You can subscribe to this blog- see at the right side of this page »
You'll get it every weekend in your mailbox.
On Sunday morning we publish it on our Facebook and on Instagram.