When I want to load the groceries, a small Portuguese woman comes to me. Well, not to me, to Mira. She's always the one that gets the most attention everywhere. Maybe because most people don't dare say to another human being: "Hey, honey, come here!" to say.

That used to happen, but those times are long gone.
And an old lady never actually said that to me
She's an old lady, but certainly not a wuss, by the looks of it. A fisherman's wife. Fisherman's friend. While she cuddles with Mira, even giving her a kiss on the snout, I strike up a conversation. "Do you like dogs a lot?" I ask an almost rhetorical question.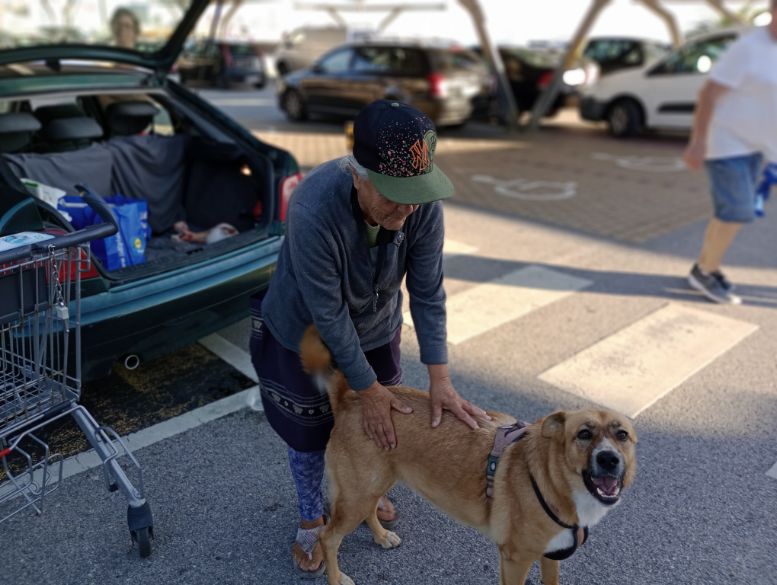 Many people then answer: "Yes, dogs are much better than people!" – indicating that they have not had such good experiences with the latter type.

"Yes, we have always had dogs, and that was not so common, as fishermen," says the woman, unashamedly showing the gap of her missing front teeth. "Do you live here in Figueira?" I ask again, to keep her going, and sure enough: "We lived there," she points into the distance along the beach, "where that new hotel has now been built. They were all small houses back then, and the streets were not paved. Sandy paths. Sand everywhere, always sand."
We are at Lidl in Figueira – a supermarket overlooking the beach
The woman continues, I don't even have to ask anything anymore: "I was born in '49, on the beach." But I need to know a little more about that: "Really, on the beach? In the sand? Not in the hospital?" "No, no, the hospital, we had no money for that, and my mother just had to work, the fishing continued as usual. I was born, but I was as good as dead once I got out. I was sitting the wrong way, my feet were in the way. It was December 21, my mother took water from the sea to wash me but it seemed too late. She went home, and the neighbor came with onion water to make me cry, and to wash me again with warm water."
Born on the beach, what a start of your life, on December 21st!
Now the winters here are not terribly cold, but for a newborn baby it is probably a bit chilly on the sand of the beach. And your first bath with seawater… let's say you can guess right where you ended up and what will become of you. And that you're a survivor.

That's still clearly noticeable. This is not some weak old lady who can no longer do anything for herself. She stands here at the supermarket with fish every day, but now "it's not much anymore, all the tourists are gone, people don't buy." Not even a freshly caught sardine – and that's really nothing to sneeze at!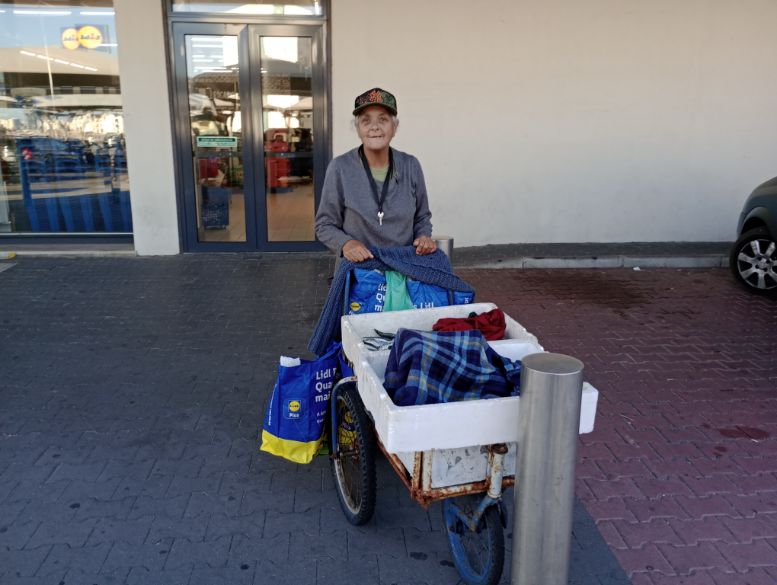 We once went to the beach for a picnic with the entire group of volunteers, a container of still frozen sardines and a barbecue, where we encountered a group of fishermen selling their freshly caught sardines. Then we tasted the difference between fresh and frozen.

Which one is tastier, do you think?
And what else do you think we did?
.
We moved here in 2000 from Rotterdam, Holland to the Termas-da-Azenha, Portugal.
A big step, especially with two small children.
We are busy to rebuild one of portugals cultural heirlooms: Termas-da-Azenha, an old spa which has been turned into several holiday houses, rooms and a campsite.
You'll find mosaics and paintings everywhere.
Since 2018 we call ourselves the first B&B&B in the world – Bed & Breakfast & Bathrobes. You can buy a home-made unique bathrobe/housecoat with us.
Each week a little blog about what is happening around us. An easy read. A few minutes in another world. A little about what it going on in Portugal. If you plan your holiday to Portugal, it might be a nice preparation
You can subscribe to this blog- see at the right side of this page »
You'll get it every weekend in your mailbox.
On Sunday morning we publish it on our Facebook and on Instagram.