This blog is about the fire, it couldn't be about anything else. It was only a few days ago that the national mourning ended, and that our own tsunami of "How-are-you-doing" ceased.
Forest fire is a part of living in Portugal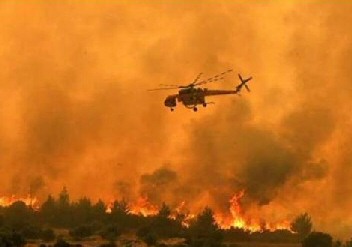 At least, from time to time. In recent years it was less common because it was always a nice temperature – about 25º. Ideal!  The swimming pool is doing well at 25º, the plants are do well and I'm singing.
If  it gets warmer, like last week when we reached the 37º, the risk of fire increases per degree. Now it's very rare for the coastal region to get that hot.
.
.
The last time I can remember is definitely 15 years ago
We also experienced forest fire once. "The fire of 2005", we still call it because it's very impressive. It started in a circle around us with plumes of smoke on the horizon. You think: oh, that's far away. It's just a little worrying.
But then it spread to Moinho de Almoxarife, 5 kilometers away. The wind spreads the fire,  it crawls over the grass and its sparks fly through the sky. With us it's a weird situation: on one side of the road there is not much going on, because there you are at the edge of the fields. And there the water flows.
On the other side of the road, the hills begin. Our terrain runs to the top of the hill, where the neighbor's eucalyptus plantation begins. Luckily he just planted many small trees. We had a mini forest on our hill.
I developed a boundless respect for the fire brigade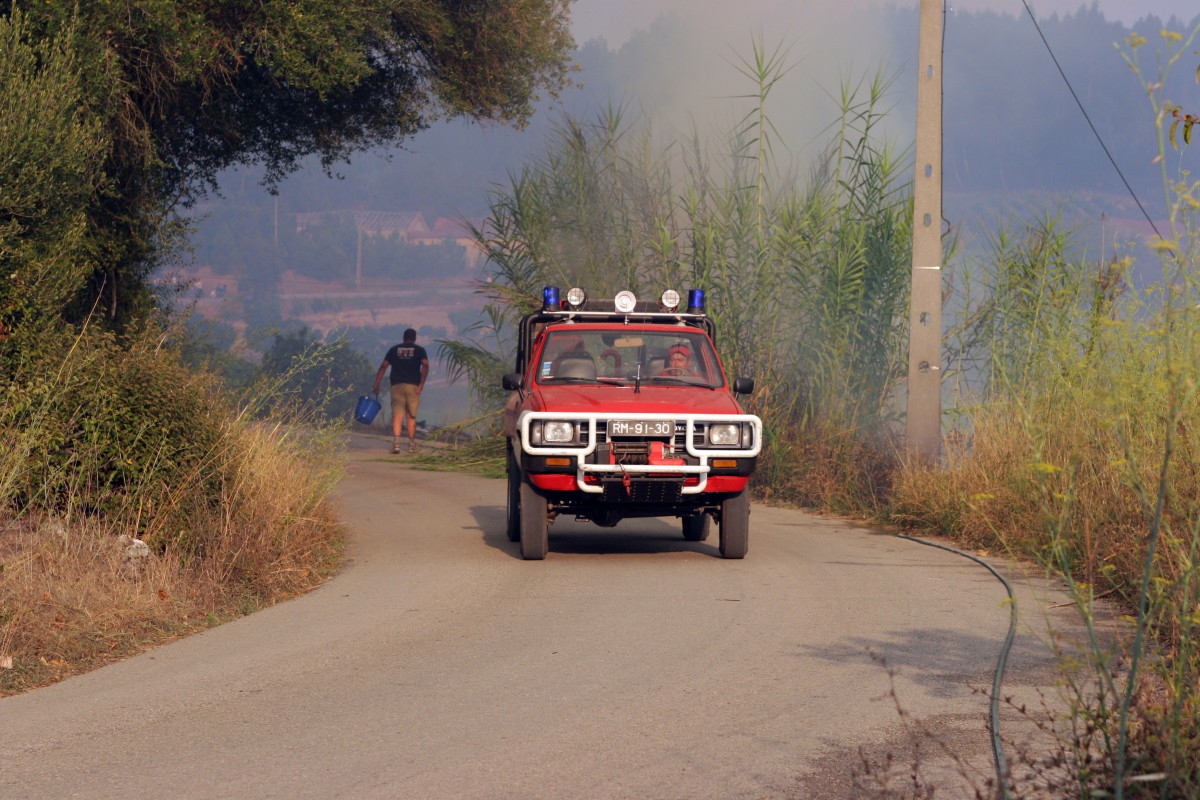 They knew exactly what they were doing. The commander drives around in his jeep, keeps an eye on everything, and gives his orders. They keep an eye on the houses, and if they are at risk, they will extinguish, taking into account the wind and the speed of the fire.
During that time they came to refill in a nearby basin, so we had  firemen around at all times. At some intervals they stopped, dropped out of the car, and we brought them cold beer and toast so they could go on. Three days in a row.
I've been looking at the burning forest with a few firefighters, where they explained that they couldn't do anything, that you have to let some parts go. Ok, I understand that. And also: it's all coordinated, if an aircraft drop it's load, you don't have to go with your hose.
What I found remarkable is that unbelievably many people suddenly came to watch. There was a lot of traffic on our, usually, quiet road. It was chaos and they had to make way quickly for the firemen once in a while.
The drama in Pedrógão Grande
Last week in Pedrógão Grande, it became a drama, because many people fled in panic. It is a very forested area, with little roads through it. There are a lot of city people from Lisbon coming to their weekend house – who do not know exactly where they live and what to do if something happens.
Many older residents in the area have stayed at their house and kept everything wet. I admire them enormously, they must have nerves of steel. I myself have seen a forest fire at a distance of at least half a kilometre, but when it  passes through your backyard, it's really hard not to panic.
It's over, thank goodness. As a result, the national discussion about what measures should be taken have been re-established. Because it was such an exceptional situation, something that never actually occurred. Let's make sure that it never happens again!
Tips for turists / foreigners:
– Do not make an open fire, certainly not when it's sparks
– Use a gas barbecue if you really want to barbecue
– Douse your cigarettes in water and do not throw them out of the car
– Give your plants sufficient water that they do not dry out