Well … there we are, in the midst of our resolutions in the endless and slightly gloomy month of January. You're a bit out of wack because you've lost your familiar routines, and maybe forever! (Projection, my dear?)
They call this month nowadays: Dry January
I suspect that day 1 of this month is the day when people drink and smoke the least. If I recall the sea of cigarette butts, empty bottles and tipsy people – you break your neck over all of that on New Year's Eve in Figueira da Foz – I can't imagine that there's a very large group of people moaning: "Oooooo … I never drink again …." and then fall back into bed again. To stay there as dead until the 3rd.
Silver lining: your resolutions have been realized for 3 days. Check!
That scene with the butts and the bottles dates from years ago, when I brought the boys and their friends to Figueira to celebrate New Year's Eve there. Then I quickly drove back to the tranquility of the Termas, and in the morning they came home with the first train.
Remarkable month, dry January
I don't know how it is with you, but if you don't celebrate your birthday this month, there's nothing festive to look forward to. I find the confrontation with the very factual reality always quite intense – January is clearly not my favorite month.
What are you nagging? – you'll say – you're sitting there in the sun! Day in, day out: sun! We get a 10 from Weatherforcast.co.uk.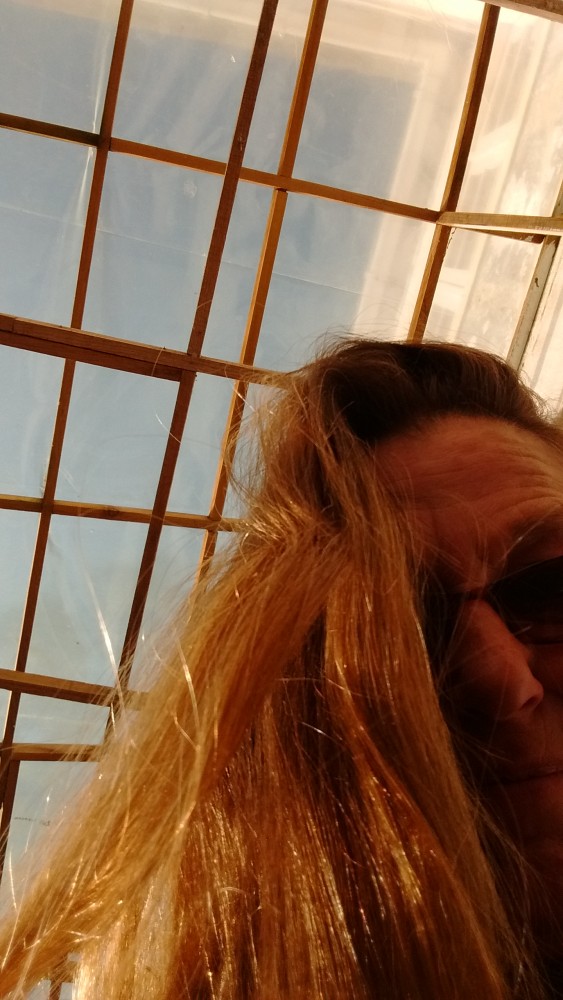 Yes, this is also luxury, complaining about abundance
It's a bit difficult to rise (early), that is to say: early, I don't even think about that. If it's around 8:30, it's early enough. A person also sleeps a lot more, in the winter, do not you?
First breakfast in the big room; it's heated by the flowing water. It's wonderful there. Coffee, a good book, warm room, then it quickly gets half past ten before the work begins. An advantage of being your own boss. Although I can also be very difficult, as a boss! The internal discussions are now and then intense: "If you don't make sure you put a nice video on your Facebook today, then …" "Yes, then what?" I ask myself defiantly, "you have to let me go?"
"You know exactly what I mean!" I say firmly to myself, and indeed: of course I know exactly what I mean. "Yeahyeah, I'm doing it already", I say grumpy, knowing that I really can't get out of this one.
In the morning, in the office you're freezing. Everything is built to keep the heat out, so with the door and the curtains open it's more or less ok. We don't have heating there, according to good old Portuguese tradition. I've been in a few (new) stores yesterday, where the staff are all working packed up in coats and jumpers, shawls and gloves. It's quite normal.
Yes, it is a sunny winter. Wonderful!
From half past twelve to four o'clock, certainly. If you're in the sun, then. I'm having lunch behind the kitchen, and I have to undress half to be able to sit there. You're being stewed there. It's 25º.
When I have to go the front, to the other side of the kitchen, in the shadow, because people come over who want to have information about the water or the rooms, they're standing in their thick coats with fur collars, pointing to my bare feet, "Olhe! A senhora não é portuguesa, pois não? " (The senhora is not portuguese, are you?)
I feel the cold creeping into my feet, because the temperature difference is about 20 degrees. In 20 steps you're going from deep freeze to furnace. It seems to be minus 30 here!
I tell the people what they want to know, send them on their way with a card, and quickly get back to my furnace, intend to store that wonderful warmth deep in my bones to have power for a few hours. Then she's gone again, my good friend the sun.
See you tomorrow, dear friend! You make our nights siberian, but our days a lot easier by carrying us through the icey plane of good intentions and the month of dry January!