No, it was not like we ducked down, stressed by the sound of a car. It wasn't that bad, with that hiding-for-father-Christmas. It was not the case that the whole village was crowded. There were a few here and there, a few couples and a family, and a couple of friends.
By the way, even if you are in hiding, there is no escape. The church bell sounds every hour with the well-known: "Silent night, holy night".
Now you can see (or hear) that as authentic, idyllic and rural
'The years before it was "Jingle Bells". Every hour, a bit clumsy, as if there was a child who was still learning to play the chimes. Ping-ping-ping, ping-ping-ping …. blèblèblèblèblèblè … and that starts mid-November, and continues until mid-March. Then you have value for money, because those tapes for the clock tower are on the budget of the ever-shrinking church. Now, there are only two churches left that strike every half hour and hour.
Silent Night is a lot less intrusive and intrusive, if you then necessarily have to replace the classic Avé Maria because of the festivities
Furthermore, it's not too bad. If you don't go to the shops or to the city, you can almost ignore Christmas here in the country. Although I like to go to the pastelaria on the days before Christmas or to one of the small family supermarkets in the neighbourhood, to be able to say goodbye to everyone: "Bom Natal à todos!" A group of coffee drinkers even stopped with their conversation, and warmly yelled back a "Bom Natal". Total strangers. Nice, isn't it?.
On Christmas Eve we sit outside at a large campfire, with a good glass and a nice conversation
From the corner of my eye I see small silhouettes approaching. "Hey Elijah!" I greet the first silhouette, "everything gut mit ihnen?" There comes Malou too, and a bit behind, because she has to carry the little one who's not so little anymore, there's Ruth. "Olá boa noite, fröhliche Weihnachten! How are you? "
They are going to make their traditional Christmas walk while daddy Jens is cooking, and then: "… dürfen wir unsere Geschenke auspacken!" Malou dances up and down, while Elijah starts the walk – the sooner you go, the sooner you'll get back. He has the idea that Santa might have left some Lego behind ….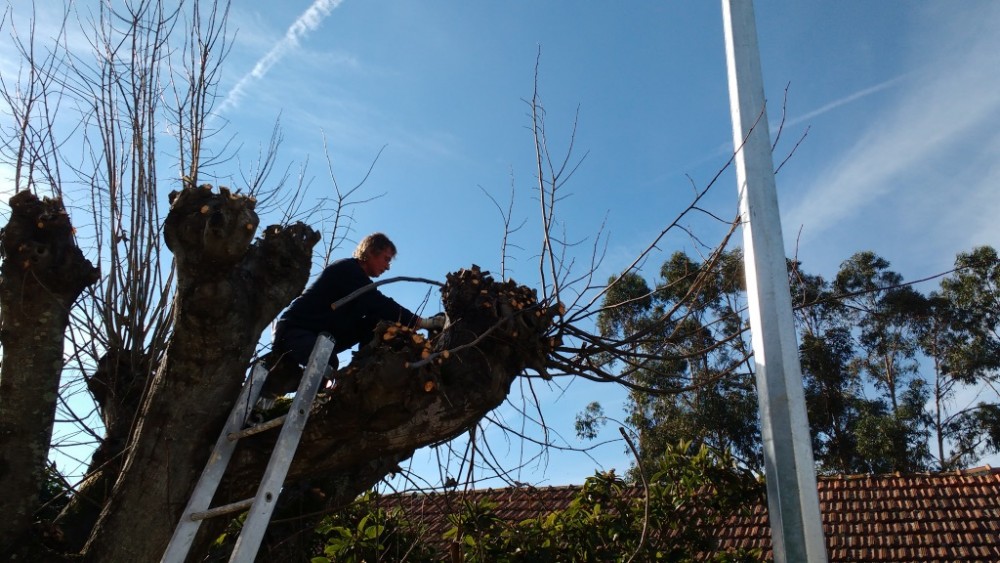 They think it's a nice fire. Totally agree, made by Martin who, as a real outdoor man, can even make such a beautiful sea of flames from wet wood. He was still sitting in the trees this afternoon, chopping off the fresh unwanted branches, and tonight they feed the fire. This is, I believe, a win-win-win-win: as little Christmas atmosphere with kitsch lights as possible (and no heavy meals untill you can't move anymore), no mandatory family dinners, nice company, cleaning up the garden-mess and a great bonfire.
Christina, another guest, also stops by to have a chat, and brings a bunch of salsa. That'll go in the soup tomorrow.
Best Christmas ever! Completely fine together with all of those in hiding.
How was it with you? Did you have a good time?