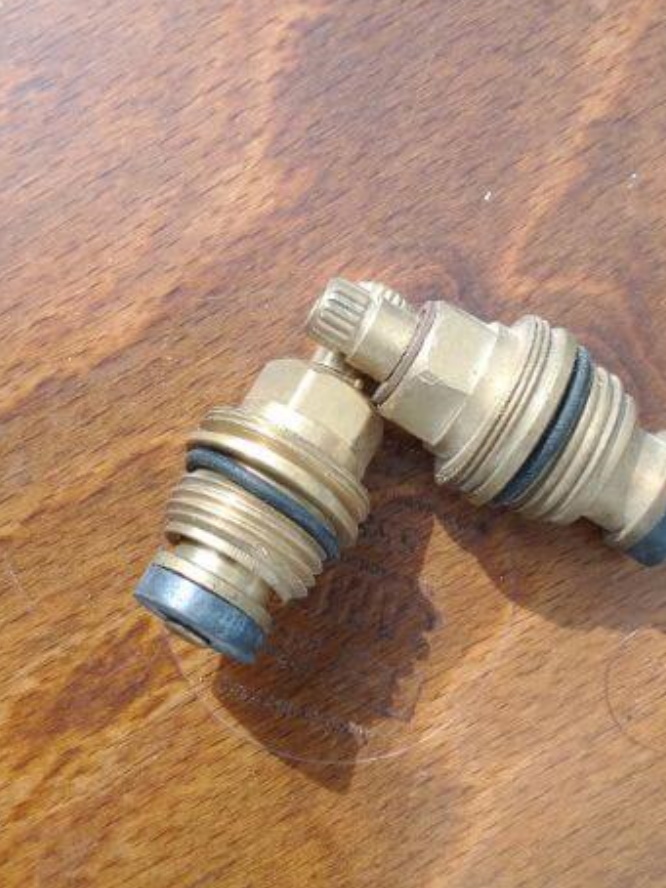 Be honest: any idea what this is? No?

Years ago I didn't know either, but when I came to one of our regular building materials dealers, he told me – not at all commercially responsible – that instead of a new faucet, I could also do new castles.
That's what those things are called in Portuguese: "castelos cerámicos", which we immediately translate with catchy castles
You open your tap, take out the old castles, put in the new ones, and there you are: like new. For a few euros and a lot less effort than replacing the faucet. Long live the catchy castles!

A few months ago my brother asked me if I wanted to go to the Bricomarché for some special castles. They had to be this-and-that brand, or they wouldn't fit, and his tap was leaking.

(That is indeed a bit of a disadvantage; you have different models that differ a nanometer from each other. And water always sees a possibility to leak, even if it is tiny. Very annoying property of water.)
That was of course done in no time. It was also a piece of cake to send them through the CTT
I suspect the CTT haven't communicated nearly as much about it as we have amongst each other and with them:

My brother (after a month of patient waiting, and several mutual exchanges):

Yesterday I sent another cry for help (Please, can I have this package now!) and now they need to know everything again.
I think you bought sandcastles, now washed away by the ocean.

The Post Office (as emotionless as possible):

Content 2 castelos ceramica
No invoice available.

On July 12, 2021 at 5:51 PM, Reclamação wrote:

Dear Customer,

In order to process this case and make inquiries, please send us the following data/documents:
– Sender's Name and Address;
– Recipient's Name and Address;
– content;
– Invoice or content value;

Best regards,
Customer Service

Me (as an institutionally outraged client):

Boa tarde,

mandei um pacote com correio azul no dia 1 de Maio com IDLL148400212PT. No ultimo dia deste mês ainda está em Lisboa – aparentamente.
Penso que alguma coisa correu mal. Mas isto não é comigo, nem com o meu cliente.
O pacote tem que estar em Roterdão – onde estão à espera dele – brevemente.

Um mês sufice, pois não, para mandar um envelope de Portugal para Holanda? Os senhores são especialistas em mandar correio ao todo lado, pois não? E suponho que ainda não utilizam cavalos para isso?

Acho que isto é uma vergonha. Entretanto, este pacote tem que mudar de Lisboa para Roterdão. Já.

Just throw this in Google Translate 😀 Have a nice day!

Google:

I sent a package with Blue Mail on June 1st with ID LL1484002PT. On the last day of this month, it's still in Lisbon – terrifying.
I think something went wrong. But this is not me, nor with my client.
The package must be in Rotterdam – where they are waiting for it – short.
Why not a month to send a Portugal envelope to the Netherlands? You're experts at sending email all the way around, aren't you? And I guess they still don't use horses* for this?

I think this is a shame. However, this package should change Lisbon to Rotterdam. Already.

* The CTT has a herald on a horse as its logo.

My brother:

Received a reply to your email. We have a claim number!


Dear Customer,

We have received the claim concerning to the mentioned object, which received the number SR0002294339.

Best regards,
Customer Service

Me:

Awesome! We have a CLAIM number! That's quite different than a TR&TR number. Not everyone gets that. You have to be patient to get that….

(I'm starting to get the feeling this isn't going to be the happy ending we're hoping for…)
Almost an anniversary. Almost two months. Keep it up!
We cherish the claim number. Those castles are only 44 days on their way
Unfortunately… it has indeed ended badly with those castles, they're still missing. The last email from Customer Service reported that they disappeared without a trace, and that the CTT is not responsible for it.

We found that quite surprising.
Because if they aren't responsible, who is?
We have some beautiful castles, by the way, in Portugal. Even close by, in Montemor-o-Velho. Originally built by the muçelmanos, it's almost even older than Portugal itself.