I'm starting to doubt myself. I was completely wrong in my judgment. I always thought I had a good understanding of the human psyche, but now …
In some situations, such as with the last campers, I was completely wrong

I do what everyone else does: when you meet someone for the first time, you rapidly create a story. You don't even realize it. Especially when you see so many people for the first time, such as a hotelier, a B&B-mother or a manager of a camping site, it's completely automatic.

We would "all together" go to Figueira (when we still were "all together", just two weeks ago) to have an ice cream, stroll a little on the beach, and get used to the coming goodbye.I was also able to join, despite the expected arrival of campers. They had called to see if they could come a few days earlier. They were here at 11 or so, great! I'm good to go!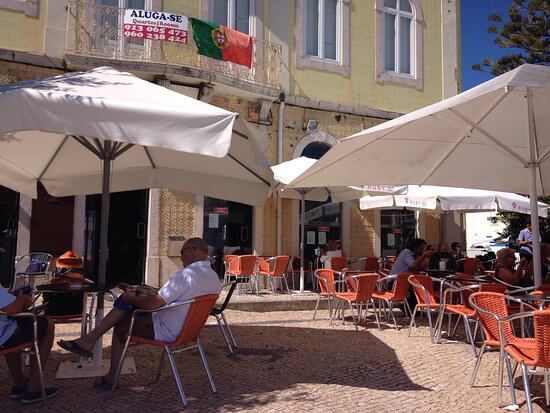 In fact, they were all set up at the campground when we left. I said to my sister when I saw them utter with their design caravan: "I'm curious. They will stay, because they have booked the rooms for their adult children, but they do not exactly belong to our target group."
I thought I saw that in her immaculate off-white outfit, and her husband's matching polo.
The next day I saw her in a dress with large purple flowers and matching purple shoes. Wonderful! You could go on the catwalk with that. Not something you often see with campers, especially the shoes.
The following days always in a different beautiful outfit.
"How does she do that?" I wondered, "That caravan isn't that big. It must be very efficiently set up!"
It was noticeable in the toilet building. We didn't have to do anything there, it was spic & span
They were very friendly, complimentary and cheerful during the breakfasts I served them and their children. The whole family together, but everyone has their own place. And space. That's important, because no matter how much you love each other, you don't want to sit on each other's lap all day.
We had a chat when we said goodbye. This falls under the confidentiality law between guests and B&B-mothers, so we'll not discuss it further here.
But I was quite wrong, with my first impression and automatically generated story.

Just like with the next camper. A single woman my age, smiling happily, who had had the Termas "on her list for a long time, but because of 2020 it hadn't happened yet." Rianne, with a large white campervan, and an electric bicycle.

When she made a dubious face when she heard the daily price-with-electricity, I said generously: "Well then, let's pretend you don't use electricity. Then it's fifteen a day." Her face cleared up, and said, "Yeah, because who knows how long I'll stay…"

Well, that was clear this morning. That was two days then. Just disappeared without a word, and without paying
The rudest thing, as far as I'm concerned, was leaving her garbage behind. I was again completely wrong here, with my judgement.
Quite humbling. Always something to learn.
–
We moved here in 2000 from Rotterdam, Holland to the Termas-da-Azenha, Portugal. A big step, especially with two small children. We are busy to rebuild one of portugals cultural heirlooms: Termas-da-Azenha, an old spa which has been turned into several holiday houses, rooms and a campsite, with games like pingpong, pool, foosball, and a FancyDressingRoom. You'll find mosaics and paintings everywhere.
Since 2018 we call ourselves the first B&B&B in the world – Bed & Breakfast & Bathrobes. You can buy a home-made unique bathrobe/housecoat with us.
Each week a little blog about what is happening around us. An easy read. A few minutes in another world. A little about what it going on in Portugal. If you plan your holiday to Portugal, it might be a nice preparation
You can subscribe to this blog- see at the right side of this page »
You'll get it every weekend in your mailbox.
On Sunday morning we publish it on our Facebook, on Pinterest, and on monday on LinkedIn.