"Then come around 11" I app, "'cause you do need a fair amount of time, and if the sun goes down at about 5, it's no longer nice."
"Oooo soooo nice sitting in the sun making mosaics! What a life we have!"
Paula would come and make a mosaic. In the sun, 'cause it's a sunny winter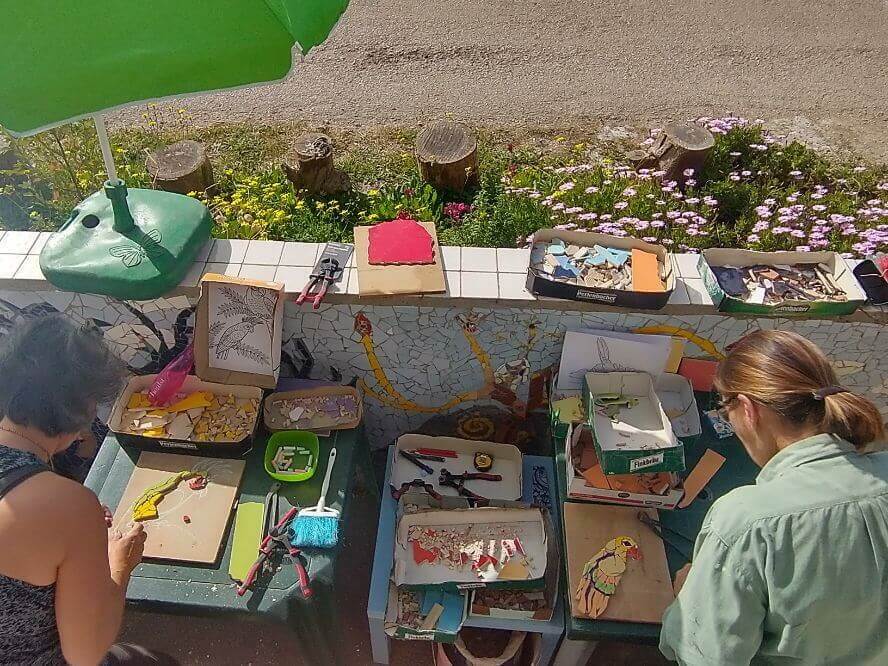 I had been thinking about that for the past week, what would be a nice little project to do. It had to be finished in one day, and glued on, because that's what it was all about. Paula wanted to learn the secret Termas method*, with which we pop the mosaics on the wall in one go.

Now not so long ago I put the finishing touches on the mosaiced bottom part of the office wall. A 3-D mosaic, which gives me the opportunity to use very kitsch floral tiles, where I then just paste over the kitsch, leaving only the flowers visible. This has nothing to do with the secret Termas method, but I bring it up because I added a little parrot at the end.

The little parrot went with the Termas method on the wall.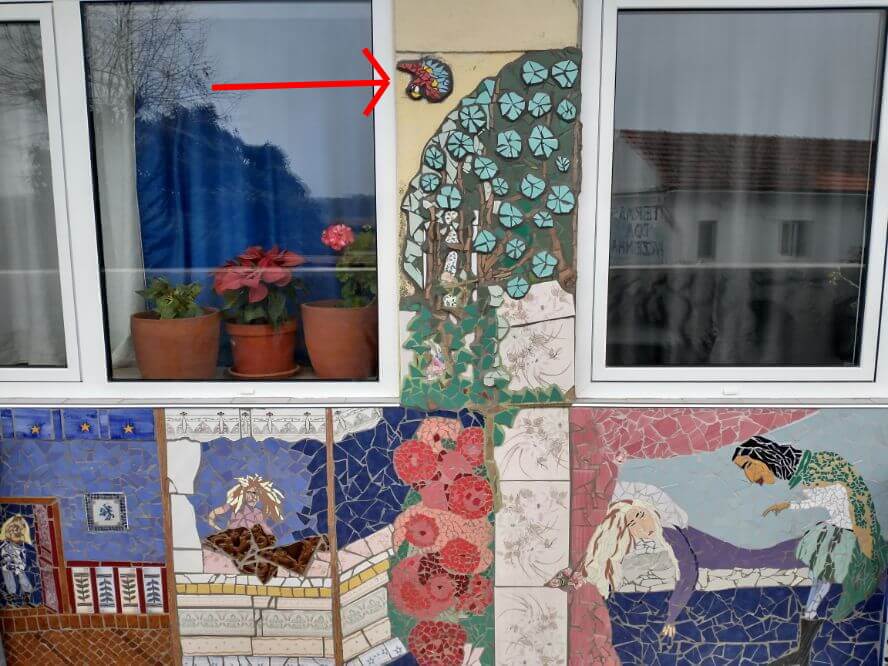 I thought it would be fun to add a few more parrots here and there. Great project for people who come to do some mosaicing for a day or a week.

So parrots it is. I prepared everything, and started already with a colorful screech.

"I'm a little later" Paula apps around the agreed time, "auntie fell over yesterday. With her wheelchair and all. It wasn't serious, but I was still worried, so I called an ambulance anyway. Then she can be checked in the hospital."

The fallen aunt is already 94, and she has a sister who is 91. Paula is a caregiver, that is, she coordinates the care, because it's a bit strange to do very intimate things with relatives that you never were intimate with in that way.

Usually aunts help you to go to the bathroom. When you're a child.

So there are girls coming to do those things. That has to be organized, because girls never spontaneously come to help old aunts to spoon their soup, wash the dishes, and the like. Other than that, the old ladies still have a zest for life, but when you're in your 90s, sometimes things just don't work out.

For example, because you are in a wheelchair.

It ended well with the aunt, thankfully. She has nothing.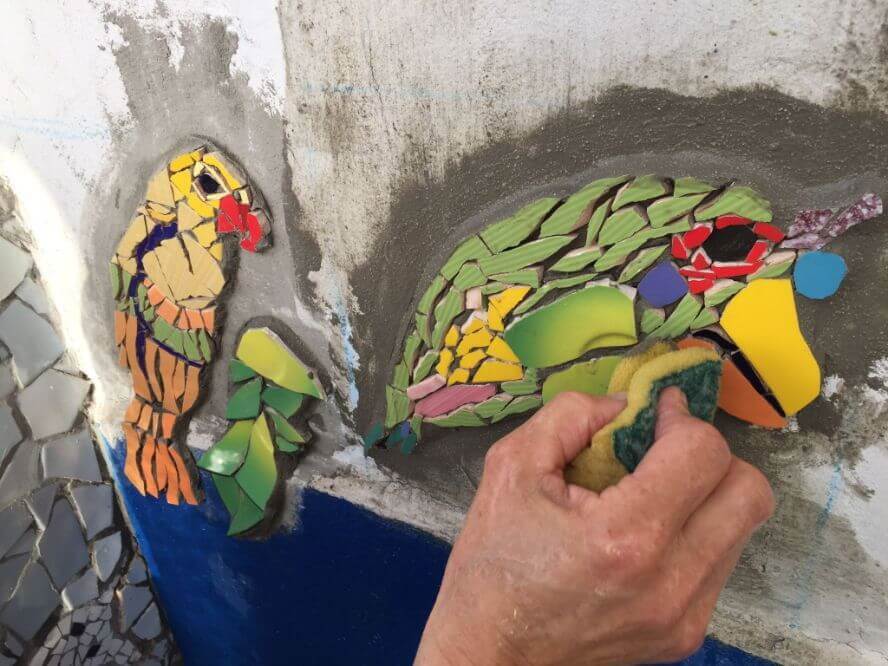 We, on the other hand, have everything! We got three birds on the wall! And I already know: this is going to get completely out of hand. Because well, a parrot never comes alone, and they have to sit on something, and that toucan wants a friend, you can see that right away ….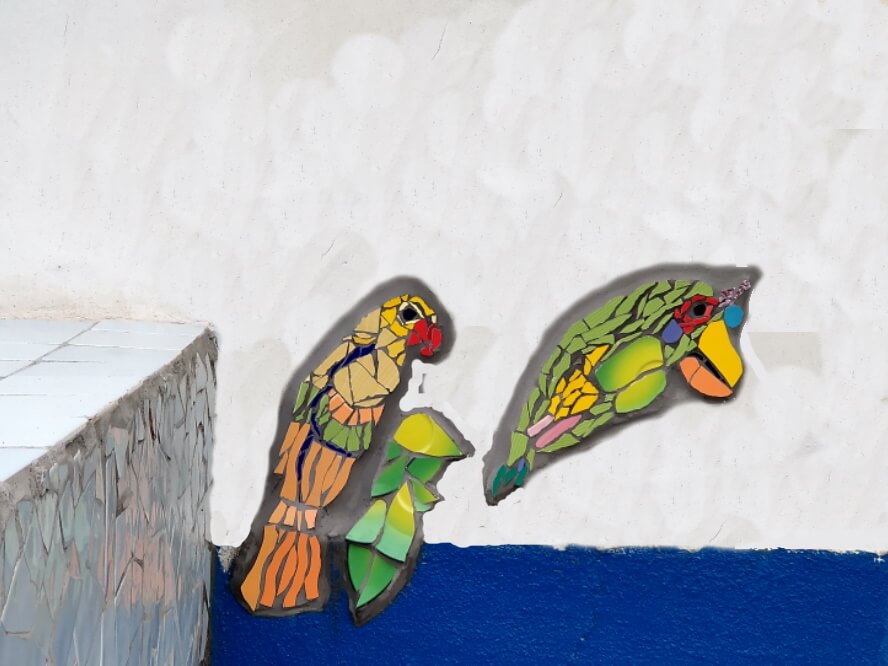 * If you want to know the secret Termas method, you can. Come by to make a mosaic, so you can experience it in person. Note: only for people with experience!
We moved here in 2000 from Rotterdam, Holland to the Termas-da-Azenha, Portugal.
A big step, especially with two small children.
We are busy to rebuild one of portugals cultural heirlooms: Termas-da-Azenha, an old spa which has been turned into several holiday houses, rooms and a campsite.
You'll find mosaics and paintings everywhere.
Since 2018 we call ourselves the first B&B&B in the world – Bed & Breakfast & Bathrobes. You can buy a home-made unique bathrobe/housecoat with us.
Each week a little blog about what is happening around us. An easy read. A few minutes in another world. A little about what it going on in Portugal. If you plan your holiday to Portugal, it might be a nice preparation
You can subscribe to this blog- see at the right side of this page »
You'll get it every weekend in your mailbox.
On Sunday morning we publish it on our Facebook, on Instagram and on Pinterest.