The best olive oil comes from Portugal. It's that time of year again! Time for the olive harvest. It's a good thing that this blog can't transfer the aroma of the remaining mush, because then you'd probably be out of here right away, dear readers.
Time to stand in line for hours or even days at the olive press with your potential olive oil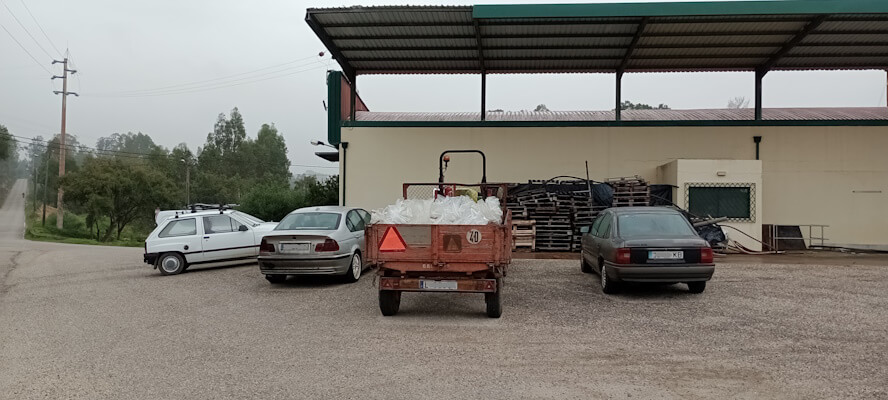 We have 77 olive trees on the hill. And a few more down at the campsite. One of them has fully grown, is never pruned because it provides shade over the camping site hangout.
Those 77 trees were treated by senhor & senhora Martins until 2020. They are neighbors from adjacent Azenha. Tinee-tiny village, with a teensy tinsy little chapel in the bend. This couple are real farmers. They have a quintal, a horta (vegetable garden) where they grow everything they eat; they have chickens and sheep, and so eggs, chicks and wool. And chicken soup and mutton.
At first they did it by hand, as they always did, but later they had a little device on a stick, which did brrrrrbrrrrrbrrrrr very pleasantly, and which made the olives come down just as easily.
It's a lot of work, to cause olive oil
Usually it is a group of around 6 people. They first clean the environment, because brambles especially like to grow at the foot of olive trees. They find it pleasant. From there they would like to take over the whole world. They become very annoying if you also want to get near that tree. Now brambles have a rotten little character, so you don't have to feel guilty that you're a nature destroyer. They have a bad disposition; even dead they still try to make you stumble and humble you. They deserve no better than to be trimmed (even killed).

Very different from olive trees, which exude dignity, are generous with their olives (and shade, if given the chance), and seem a bit genteel and timeless.

When the underside is clean, large cloths are laid out. The young people climbed the tree, but that was in the past. Young people usually no longer participate – they have moved to the big city and, like everyone else, spend most of their time behind a computer screen. Now the trees are deliberately kept fairly low. Nowadays only the elderly do this, and they don't climb so hard anymore.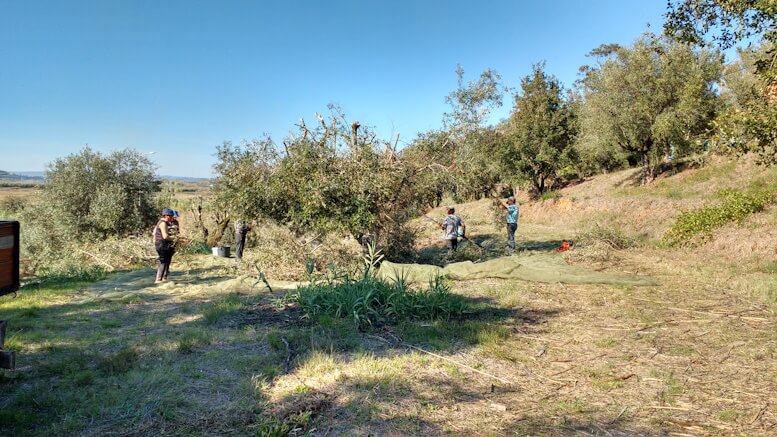 You also see those brrrbrrr devices. Or vibrating fork-like sticks. It's all the same idea. Vibrate, agitate, hit, shake, shuffle, jiggle, joggle or wag, – anything to get as many olives out as possible.

These are oil olives. They are too small to eat, although I see the same size everywhere in the shops here, which are sold as eating olives. I'll just take it from the experts. From these oil olives, you make olive oil. Senhor and senhora Martins are now too old. I am looking for others who would like to do this under the same conditions. All the wood and the oil is for them, but so is all the work.

Because, like every year, the idea to do it ourselves will remain an idea …
.
We moved here in 2000 from Rotterdam, Holland to the Termas-da-Azenha, Portugal.
A big step, especially with two small children.
We are busy to rebuild one of portugals cultural heirlooms: Termas-da-Azenha, an old spa which has been turned into several holiday houses, rooms and a campsite.
You'll find mosaics and paintings everywhere.
Since 2018 we call ourselves the first B&B&B in the world – Bed & Breakfast & Bathrobes. You can buy a home-made unique bathrobe/housecoat with us.
Each week a little blog about what is happening around us. An easy read. A few minutes in another world. A little about what it going on in Portugal. If you plan your holiday to Portugal, it might be a nice preparation
You can subscribe to this blog- see at the right side of this page »
You'll get it every weekend in your mailbox.
On Sunday morning we publish it on our Facebook and on Instagram.