We suddenly find ourselves without a Prime Minister since Tuesday! And perhaps with a CC, a Caretaker Cabinet, starting next week! (Does that sound familiar?)
António Costa resigns after being accused of corruption over a lithium mine
My son, who I texted about it, found it no surprise: "Portugal scores well on the corruption index" and "What do you want from a socialist prime minister?" (He is not a fan of socialists, that seems clear to me, right?) I was shocked, even though I don't follow Portuguese politics closely (any politics by the way) because António Costa seemed to be a Very Reliable man.

Last year, in a considerable victory, he achieved an absolute majority on his own – well, with his entire party that is – but this has never been seen before: one party having a majority in parliament. A unique event in the history of Portuguese democracy. Then he'd done well with his coalition in the four years before. You'd say.

Last year after the election results he still was "Mr. Safe Hands"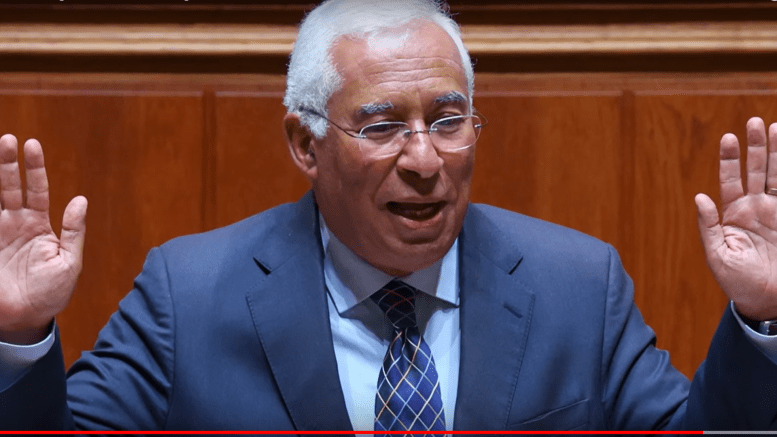 Last year he promised "stability, security and safety" to everyone, saying that "the Portuguese had given the red card to any type of crisis". What a shame. Just under two years in, and there's a crisis, and not a small one either.
About a lithium mine in the north of Portugal
A lithium mine near Montalegre, which the locals have no interest in at all, but all government officials throughout Europe do, under the motto "Our Own Lithium First". There is already a lot of European money in it, and for the time being no lithium is coming out at all.

The police and the judiciary have been headhunting and locking up heads for a few days now. The head of the Ministry of Infrastructure is still in place, but several other heads have already been chopped off. Seventeen households had to deal with an unexpected visit from – I assume – a nice team of trained and uniformed police officers, perhaps with special corruption-sniffing dogs.

This ride didn't start well for Costa. Things actually went wrong straight away with TAP – Take Another Plane, Portugal's airline. I don't know what it is about flying, but it seems like people there can't spell the word integrity.

I saw his resignation video on YouTube, with a lot of bitter comments from disappointed Portuguese underneath it. "He has several huge houses while we have to continue living in a shack because house prices raised tremendously." Now they've AirBnB and rolling suitcases under control, there are again far too many remote workers in Lisbon. Who rent an apartment for a lot of money for 3 months. Attracted by Costa.
People still can't live normally, and that's Costa's fault
Sorry, I didn't feel sorry at all for Boris J. when he had to leave, for Mark Rutte (dutch prime-minister) when he finally effed off, but now I feel sorry for this man. While: maybe he did secretly put things in his pocket that shouldn't be there. What do I know about it? He says no, but hello, we have yet to encounter the first criminal who immediately admits openly: "Yes, sorry, I shouldn' t have done that, that was not so honest."

If that happens, many more people will probably be shocked!
.
We moved here in 2000 from Rotterdam, Holland to the Termas-da-Azenha, Portugal.
A big step, especially with two small children.
We are busy to rebuild one of portugals cultural heirlooms: Termas-da-Azenha, an old spa which has been turned into several holiday houses, rooms and a campsite.
You'll find mosaics and paintings everywhere.
Since 2018 we call ourselves the first B&B&B in the world – Bed & Breakfast & Bathrobes. You can buy a home-made unique bathrobe/housecoat with us.
Each week a little blog about what is happening around us. An easy read. A few minutes in another world. A little about what it going on in Portugal. If you plan your holiday to Portugal, it might be a nice preparation
You can subscribe to this blog- see at the right side of this page »
You'll get it every weekend in your mailbox.
On Sunday morning we publish it on our Facebook and on Instagram.