"I was like, let's go NOW. I'm going to book now. Otherwise it won't happen soon," says Piers with a laugh, "and how right I was!"
While the other brits are staying in line, we're having a relaxed drink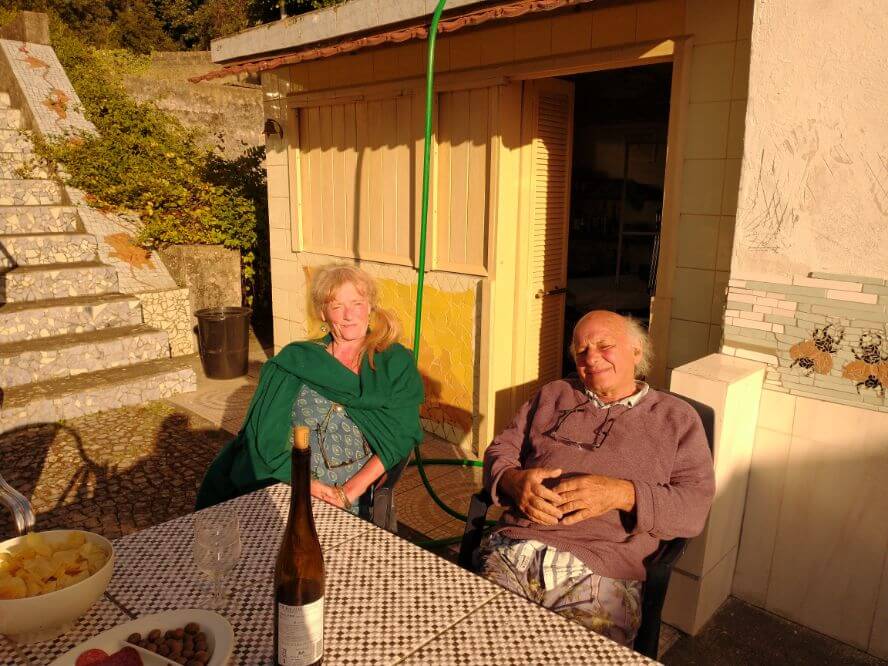 We're having a nice gettogether on their last day. In the Algarve, a lot of their fellow countrymen are standing in a line.

Sally & Piers escaped from the Great British Kingdom – a real brexit you could say – for a brief visit to their son. For that they had to do a PCR test just before departure, here in Portugal just after landing, and when they come home they get a cotton swab in their nose again.

And since none of that falls under National Healthcare; nor here nor there, that's an extra financial sacrifice. Apart from that it's not fun at all to have such a rod pushed almost into your forehead.
Well, they wanted to go anyway. Whatever the cost. Of course. For your child!

On their last day a kind of panic broke out because the above-mentioned Great Kingdom had decided in all its wisdom that everyone had to go the hell out of there (out of anywhere), because another little wave came over them, and because it is much too dangerous abroad with all those flying viruses everywhere. To suddenly rein in all the Brits was of course a juicy part of the animated conversation.

The panic mainly affected the Algarve
Most of the English stay there. In search of a generous, exuberant, radiant sun, after all those measured tiny rays that they have had to search with great difficulty in recent months.

The sunseekers all stood in a line in Faro – first the PCR line, then the airplane line. Just to stay in line with the wishes of their government

Although Piers & Sally had to get up early, there was little of that going on in Porto. Despite the fact that they have not been in the generous and so on sun of the Algarve, they have nevertheless gained a nice tan.

Nice detail: they were in the room where son Paddy & girlfriend Stephanie made a piece of the mosaic on the terrace (work in progress).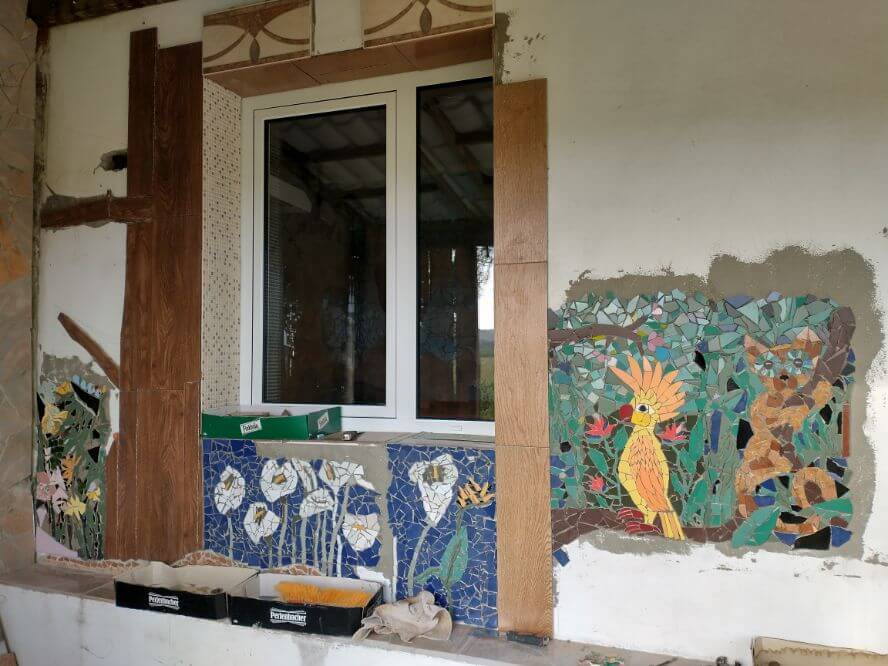 They were lucky. The day after their departure I received a sad email from Paul & Clara, a couple, who have been here before. They had booked for 3 weeks at the beginning of July. Pity. For the time being, they will not be able to come.
Nice promise for the coming summer …
.
We moved here in 2000 from Rotterdam, Holland to the Termas-da-Azenha, Portugal. A big step, especially with two small children. We are busy to rebuild one of portugals cultural heirlooms: Termas-da-Azenha, an old spa which has been turned into several holiday houses, roomsand a campsite, with games like pingpong, petanque, and a FancyDressingRoom. You'll find mosaics and paintings everywhere.
Since 2018 we call ourselves the first B&B&B in the world – Bed & Breakfast & Bathrobes. You can buy a home-made unique bathrobe/housecoat with us.
Each week a little blog about what is happening around us. An easy read. A few minutes in another world. A little about what it going on in Portugal. If you plan your holiday to Portugal, it might be a nice preparation
You can subscribe to this blog- see at the right side of this page »
You'll get it every weekend in your mailbox.
On Sunday morning we publish it on our Facebook, on Pinterest, and on monday on LinkedIn.