I'm a little sleepy, sitting in front of my computer accounting (numbers always make me sleepy – or frustrated. This time it was sleepy.) when Broes came running in and said, "Come, come, quick!" and disappeared again. The tone in his voice immediately made it clear to me that he was serious, so I dropped everything, jumped up and ran after him.

"Three little ducks are loose," he called over his shoulder, as if it were three tiger cubs.


Yes, dear readers, that's important to us here. That's breaking news:


Huey, Dewey en Louie broke out! Mother Duck berserk!


Mother Duck is in a sheltered home with the chickens. The chicken coop – rather, the chicken meadow – is also the outdoor workshop, mainly for gardening tools and related products. (there are soooo many "related products" …)
The ponies of our neighbours regularly come to eat in our grassy meadow, so they're a bunch of happy meadow-mates.


It's okay, we live together in peace, but Mother Duck just doesn't get the concept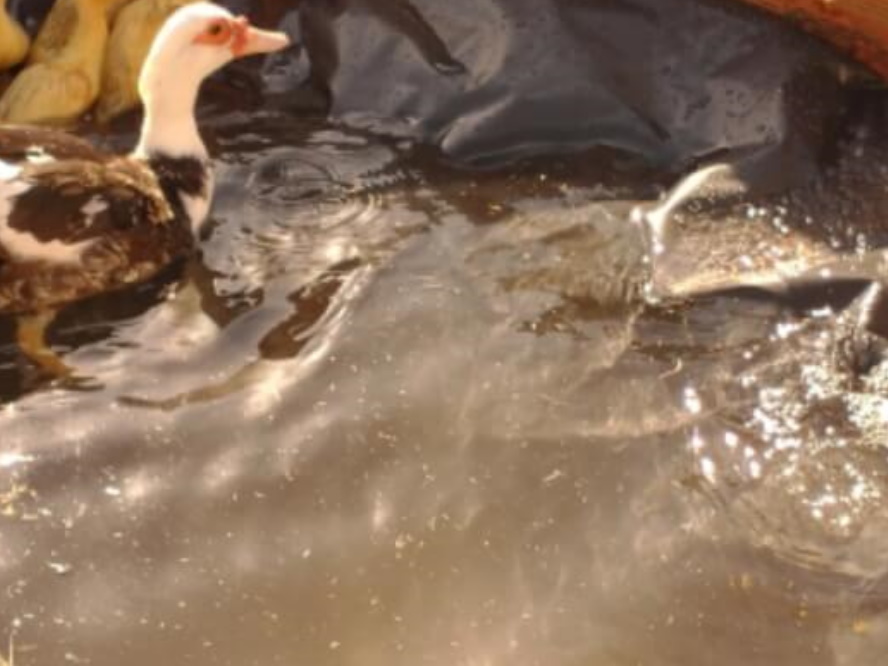 As soon as she sees me, she gets a hawkish look in her eyes. Highest alert! The little ones are already used to it; even though they are in the middle of their afternoon nap, they begin to waddle towards the exit. Followed by Mom.
If I then try outside to establish a nice human-duck contact, it goes the same, but then to the inside.


But now it's serious. Now we have to show each other who we are in this emergency


Panic everywhere. One child is trapped in the chicken wire, the other two are hiding in the bushes. The rest is making quite some noise. I try to grab one of them to get it back to her mommy, but mommy doesn't understand this concept either, and attacks me. Chicken wire or not.
My baby! Go away … me kid! … you … you … human monster!

I make another attempt to get number One out of the chicken wire, but number One isn't cooperating. Wants to go exactly the other way as I do. Her wings (so cute and small and fluffy) are on this side of the fence. That's why she can't go on. So she must be heading my way.


Another furious attack. It's nice that she has such a round duck beak, because otherwise I would have been plucked to shreds


I am retreating. 1-0 for Mother. Broes and I discuss for a moment, 'cause yeah, come on, we are 56 times her size. About.

I leave number One to her fate for now, and focus on Two and Three. With a clever encirclement tactic from above, I got them back in very quickly. Now that Mother is distracted for a moment, we quickly pull number One out of the hole.

Phew! Lucky us. Tiger-mother Duck.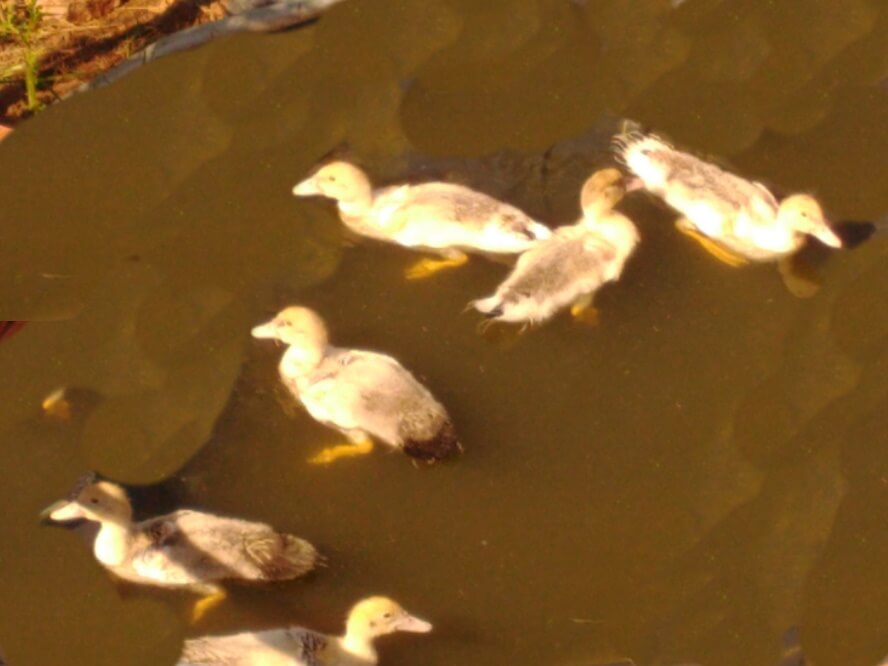 This drama played at the beginning of the week. At the end of the week, the situation has stabilized a lot. Mommy and the little ones just roam free, but she still checks like a hawk every time to see if I'm behaving well.

Tiresome to be a tiger-mother with a hawkeye.
.
We moved here in 2000 from Rotterdam, Holland to the Termas-da-Azenha, Portugal. A big step, especially with two small children. We are busy to rebuild one of portugals cultural heirlooms: Termas-da-Azenha, an old spa which has been turned into several holiday houses, roomsand a campsite, with games like pingpong, petanque, and a FancyDressingRoom. You'll find mosaics and paintings everywhere.
Since 2018 we call ourselves the first B&B&B in the world – Bed & Breakfast & Bathrobes. You can buy a home-made unique bathrobe/housecoat with us.
Each week a little blog about what is happening around us. An easy read. A few minutes in another world. A little about what it going on in Portugal. If you plan your holiday to Portugal, it might be a nice preparation
You can subscribe to this blog- see at the right side of this page »
You'll get it every weekend in your mailbox.
On Sunday morning we publish it on our Facebook, on Pinterest, and on monday on LinkedIn.