No, don't worry, this isn't about the economy, or super-capitalism, or climate change. It's about nature.
This is about the excessive growth of trees. Especially olives
Olives don't grow fast, but they make it a point of honor. That's probably why they stay alive for so long. The oldest olive tree in the world is on Crete and is about three thousand years old. (There are a lot of other places in the world that claim to host the oldest olive tree in the world, but it's kind of hard to tell how old a tree is without cutting it down so you can count the annual rings.)

Ours is certainly not that old. It stands in the bend of the access road to the Termas, against the hill. Maybe that's why it mainly grew in the direction of free air – over the road. Depending on the season, tractors pass by. And every now and then a truck, the firefighters on their way to a fire, for instance.

They had to swerve because otherwise our olive with its growth-urge might break a windshield.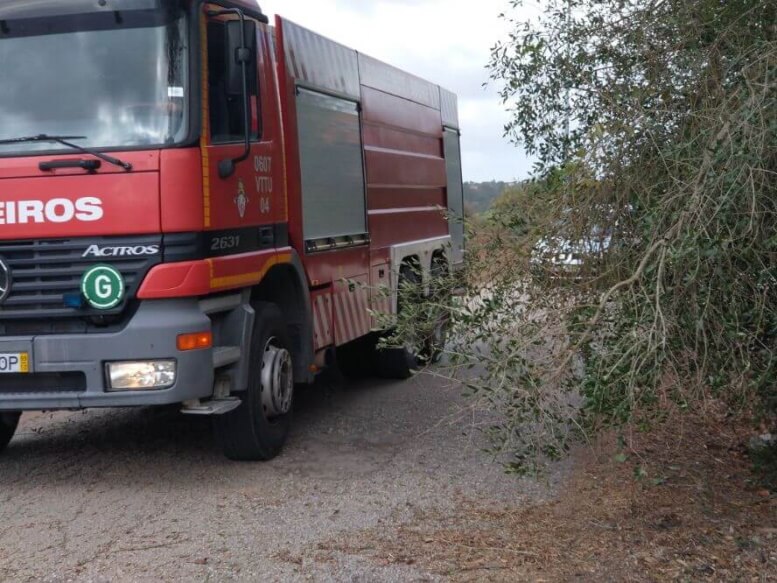 It's dangerous right before the bend. Something had to be done about that excessive growth
Providence lent a hand by sending a portuguese couple, who asked for water for their baby. Baby is only a few months old and is suffering from a skin rash, and as this is the only water in Portugal that has healing properties for skin diseases, they wanted to take a bath with the child.

Yes of course you can! I understand you don't want to stuff a baby full of chemical junk.

We've known each other for a long time. Once I drove home from Figueira da Foz with a head full of worries, including about a palm tree that had grown in an idiotic place during the years of abandonment of the Termas. We – as brand new emigrants – thought it was wonderful, all those palm trees in our village. It makes such a nice southern vibe.
This one had a little too much atmosphere – it had grown into heaven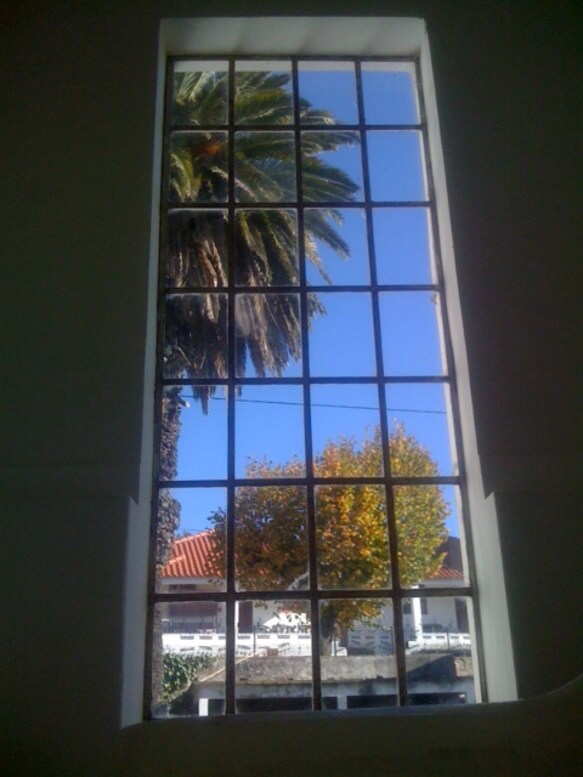 On the way I passed a group of foresters. People who cut down all those eucalyptus plantations after nine years, to sell them to the paper mill. I already knew that a palm tree is of a different caliber than a eucalyptus, mainly because of the acid it contains, which will corrode the chain of your saw if you don't clean it immediately.

I stopped. You're free to ask and they're free to refuse.

I was referred to the chef, to my surprise a woman*, who greeted me kindly, and said she would call me because they would do it, cutting down that enormous palm tree. After a week I kicked myself: I should have known better, and should've asked for her number. Now I could do nothing but wait. Fortunately, she did call, although it was more than a month later.
They came by, and took the huge bastard down in a lickety split
Easy to write down, but it was a chilling venture. He was standing in a place where he could only fall to the left, between a high wall and a few other trees. Another way, he would cause massive damage. The place was long enough, and just wide enough. Even a little bit out of that bandwidth could become seriously problematic to cut into pieces and dispose of.

After some consultation about how exactly it should be tackled, they tackled it!

A person with a saw plus a person with a rope plus a person who keeps an eye on whether everything is going according to plan. Within five minutes it was on the ground, and everyone was three kilos lighter with relief.

You already understand – it's the same woman as she with the baby, with husband and eldest son.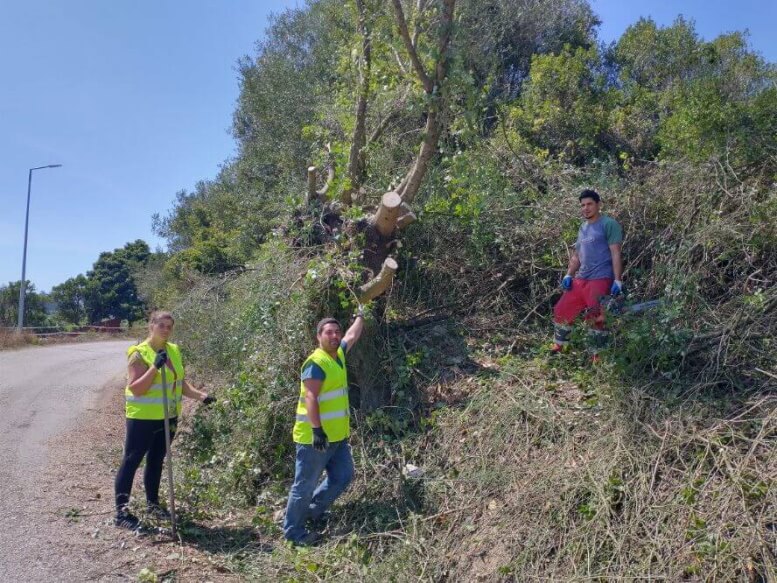 They also want to tackle this olive, but they have to wait for their brother-in-law, who works in France, and is coming on holiday in August. The three of them are a good team, they say, and how right they are!
It's done in a day. They have taken all the wood with them (as part of the payment), baby & mom take a bath again, all branches are in a huge pile in a place where we will do the rest ourselves.

It is a pity that there is not such a handy chipper for rent here, but well, as the Indians once said: if you cut and saw your own wood, you are warm twice: once from work, and once from burning.


* Well, sorry, but because it's seriously Hard Labour, and because the portuguese machismo is hidden but nevertheless really present, I didn't expect a woman as chief.
.
We moved here in 2000 from Rotterdam, Holland to the Termas-da-Azenha, Portugal.
A big step, especially with two small children.
We are busy to rebuild one of portugals cultural heirlooms: Termas-da-Azenha, an old spa which has been turned into several holiday houses, rooms and a campsite.
You'll find mosaics and paintings everywhere.
Since 2018 we call ourselves the first B&B&B in the world – Bed & Breakfast & Bathrobes. You can buy a home-made unique bathrobe/housecoat with us.
Each week a little blog about what is happening around us. An easy read. A few minutes in another world. A little about what it going on in Portugal. If you plan your holiday to Portugal, it might be a nice preparation
You can subscribe to this blog- see at the right side of this page »
You'll get it every weekend in your mailbox.
On Sunday morning we publish it on our Facebook and on Instagram.