The phone rings. A Luxembourg number. That's not surprising, because a quarter of Luxembourg's population consists of portuguese emigrés, who usually come to the mother country on holiday at this time of year.
It's not about what I expect: a question for a room reservation
It's about something completely different, and before I understand what that is, the senhora has gone a long way with her chatter. I don't know who it is either, but after listening for a while, I understand that it's about the tree. And that I shouldn't floccinaucinihilipilificate* about that.
The olive tree, which we had cut off for a large part last week.
From what I understand from the story, that tree is not ours, and so we shouldn't have done that. I explain that it was dangerous, those overhanging branches, that a tractor had to go around them, and that it is dangerous to drive just before a bend on the other side of the road.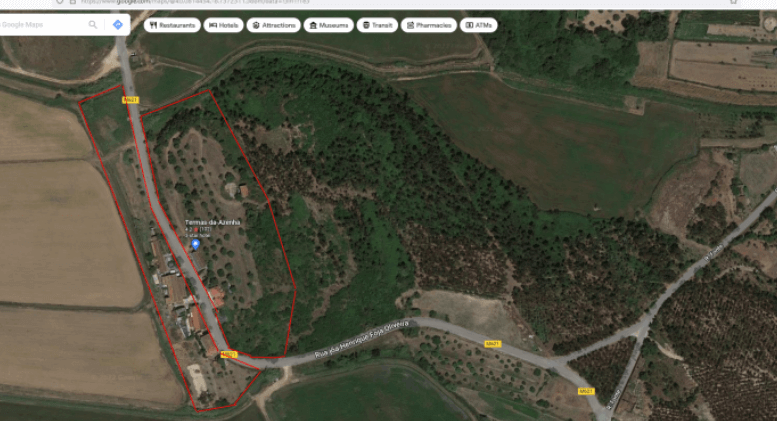 I've always thought that our terrain ran all the way from the top of the hill to the other side, to the village sign Termas da Azenha.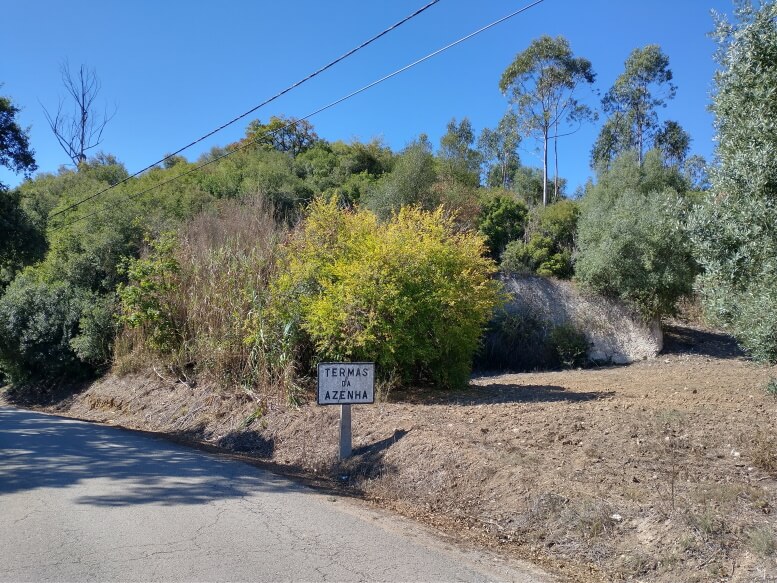 Your terrain is, of course, registered with the Conservatória – the land registry, but it only says there, for example, what you border on all sides of the compass rose. The hill, for example, is registered as follows: "north: mother of the water (mãe da água), south: the road, east: the heirs of João Henriques Foja Oliveira, west: the road.
The fact that it borders the road on the south and west side is due to that bend
The mother of the water is one of the origins of the well, because there are several mothers. There is quite a bit of water flowing from the plateau of Spain! But how am I supposed to know who are the heirs of João Henriques, except "The old Foja", the retired owner of the sawmill in the adjacent village of Pedrógão?

Senhor Foja came by years ago to invite me to walk up the hill with him, to set the limits. He would then put little indicative poles there. There were eucalyptus on his property. Logical for the owner of a sawmill who makes pallets. The hill is about two-thirds passable on its side, the rest is overgrown with irritable shrubbery.

Why he didn't use that piece became clear in 2005, when a huge fire raged from the Mondego River to Coimbra, over our hill. Chilling and fascinating. Silver lining: the whole site was clean. No prickely bushes anymore.

We discovered a large pit, in which my boys immediately started the "Roman Camp". Above that, just over the top, is a fairly deep gorge. The Grand Canyon in miniature.
The terrain is rocky. It makes sense that you don't plant trees or vines here
I assumed that senhor Foja's terrain just continued, because that fits nicely with the beginning of our village. Not so. We have another neighbor: Dona Zélia. Surprise. I had no idea. A few days later she suddenly stands in front of me, to talk it out properly. Apparently that's also the way to determine where the boundaries are: you ask your neighbors.

The Conservatória papers are only good for registering the owners, not so much where your property starts and ends. Very common here in the outlying areas.

I have an appointment with the lawyer (for something else) and ask about it. "Yes," he replies, "in the fifties a law was passed that gives neighbors the right to first purchase when a site is put up for sale. They wanted a lot of land together in the name of one owner, a kind of natural way of allotment. I once had a client who politely asked his neighbor if he was interested, because he was going to sell. He was interested, but he didn't have the money, so it passed. There had been a witness. Later that man took his former neighbor to court, because then he did have the money, and still wanted to buy. It ended well, because the greedy fool had hired a city lawyer who had no experience with what's going on outside of the city. He forgot to add something, so it's settled on a form error. It could easily have gone wrong: the witness had died in the meantime, and no written statement had been signed."
Oi! What a strange law that is!
It has also ended well here. I made a map using Google Earth, and marked the boundaries on it. The neighbor agrees with that. And as for the tree: gosh, it happened, I didn't know it but now I know. Forget and forgive.

Thank you, neighbor!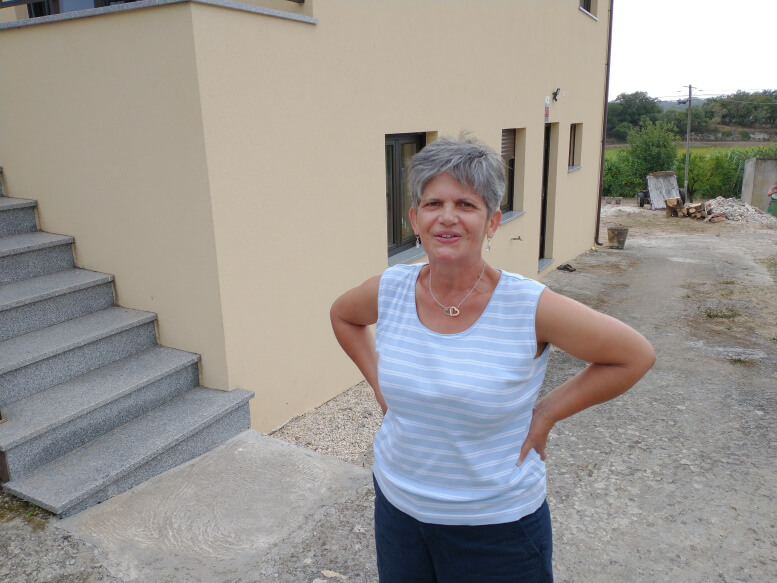 * Just a little joke. I recently learned the word: floccinaucinihilipilification. It's a real word, look it up!
.
We moved here in 2000 from Rotterdam, Holland to the Termas-da-Azenha, Portugal.
A big step, especially with two small children.
We are busy to rebuild one of portugals cultural heirlooms: Termas-da-Azenha, an old spa which has been turned into several holiday houses, rooms and a campsite.
You'll find mosaics and paintings everywhere.
Since 2018 we call ourselves the first B&B&B in the world – Bed & Breakfast & Bathrobes. You can buy a home-made unique bathrobe/housecoat with us.
Each week a little blog about what is happening around us. An easy read. A few minutes in another world. A little about what it going on in Portugal. If you plan your holiday to Portugal, it might be a nice preparation
You can subscribe to this blog- see at the right side of this page »
You'll get it every weekend in your mailbox.
On Sunday morning we publish it on our Facebook and on Instagram.