– They even wake up laughing, I think, as I sweep up the leaves of the nespereira, and I hear the laughter from behind the hotel rooms. How special is that!
Yesterday afternoon Wil, the teacher of the painting course, came into the kitchen with: "Now we all get the giggles" – which I thought was a good sign
Just like I thought it was a good sign that they walked into the kitchen to get milk from the fridge, make coffee or tea, and grab an orange ("So good, it tastes really different from those at home!") .
And who are "they" – if we may ask?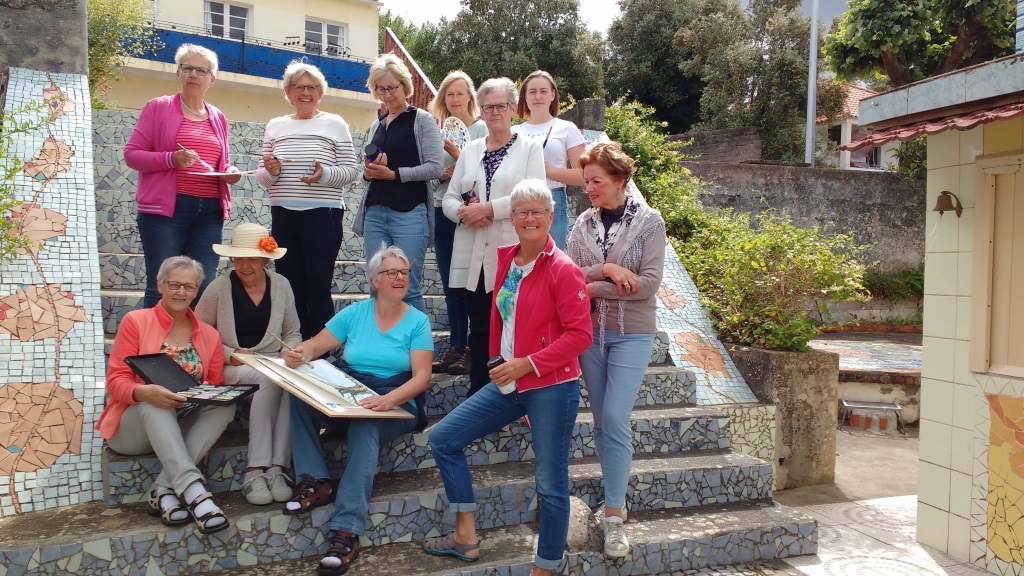 The ladies of the painting course, which spontaneously emerged last year during the summer holidays, and which is now becoming a reality. Wil was here last year on holiday with her daughter and grandsons, and found it an inspiring environment for a painting course on location.
All her life, Wil has been organizing painting courses, 73 years old and surely not going to stop! Together with her mate Louise, they're an unbeatable team
Last night I did what I prefer to do at the end of the day: after taking a shower, do a bit of reading in my comfy chair. The whole painting-course-group was chatting at the large table on the esplanada – right under my comfy chair. It sounded very nice. A lot of laughter.
I was enjoying my little alone-time upstairs, with the idea that this painting course is becoming a success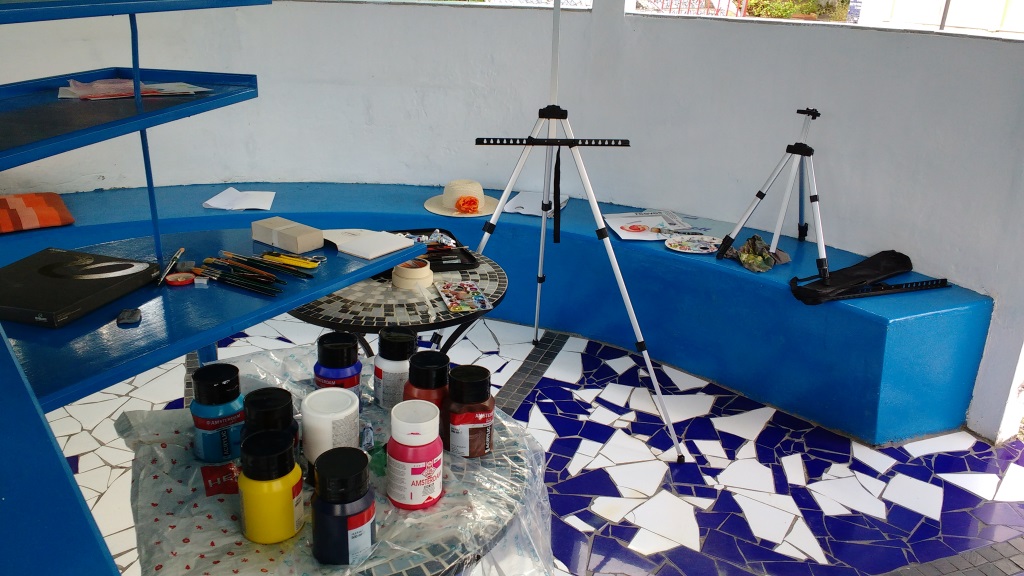 I couldn't really hear it, but it was animated for sure. One of them was telling something, and that was apparently hilarious because laughter erupted at various pitches time after time. Laughter is contagious. I was grinning like crazy in my chair.
There is not only laughter, there is also work!
Yesterday afternoon there were people here and there with a drawing pad on their lap. Many flowers are painted, because there are so many of those now. In spring it is a party here for that matter. That's what the butterflies and the bees think too.
I leave everything alone when I see that butterflies and bees like them. We'll mow later, when everything gets drier. Moreover, I don't have time for that now, because I have to cook for 11 people!
But all this didn't start so well, on the 13th …
The bus to the airport broke down, they had to transfer to another bus. "Hurryhurry, we won't make it to the plane on time!" Someone nervously left her bag with everything in it in the broken bus, and had to go to pick it up with a (very expensive) taxi, while the others were waiting impatiently because the gate was about to close.
It all went well, but it was a real last-minute!
Two and a half hours to recover and to laugh about all this stress, but in Portugal the 13th still applied. They were delayed on the train; someone had jumped before it.
That is of course quite upsetting – let's respectfully shut up and say no more about it – but anyway more delay.
Finally in Alfarelos, the destination, there was only one taxi. With hands and feet they managed to make it clear that the group had to go to Termas-da-Azenha.
Unfortunately, only 5 + luggage could fit in the taxi
In the meantime I was more or less informed over whatsapp, that it would take at least another hour before everybody would be there. Once again I was happy with my haybox, where the curry & rice was kept nice and warm. A curry doesn't get bad by standing an hour longer, so that was no point. The weather was nice, 32º – also not a problem.
I asked the taxi driver if he couldn't recruit some colleagues, and then the mystery was solved. "It's the 13th," he said, shaking his head (yes, we all knew that already!) "All my colleagues are in Fátima." Ah! It fell on top of me! Of course! May 13th , the first time the three shepherd children of Fátima had seen Maria!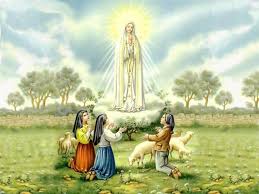 It is full of people in Fátima on the 13th of May, of August and of October
Not a bad day for Catholics. They're forgiven for all their sins, if they go to Fátima on these days. For heathens like us it's a bit different though ….
.