uʍop ǝpısdn p
ן

ɹoʍ ǝɥʇ

Togetherness – that is the predominant feeling here in our village. We are with twenty, and they all have a special name: the German family, another German family, an English couple, a Portuguese couple, the two students, Paul and the three of us.
Nice group to survive the crisis
Honestly – I was last grocery shopping 4 days ago now – life just goes on here the way it was. We don't necessarily have to stay inside, we can go out, into the vegetable garden, go cycling, walking, petting the dog, exercising – especially the part of not having to stay indoors is great.
I would really have a hard time in a few days, continuously inside
I always find the Netherlands (I visited recently – just back in time) very nice, but then I'm almost always indoors because of the season and the weather, which I find difficult. I sincerely hope that you all hold up well and have a little fun.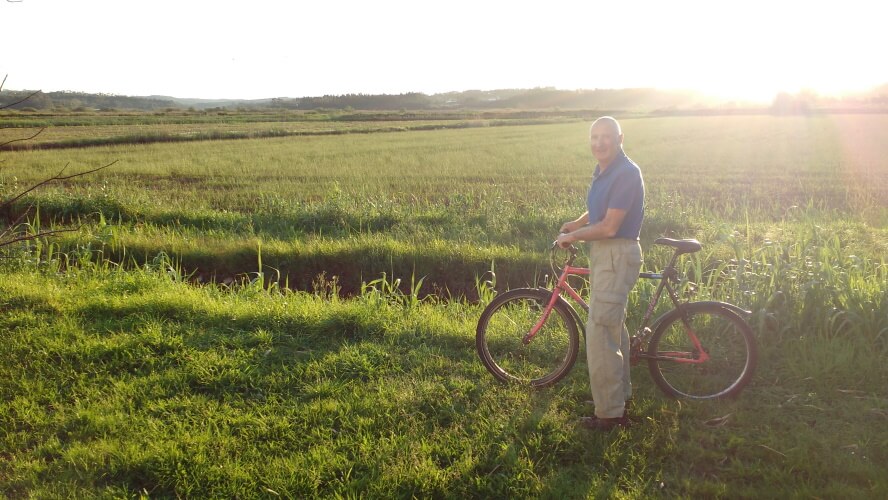 Paul, "Paulie" – because he always refers to "The Godfather" – would move to the Alentejo. He loves heat – but that is doubtful now, because in Portugal the mandatory isolation is also obligatory. Plus, his car broke down, and it's not the best time to hunt for another one.
"The girls" – the students who will study wildlife here – have arrived just in time
They were here just before it escalated, and were in tears until the university sent a message to all interns that everyone should return immediately. Fortunately, we all managed to avoid that, thanks to a very understanding supervisor, who started to list all the advantages of staying here. The photo demonstrates how they are at the moment: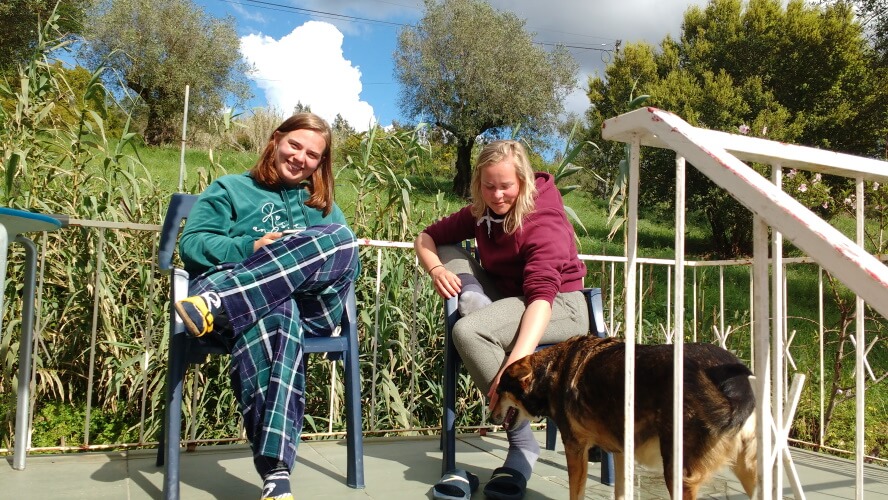 The German family – "the Germans", standard designation of my foster son Hugo – is in voluntary isolation
A week already, because "the German" had a cold, maybe flu. He had been nowhere, not in touch with anyone, but they would rather be sure in this case. Typically German conscientiousness!
The "New Germans" – a family of 5 who have just flown in from Florida and interrupted their world trip, are trying to recover from their jet lag. They had been here for a month last year and thought this was the best place to go in isolation. They have been lucky: they have just been ahead of the virus all over the world. Despite this, they also voluntarily retire in Palmeira for a few weeks.
"The Couple" – Portuguese lovers, now that everyone also has to stay in Portugal, are staying in their room. Our dog Donkie, popular with everyone, is on the doorstep, because she's BFF with Maria. The dog just feels that Maria is coming, then she's already waiting along the road.
Last but not least, goldsmiths "Padephanie"
A combination of both names, because where one is, the other is too. Fluffy cat Fizzy spins in their orbit, and has a great life – she's allowed to go out through a hatch especially made for her, up the hill, and hopefully catch a lot of mice there.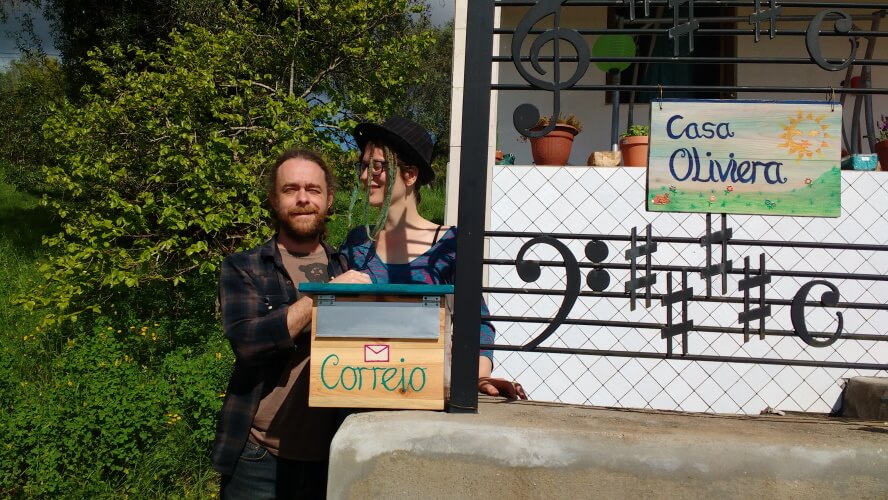 Perhaps "the girls" will see her on video, because they put down bait at night to capture images of all wild animals with their wildlife cameras. Donkie has already stolen 4 of their bones – maybe Fizzy is also participating in this special sport.
Life is actually not much different than usual, except that the topic of conversation has changed a bit …
For all of you: we send you light, air, space, sun and health. Stay positive, stay healthy, keep smiling. Fun jokes are circulating on the internet. Thank God we have all that technology!
And hopefully until later, everyone. Later in the year, here in the Termas. When this is over, the Termas is a great place to meet other people again. At a safe distance, that is …
Stay safe in this crisis, and all the best!
.
We moved here in 2000 from Rotterdam, Holland to the Termas-da-Azenha, Portugal. A big step, especially with two small children. We are busy to rebuild one of portugals cultural heirlooms: Termas-da-Azenha, an old spa which has been turned into several holiday homes, rooms and campsites, with a https://termas-da-azenha.com/en/recreation/: swimming pool, indoor and outdoor games like pingpong, petanque, a FancyDressingRoom and a small café. You'll find mosaics and paintings everywhere.
The old bathhouse is going to be a museum, where you can see how things have changed. Since 2018 we call ourselves the first B&B&B in the world – Bed & Breakfast & Bathrobes. You can buy a home-made unique bathrobe/housecoat with us.
Each week a little blog about what is happening around us. An easy read. A few minutes in another world. A little about what it going on in Portugal. If you plan your holiday to Portugal, it might be a nice preparation. We have some nice special offers on our site.
You can subscribe to this blog:
The form you have selected does not exist.
You'll get it every weekend in your mailbox.
On Sunday morning we publish it on our Facebook, on Pinterest, and on monday on LinkedIn.