"Yeyes … look, there is someone hiding behind that parasol …" I hear a voice at the top of the stairs, and when I secretly peek in that direction from behind the parasol, I see a man with a little beard, who looks vaguely familiar.
Son Broes and I were just discussing the to-do-list
Another man follows, whom I don't recognize at all, not even vaguely, but meanwhile the first one comes chuckling down the stairs, and that reminds me: "Well, Miguel! Boy, that's nice to see you again! That's a long time ago!" Broes also walks over to him, while I hug our good old volunteer, and then meet his friend.

"Man! How long ago was that!" I say as we sit down at the big table. "Gosh my friend, how nice, are you on holiday?" and in the meantime I think, man, did I make such a mistake, I thought I had some insight in people, but Miguel with a friend? Fortunately, that insight's probably still there, because the friend turns out to be his half-brother.

"Our father first had a thing with my mother …" Miguel chuckles, "… and then something with mine," the half-brother adds. Miguel still chuckles a lot, a nice quality that also makes him easily recognizable even after 17 years. Then he was a happy, attractive, grinning-a-lot kid of 21, now a happy, attractive, grinning-a-lot adult man, with an ex and a daughter.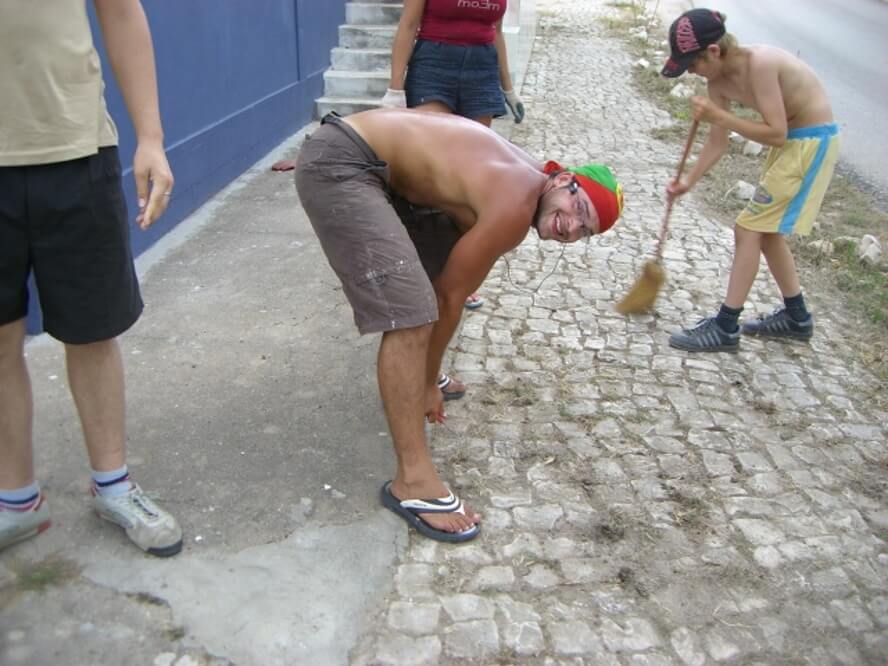 Away with that to-do-list, we're going to reminisce
And walk around of course, because quite a few things have changed in those 17 years. Not only us humans – older and wiser – but also quite a bit more has been refurbished and improved in that time. "No more caravans?" asks Miguel, when we have arrived at the chicken meadow. There were then about 6 caravans that served as bedrooms for the volunteers.

"No, luckily they are gone" Broes laughs, "after a few years in the open air you start to notice, and they weren't new anyway. One fine day a few market vendors came by who wanted them, and then they kept coming back for more, until they were all gone. A win-win, everyone happy. We didn't need them anymore because the volunteers could sleep in the refurbished rooms in the bathhouse."

Miguel lived in the penultimate caravan, Lonneke in the last. As a surprise, Lonneke had painted hers beautifully in her spare time (Lonneke was an artist, so that was very much appreciated!), and the two, plus fellow volunteers Hella and Annabella, sometimes went out in Figueira. By bike to the station, go with the last train, back with the first. "And then sleep all Sunday in the grass in front of your caravan" Miguel chuckles, "because it was way too hot inside."
"And then you were hit with the to-do-list again on Monday" I chuckle (it's contagious)
The half-brothers have found each other, especially after the death of their father. He died not so long ago, early this year. This trip serves a bit as a lap of honor for their dad, and to strengthen or maintain family ties. They have already been to an aunt, a cutie, and have met several cousins. As it should be in a portuguese family – uncles, aunts, nieces, nephews, grandparents, everyone sees each other regularly.

"I actually came to do that back then," says Miguel, "looking for my roots, getting to know my portuguese side." "Looks like you still have that portuguese side, even though you've been living in Limbabwe all your life" I reply, but I'm met with immediate protest: "Hey, bite your tongue, Helmond isn't Limburg, eh!" "Oh sorry, yes of course, you're a portuguese man from Brabant, excuse me sir" and put his hand over my mouth in fright. Miguel gives me a friendly nudge: "Never call people from Brabant Limbabwese!" and we all laugh out loud.
(Explanation for foreigners: Brabant and Limburg are dutch provinces, and Limburg is jokingly called Limbabwe. Helmond is a city in Brabant. So much for my geographical knowlegde …)
Back at the table we have another glass of water – they still have to drive, it is only early afternoon, and after all we live in a spa-with-running-mineral water. "I started a company in stairs just before the Covid," Miguel tells us what he does now. "People were at home and had money to spend, so a lot of them wanted a new staircase, or a refurbished one. So it worked out fine from the start. Glad I took the risk."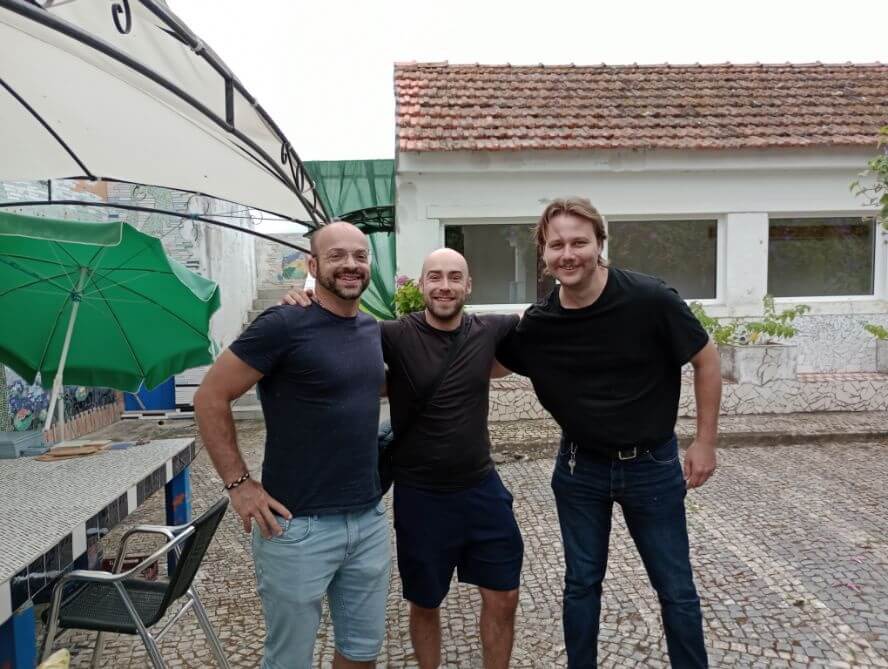 "And you have a daughter?" "Yes, 38 and I've done everything already: marry, divorce, had a child, started a business" and yes, you already understand: he chuckles when he says it. On the stairs, on the way to the car, he shouts his daughter's name, and that I'm a whopper if I remember that next time we see each other.
Well, I can't remember now already, but I'll definitely remember what her initials are: A.M.O.R.
And that seems very appropriate for a daughter with portuguese roots.
.
We moved here in 2000 from Rotterdam, Holland to the Termas-da-Azenha, Portugal.
A big step, especially with two small children.
We are busy to rebuild one of portugals cultural heirlooms: Termas-da-Azenha, an old spa which has been turned into several holiday houses, rooms and a campsite.
You'll find mosaics and paintings everywhere.
Since 2018 we call ourselves the first B&B&B in the world – Bed & Breakfast & Bathrobes. You can buy a home-made unique bathrobe/housecoat with us.
Each week a little blog about what is happening around us. An easy read. A few minutes in another world. A little about what it going on in Portugal. If you plan your holiday to Portugal, it might be a nice preparation
You can subscribe to this blog- see at the right side of this page »
You'll get it every weekend in your mailbox.
On Sunday morning we publish it on our Facebook and on Instagram.