I drove back especially for it. I just came out of the supermarket parking lot, and my eye caught a text on the bike parking, but someone was behind me so I couldn't stop for a photo.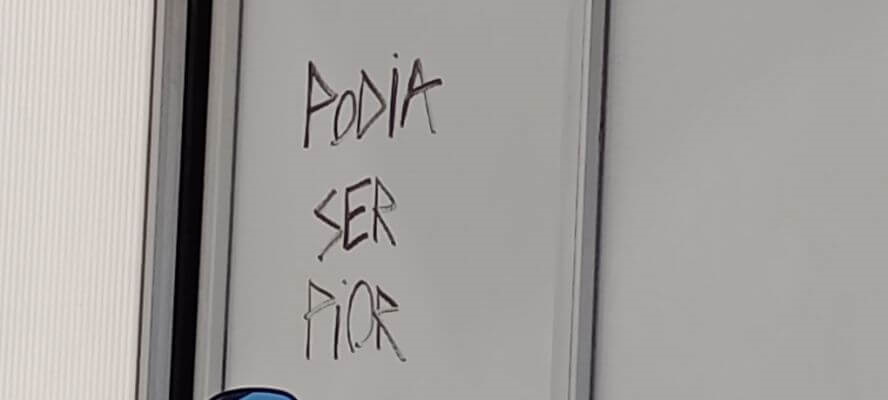 Very occasionally I'm happy with graffiti
This one seems very appropriate: "Podia ser pior – it could be worse". The circumstances here are a bit problematic – it happens sometimes, doesn't it; everyone has their challenges from time to time – so I found this text very appropriate.
Exactly, and thank you dear graffiti writer, you are absolutely right: it could have been worse. You can be a Ukrainian and have lost everything. You can puzzle and calculate because you always have a piece of the month left, due to inflation. You may have an itchy bump, which is not life threatening, but which is very bothersome because you cannot scratch your buttock extensively at work or on the train.

Just saying. Podia ser pior. Great graffiti.

Then I took a good look around and saw all very positive graffiti, at least here in Soure. And of course also the usual ugliness, made by young people who are not yet very good at handling spray paint plus freedom, and just spray wildly around whatever comes up in their heads.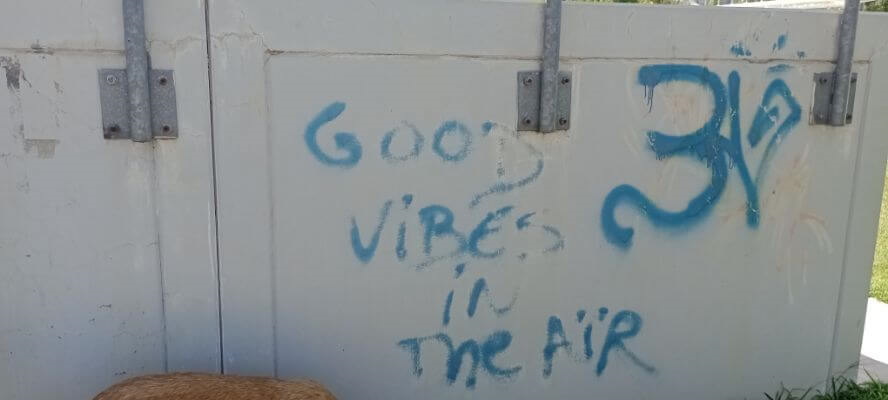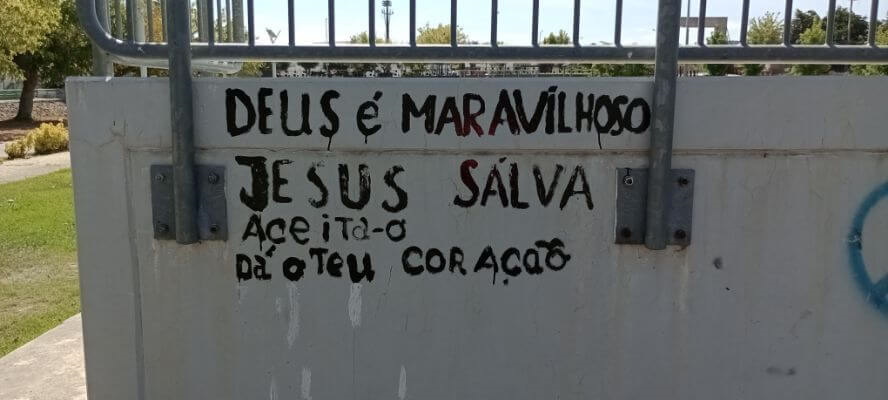 I think we've passed the peak of the hype now – you don't see that much wild graffiti anymore
A few years ago, the spray-painted train from Figueira passed by, completely full of unrecognizable scrawl and amorphous "pictures" with a recognizable rabbit here and there. That was not appreciated but the CP (Comboio de Portugal) did not file a complaint. Now, this is not necessary, because the judiciary doesn't need a complaint to bring these types of criminals to justice. It is considered a public crime.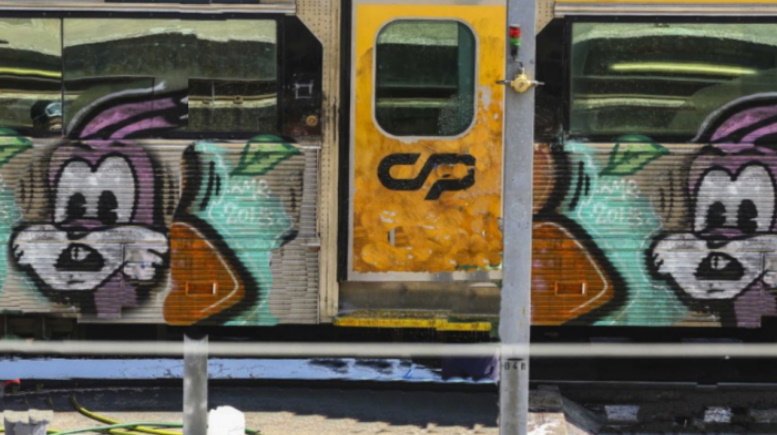 The two of the rabbit were ordered to pay for the damage/cleaning their graffiti, avoiding 2 to 5 years in prison. (Podia ser pior!)
Now there's quite a difference between just spraying – practicing in public – and street art
In Lisbon you can be guided along a lot of street art on foot or by tuk-tuk – Lisbonese are quite proud of that. It is not only sprayed / painted art but also the mural-statues, made of waste, of Bordalo II (world famous in Portugal and my absolute favorite), mosaics in the tradition of the Romans between the black / white pavements made of the typical Portuguese stones or paintings supplemented with 3-D details. Furthermore, very different styles, from communist-looking propaganda to a very small elegant painting next to a front door.
There's also a lot of beauty to be found in smaller towns. Aveiro is one of them. Lots of beautiful facades, plus the salt fields and the lake, plus the canals and the colorful gondolas plus a few museums that are well worth a visit. There's much more to see and do in Porto – apart from the fact that the center is Heritage of Humanity, you can take a very nice trip on the river, you can taste the wine till you're completely dazed, and you dive into the nightlife, there have been an incredible amount of street artists active.

The student city of Coimbra also has a lot of street art, but especially a lot of graffiti. Students like to express their deep thoughts and political convictions onto a wall.

See? It's all good, it could be worse. Podia ser pior.
.
We moved here in 2000 from Rotterdam, Holland to the Termas-da-Azenha, Portugal.
A big step, especially with two small children.
We are busy to rebuild one of portugals cultural heirlooms: Termas-da-Azenha, an old spa which has been turned into several holiday houses, rooms and a campsite.
You'll find mosaics and paintings everywhere.
Since 2018 we call ourselves the first B&B&B in the world – Bed & Breakfast & Bathrobes. You can buy a home-made unique bathrobe/housecoat with us.
Each week a little blog about what is happening around us. An easy read. A few minutes in another world. A little about what it going on in Portugal. If you plan your holiday to Portugal, it might be a nice preparation
You can subscribe to this blog- see at the right side of this page »
You'll get it every weekend in your mailbox.
On Sunday morning we publish it on our Facebook and on Instagram.