It's April. It's spring – but you had already noticed that. There is reasonable weather in the north, like here, so if you have a little farmer's wisdom, you know that it's time for the vegetable garden.
We're busy with that, with that vegetable garden. What the hell does that have to do with soccer player Johan Cruyff?
Just wait …
Son Broes has filled half the kitchen with cups with a little bit of water and plates with wet toilet paper and the seeds in it and on it, and knows exactly what is what. We both have different ways, so that's funny. He overseeds, because you lose a lot; I put exactly as many seeds as I want plants in the mushy soil.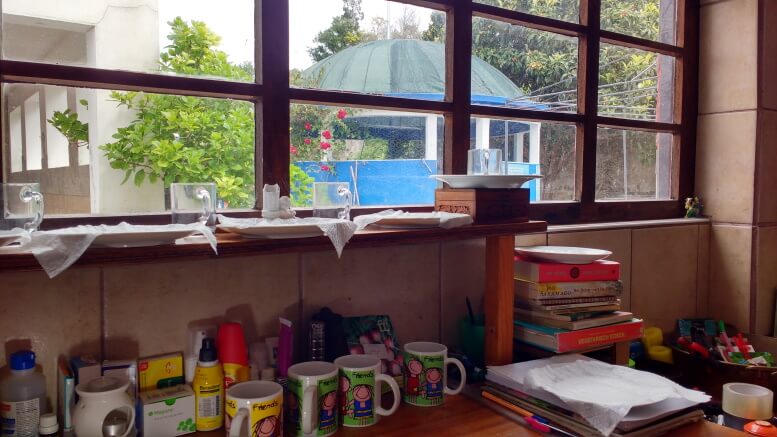 This is where this scientific experiment ends immediately, because I'm less interested in which method is the best. Whatever. It grows or it doesn't.
Which applies to both methods: you need a piece of prepared terrain
And that's where it gets tricky. We had already mined a bit behind the kitchen, with the help of an unexpected guest last year, but now a lot has to be added. Stephanie – the english goldsmith who's been here for a while, also very interested in gardening – had the tip to use cardboard as a bottom.
We had straw bales that we used as walls, cardboard on the bottom, and then pour the earth into it. Easy-peasy. The snails don't get over the straw, so they leave your plants alone, and the cardboard prevents the weeds from growing through everything.
Nice plan. But then the straw ran out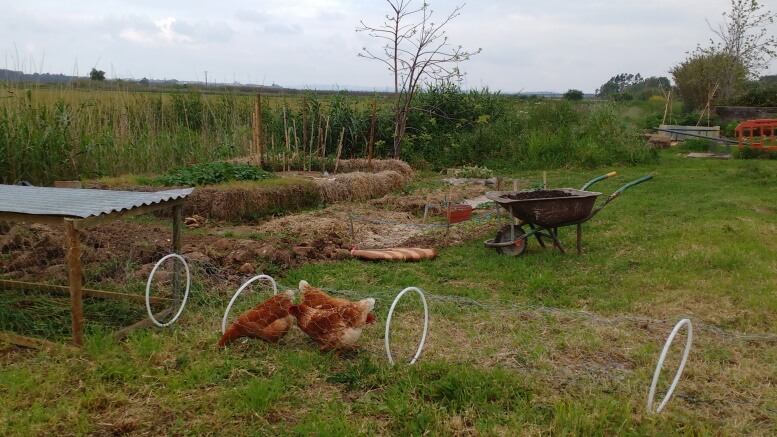 There I am chopping and digging. Well, dig first, then chop. Digging is for Broes. After all, he is a young strong man, and in those cases I would like to point out that I am an old almost powerless woman who can do little anymore. With back problems.
But then the roles turn quickly, because he doesn't bend down. That is on principle, he's too tall for that. We arrange that quite well in everyday life – for example, when cleaning, he can easily reach the curtain rails and cupboard with his nearly two meters, and I wipe and mop under the bed.
But oh boy, that clay is very heavy!
If it's wet, it's almost impossible to lift such a chunk of dug-up planet, and dry you need almost a pneumatic hammer to get through it!
I'm on my knees on my pillow, the crippled kitchen chicken Carolina next to me, and after an hour I have only done a square meter. When I think of all the corn, beans, purple coneflower, basil, cucumber and pumpkin seeds that are now coming out in all those plates, cups and muddy dirt … I think I'll be done in about four years to prepare the necessary square meters.
Time for a cunning plan …
But yes, we live in strange times, almost nothing is allowed. And that'll continue for a while. Moreover, nothing comes in, so that requires even more clever thinking.
Next to me, chicken Carolina with her crippled leg tries to scrape the earth like a real chicken. She makes a lot of feints, and then, yes, it works for once!
Hey! That is it!
Chicken Carolina won't do, but we still have three others. Three healthy chickens with two legs each. Chickens destroy their habitat in a few days. All the grass gone, everything raked, everything completely bare. They are a bit like people ….
That is why we already made a tunnel so that they could walk from their outside loft to the hastily fixed trampoline. Now we've made another tunnel, so they can go to yet another loft, with the meaning to work the soil first.
It makes a difference for me – pulling grass, loosening the soil – and everything that makes a difference matters.
I think that's Cruyffian logic. A bit like: you'll get it when you see it.
.
We moved here in 2000 from Rotterdam, Holland to the Termas-da-Azenha, Portugal. A big step, especially with two small children. We are busy to rebuild one of portugals cultural heirlooms: Termas-da-Azenha, an old spa which has been turned into several holiday homes, rooms and campsites, with a https://termas-da-azenha.com/en/recreation/: swimming pool, indoor and outdoor games like pingpong, petanque, a FancyDressingRoom and a small café. You'll find mosaics and paintings everywhere.
The old bathhouse is going to be a museum, where you can see how things have changed. Since 2018 we call ourselves the first B&B&B in the world – Bed & Breakfast & Bathrobes. You can buy a home-made unique bathrobe/housecoat with us.
Each week a little blog about what is happening around us. An easy read. A few minutes in another world. A little about what it going on in Portugal. If you plan your holiday to Portugal, it might be a nice preparation. We have some nice special offers on our site.
You can subscribe to this blog:
The form you have selected does not exist.
You'll get it every weekend in your mailbox.
On Sunday morning we publish it on our Facebook, on Pinterest, and on monday on LinkedIn.