"Hey, there you are again!" I greet the girls as I turn my office chair in their direction, "thankfully, a change from all that sitting behind the computer!"
The interns Forensic Studies are less impressed than I am by the change in everyday life
They're young and therefore not a stranger to sitting behind the computer, they're already out of their normal way anyway, because they drove all the way to Portugal for this internship, and they exercise. I even believe every day.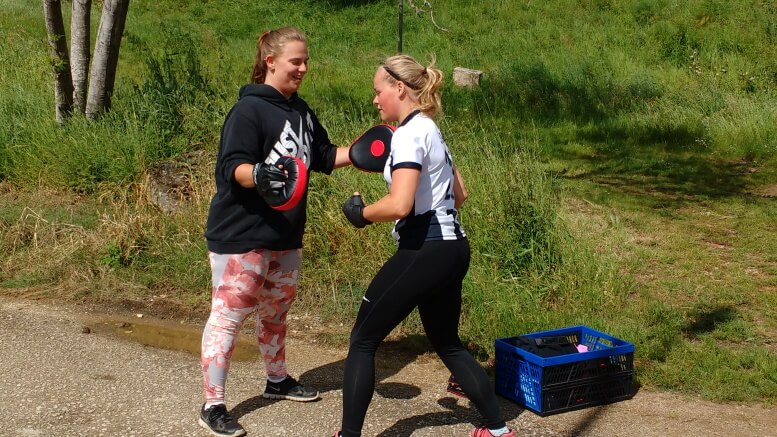 They arrived just in time, before everything closed, everything in lockdown
After a week, the university sent a somewhat tense letter that everyone should come home like lightning. Of course in neat university language, but still. The university normally promotes internships abroad, so there were a lot of students everywhere. And they all had to go home like lightning.
The girls were overwhelmed and in tears, but are fortunately blessed with an understanding internship supervisor, who started to say exactly the right things in a Skype conversation. Things like: "You're much safer there than anywhere else, because you don't come into contact with anyone, you can still go out for a walk and do sports, and do your assignments for your internship… don't worry, I'll arrange it."
These assignments are often activities on the net or in the wild, so you don't run any risks
that is … if you don't accidentally swallow a bat. They fly around here, but so small that you hardly believe it. I have been painting a ceiling right next to a sleeping bat; very softly, so that he didn't wake up, and then I saw in person how small they really are. A mouse with wings.
So cute. He did wake up briefly and started washing himself. He had no idea that I was so close by, almost falling off my ladder with endearment.
Anyway, that was just a little walk beside the main topic. What that Corona-virus-stuff does to you …
The girls were allowed to stay.
Especially since they came by car, and it was more risky to get caught on the road than staying here. France was already in lockdown back then, so it couldn't even happen. Bom! Now they go up our hill every day to see what can be found on the wildlife cameras.
this is one very clever fox!
They've already shot a fox, and a civet cat, and our own cat, and a curious beast that hasn't been discovered yet. Perhaps. Maybe there's a very special species here – something between a weasel, an ermine and a meerkat. It is exactly on its tail like those, but it is too high on its legs.
I recognized this animal
"I have seen 3 like this before, when I meditated at the Termas of Amieira when I brought the boys to school," I tell them, "of course then you're sitting still, and they didn't notice me. They're beautiful animals, but I have no idea what it is. "
They came back the next day. Again with questions.
"We can't find it anywhere on the net," they said apologetically, but I find such an interruption pleasant – a nice break from sitting, and sitting, and sitting behind the screen
"Our mentor asked questions – whether there are any wild boars here."
"Yes, they say so," I reply, "but I've never seen one when I was walking around in the area. But not here on this hill, it is too inhabited here. Then you really have to go up into the hills above the next village, maybe you'll see something. "
"And how big are they then? Are they larger or smaller than in the Netherlands? " – I open my eyes wide in amazement and say hesitantly: "I honestly have no idea how big they would be in the Netherlands …" Romy says rapidly: "Well, uh … he wants to know … we don't. .. and if they can't be seen here, we can't know either, do we? "
I find that pointed out really well
This seems scientifically responsible, if you ask me. If you don't see it, it isn't bigger or smaller. So, next question! Now we only have to solve the mystery of that weasel-like civet-meerkat. Anyone any idea?
.
We moved here in 2000 from Rotterdam, Holland to the Termas-da-Azenha, Portugal. A big step, especially with two small children. We are busy to rebuild one of portugals cultural heirlooms: Termas-da-Azenha, an old spa which has been turned into several holiday homes, rooms and campsites, with a https://termas-da-azenha.com/en/recreation/: swimming pool, indoor and outdoor games like pingpong, petanque, a FancyDressingRoom and a small café. You'll find mosaics and paintings everywhere.
The old bathhouse is going to be a museum, where you can see how things have changed. Since 2018 we call ourselves the first B&B&B in the world – Bed & Breakfast & Bathrobes. You can buy a home-made unique bathrobe/housecoat with us.
Each week a little blog about what is happening around us. An easy read. A few minutes in another world. A little about what it going on in Portugal. If you plan your holiday to Portugal, it might be a nice preparation. We have some nice special offers on our site.
You can subscribe to this blog:
The form you have selected does not exist.
You'll get it every weekend in your mailbox.
On Sunday morning we publish it on our Facebook, on Pinterest, and on monday on LinkedIn.