I'm recovering from my walk in Lisbon on an empty terrace on the busy road, almost where I need to be. Half an hour before the agreed time.
I was – as always – optimistic, and thought I could walk from Santa Apolónia.
A nice little walk from the trainstation to my destination. I thought.
It even rimes.
Optimism is a curse, I tell you – it was indeed a nice walk (nothing little about it), but I had forgotten that it is February!
Hey, what, how, what do you mean, are you hallucinating?
Simple. February means that you start your days in the winter, then they change quickly into a day in high summer, and then turn into winter again at sunset.
No? You don't get it yet?
That it's – in combination with "A Day Out in Lisbon", which always means you walk more than you're used to – killing
I started the day at 7 am here in the outside territories with good boots, warm socks; black corduroy pants didn't seem to be a bad idea, just like a pink thermo shirt, two sweaters and a body warmer. That is pretty much my standard equipment in the winter, and if it really gets cold – which in January sometimes happen – then the body warmer is replaced by a thick cardigan.
Fortunately, today I had omitted the latter!
It is a half hour walk from Santa Apolónia, the train station on the Tagus, to the place I had to be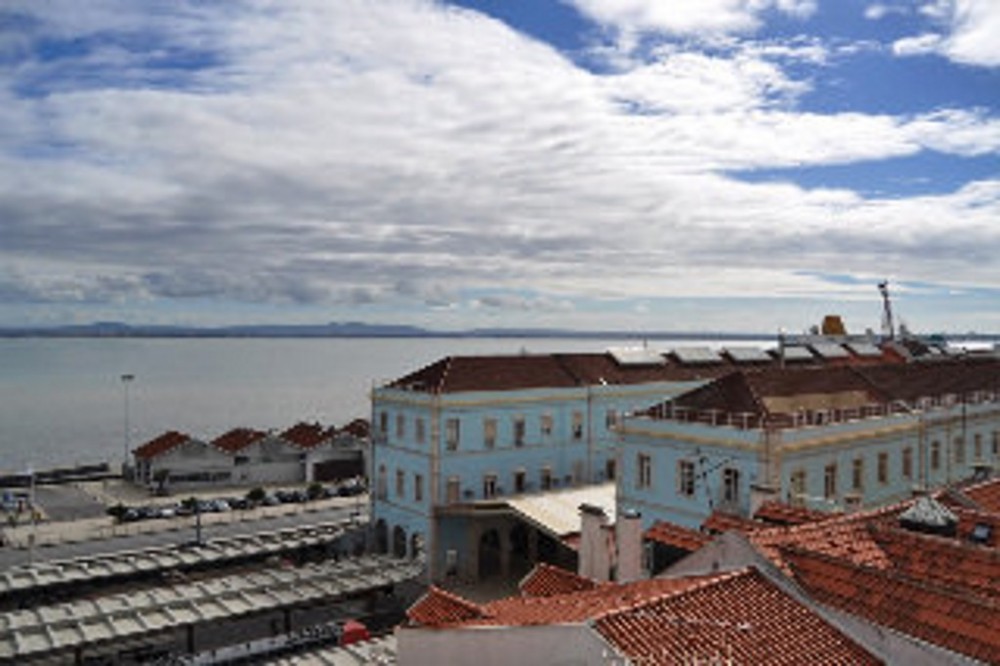 In that half hour I saw very attractive esplanadas to have a nice cool drink (I was thirsty by now! an opportunity to remove a sweater!), but I didn't allow myself to go, because come on, otherwise I wouldn't make my appointment.
In the meantime I saw more and more people gathering on a terrace for lunch, because that is still a good habit here, even in the big city. They had some good looking beers in front of them, or even a cool vinho verde.
I still doubted for a moment whether I'd take that charming little tram, or try a double decker, or such a cool electric scooter. By the time I came across a stop, I had to turn into a street that was only an up-hill-sidewalk. Too bad. No tram, no double-deckers, no scooter.
Those scooters are a big hype they say. I can imagine that they will make your "A Day Out in Lisbon" a bit more pleasant!
It works like this: you download an app, for example from Lime, you register, you add credit card information to the app. Then in real life, you scan it with the QR code on the scooter and you unlock it immediately. There you go!
Keeping balance is easy, as long as you keep holding the handlebar with two hands. If you want to get off your scooter, you just lock it via your app and the counter stops running.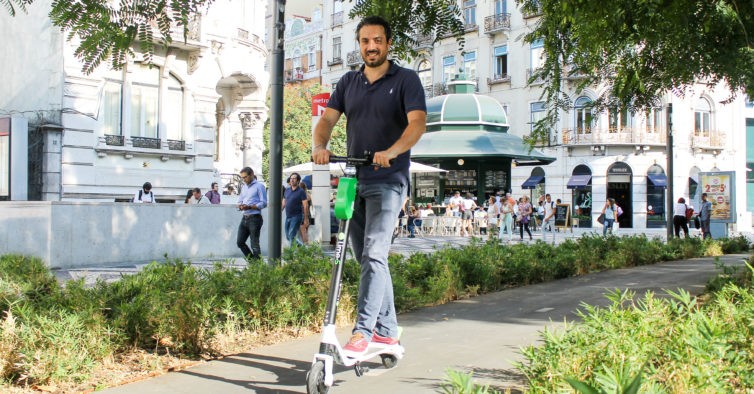 If it's gone when you come back, just take another one. Relax, you're doing "A day Out in Lisbon", remember?
They're distributed every day at 9 am and picked up again at the same time in the evening. To charge during the night.
I took one back, because it was right on my path. I couldn't pass it, nor ignore it, nor resist it.
And I tell you: it's magical!
The one disadvantage: you can't take a selfie. It's dangerous.
Y'all's tried the scooter? Let us know!