Henk comes by in the kitchen, when I'm preparing everything for the nasi goreng for tonight. "Come and have a look, if you can spare the time", he says, and walks ahead of me to his workplace for today.
Volunteer Henk has been here several times, parks his camper next to the reception, and starts doing good, useful things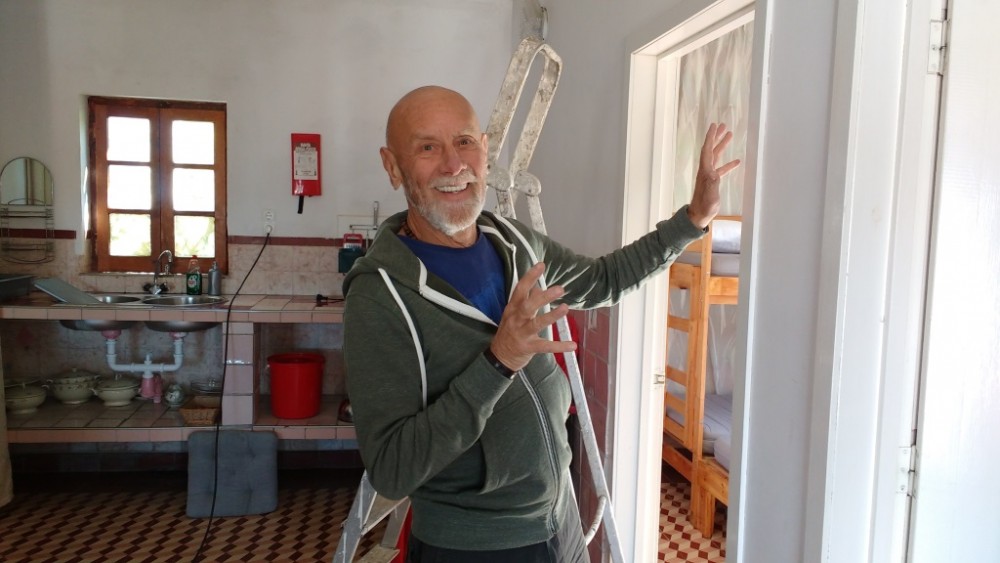 We like that, because there are always good, useful things to do here. For the large part, we do this ourselves – this is a mother-and-son business – but a volunteer who knows what goes on around here is a blessing.
I lay down my cloth and follow to the terrace of guest room 1. There is a roof over the door. That is almost no luxury, because when it rains (sometimes it does) and the wind blows (at the same time), it pops directly on the back door, and rear doors do not like that. Then they start having trouble, and eventually rot.
At least, if they are made of wood. And this one is
This morning he asked for it himself, because I had already dropped a hint (20 times or so, very subtly, that I would love to have a roof over the door of room 1. That that wouldn't be a luxury, and that the roof that he made over the door of room 2, is super, great, wonderful! It improves the quality of almost everyone's life!)
Henk understood the hint, not being stupid, but at first he was busy making a trendy love-seat for the Chessterrace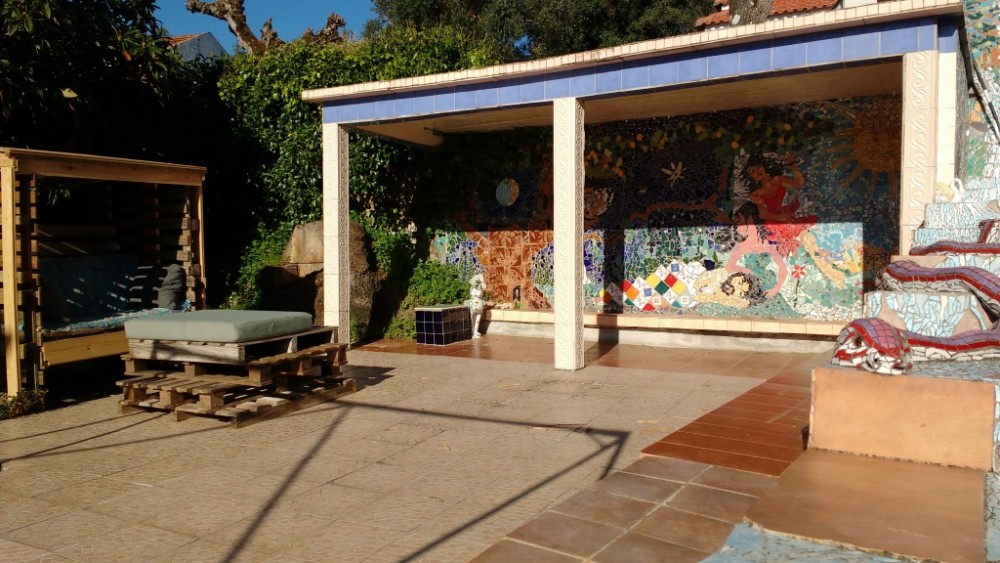 I immediately jumped up to walk to the spot and started gesturing and pointing enthusiastically. We discussed the action plan. What materials are needed, and what do I have?
"I am going to wander around for a while, then I'll find what I need", he said reassuringly, and I know that it'll be all right. And with a straight face: "I'm a certified yard wanderer."
And yes, after a few hours, there's wood there, and roof tiles, poles and screws and everything.
"Like this, two poles, the wood for the construction, starting on this side, covering the whole area – this was your idea, wasn't it?"
"Yes, exactly! A bit extended on the wind-and-rain-side …this is exactly it. Great!"
"Do you have such a big drill, type cork screw, to make the hole in the ground? Somewhere?"
"Yes, but it only goes 30 or 40 cm deep. I can help you, I can also play a role in the digging of the hole … " I offer, and Henk of course asks directly:" Hm, play a role, play a role, what does that mean?"
"Well, uh … I could take out my pompoms, and encourage you "Yeah, Henk, you can do it! H-E-N-K-SU-PER-O-KAY! Or something…" I smile widely, "Or, for example … I could possibly also scoop out a little bit of dirt …. it is just a matter of requesting. Filling in the right forms, finding the right tone, having the right connections …. "
We both have to laugh heartily. The nicest volunteers are those with whom you can make jokes, fantasize, talk about silly things, have a good laugh
Henk pulls a straight face again and says: "I will take it into careful consideration; and later my decision-making will take place."
And with more laughter I go back to my dinner-preparing, and he goes on with the yard-wandering.
Good to have a yard wanderer around!