Some guests are having such a good time that I spontaneously shout things like: "Oh, and I love you for it!" It was not a shout by itself. That was the answer to: "We couldn't get ourselves to go. So we stayed." The fairy laughs: "It's all the time: one more day. Let's do one more day."
And that comment came because I walked through the sala de convívio – the big room, and saw them sitting at "their" table. They'd been there for a week.
Not full time at the table of course.
They also sat by the pool. And they also went shopping. And did a workshop mosaic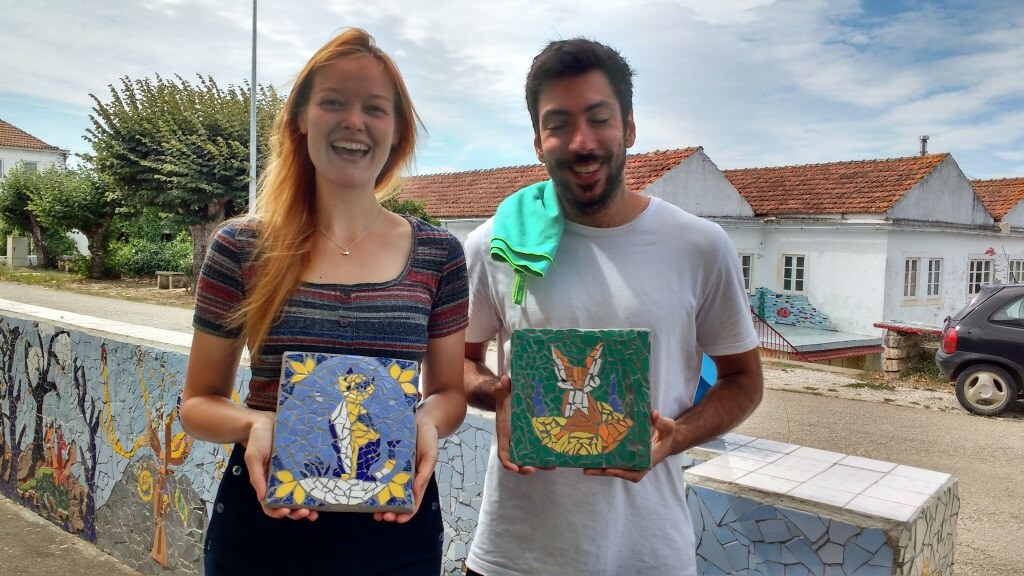 That's how I like to see it.
It was a pleasant atmosphere in the big hall in the evenings
This couple was sitting at "their" table, one family was playing table tennis, another family was playing a game at the dining tables on the other side of the room, and a man was picking out a book by the book tower.
In the meantime, I was doing the things I have to do. Washing, keeping the swimming pools clean, topping up (Belgian) beer in the bar fridge, answering the e-mail – of the things that every holiday holiday rental and B&B owner must do.
And in the meantime, I fervently wished that the guest who looked like a fairy would also be a real one, and make my wish come true.
My wish was that all the mosaic created so far would be perfectly grouted to the facade of the bathhouse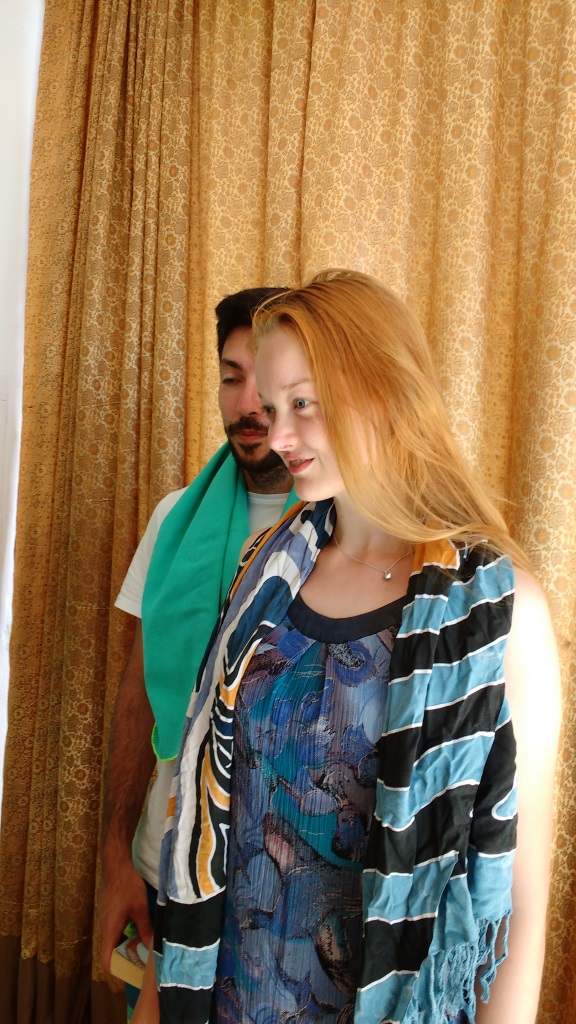 Grouting is the least fun thing about mosaics, you are always working on it much longer than you think – even if you think that you will be working on it much longer than you think, it will be even longer.
You get it: not my favorite thing to do.
The result of the grouting, on the other hand, is great. The very last fase is cleaning, but that is usually a piece of cake. Although it is regularly "forgotten", because after a few hours of grouting you have pain in muscles you didn't even know you had, and you have those warm bath wrinkles in your other hand. At that point, you don't feel the need much to wipe that wall once more with a clean dry cloth.
I'm of course talking about a big wall now. Not about a piece of art that you make during a mosaic workshop to take home
My other wish was (can't you always make 3 wishes if you come across a fairy?) to start with the Dragon. That piece of wall that I had a problem with a few weeks ago, but for which a wonderful idea had fallen out of the sky.
I was eager.
Finally I had a Sunday afternoon, and then another Tuesday morning, and to top it all off, another Wednesday evening. There he was! Finally!