It is not entirely clear how we got in, but inside we are. Friend B. dives into the bathroom, I look around a bit. A fairly large house with bright large rooms, a bit messy, with lots of stuff and books.
Cozy, I don't like a modern empty grey house so much
When B. appears (relieved) again, we nose around a bit. We don't mean any harm, but we giggle a little nervously. "I hear something!" B. Suddenly says, standing completely still, "Shhh!"
I freeze, and yes, a woman and her daughter come in through the front door. "Hey, look at this now," she says to her daughter, and she hardly seems surprised, "who have we got there!"
"Er …" I stammer, because I don't know how to start. How do you explain that you have broken into someone's house, and you've been caught in the act?
She laughs, she doesn't seem shocked at all
B. has disappeared. And the daughter too. Hey, how is that possible? Just gone, both of them, without a trace.
The woman takes me to a large courtyard-like room, where three statues of elephants with the tails twisted together stand in the middle. They're smaller than in real life. They're hard but at the same time cuddly soft, and their tails are old-fashioned curly telephone wires.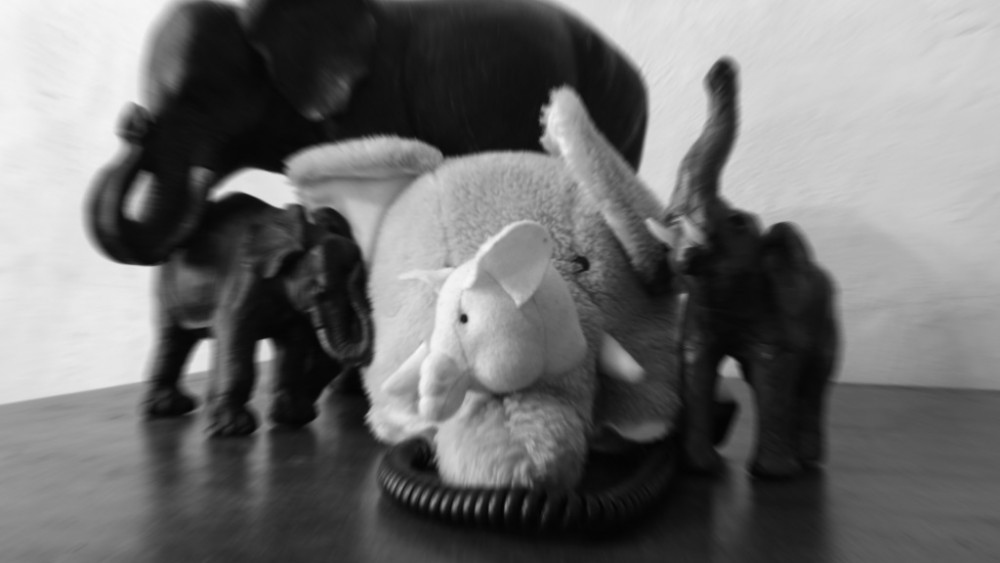 The woman takes the trunk off the hook, gives it to me and says: "I think you do owe me a story about elephants." Yes, I can't deny that, it seems fair.
I try: "Once upon a time there was a little elephant who asked her mother: "Mom, they say you can turn pink. Can that happen, mom? I don't want to be pink, then everybody'll always see me everywhere. I'm not a flamingo anyway! They eat shrimps to turn pink, and I don't like shrimps. And I don't think pink is a beautiful color, and certainly not for an elephant. Mom? "
Mother elephant answers with a sigh: "Ah, child, weird human talk. You don't have to worry about that. They also say that you can stand in the room, like: "there's an elephant in the room."
Idiotic, of course. We don't even fit through most doors, so how could we suddenly be in the room? Humans are idiots."
The woman nods approvingly. "Yes, good, nice start, nice and smooth. And then?"
"Uh … well … I have to think about that …" I ponder, as the courtyard slowly dissolves, the woman becomes more shadowy and sharply articulated thoughts enter the front of my head. Thoughts like: "We have done this before, B. and I, when I was renovating the ElephantHouse …"
My own bedroom starts to take its familiar contours
I stare in the infinite, looking for the dream, but the european flag becomes bluer and more dominant. It is the ceiling of my mosquito net. There's no escape: I'm awake.
And then there came an elephant with a long snout, and blew this story out
Ah, it's good already. The sun is shining, so to see, it is a beautiful time to get up. Coincidentally (?) I am working on a great terrace bench for the ElephantHouse. Coincidence?
And anyway I wouldn't have come any further than the little old-fashioned rhyme:
When you're mad
Pluck an elephant
Put it on your hat
Tomorrow you are flat