I was craving something. Something salty, tasty, a nice snack. Nothing to be found anywhere. At least not something I was craving for. Unfortunately.
Then you have the choice between sitting yearning or to get up, take the car key and drive to the supermarket in Alqueidão. I also had to get some things for the guests breakfast tomorrow morning, so I had to go there anyway.
Now that isn't such a punishment, because it's always fun in the supermarket Jorge Neto. He's a good-natured forty-something-year-old, who's been doing this his whole life, and he is good at it. And it's not such small supermarket – there are 6 employees, and they have almost everything. Including an unbeatable good mood.
He is like social glue in this area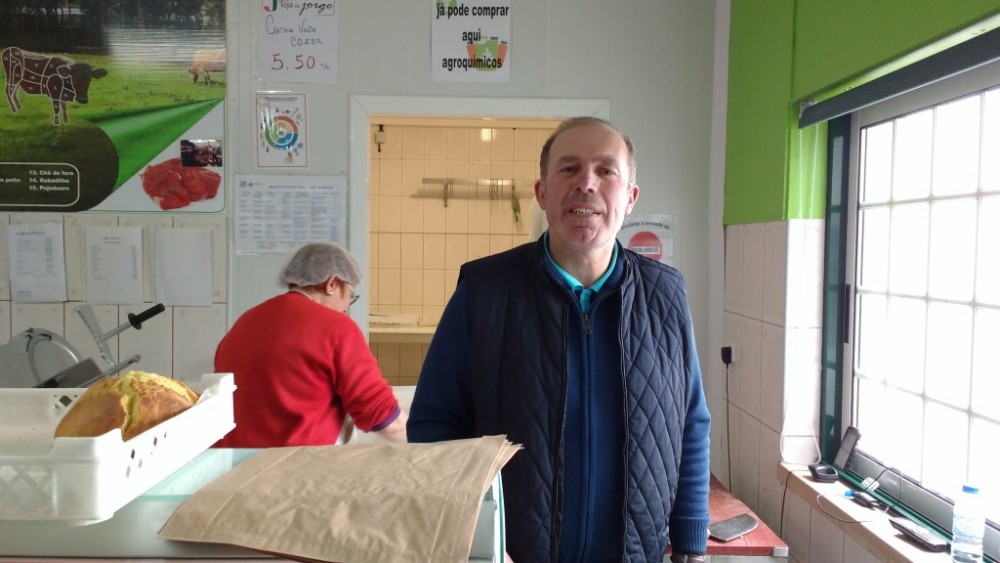 Like I mentioned: they have almost everything. Freshly baked bread (every day, even on Sundays) and also my favorite: centeio. Brown bread is still not available everywhere, so I always go for a nice dark brown sandwich. They already know: "Todo o centeio?" – all of them? Yes, thank you.
But I don't come for that now (although of course they go along). Cupcakes for breakfast tomorrow morning … coffee and a cupcake every day keeps the doctor away.
If you need deodorant urgently, or a bottle of liquor, a candle holder for your romantic picnic or a plastic watering can to water your delicate plants – it's there. They have fresh vegetables from the farmers in the area, even superfoods such as goji berries and mixed nuts. But I do not want something responsible, I want something tasty. Something like… crisps.
TexMex or chili, campeoneta or 3D corn, what'll it be?
With my 3D bag I pass the butcher's counter. Fresh goat meat is recommended. Immediately a recipe for a famous Portuguese stew comes to mind.
Yes!
That was what I was craving!
Enjoy this delicious dish together with me. It's a bit of preparation, but then you have something too! When you start today, you'll eat it tomorrow – so …  also a lot of anticipation!
But first that bag of 3D …
Nice side effect: a group of guests loved to smell the kitchen so much that they agreed to come and eat.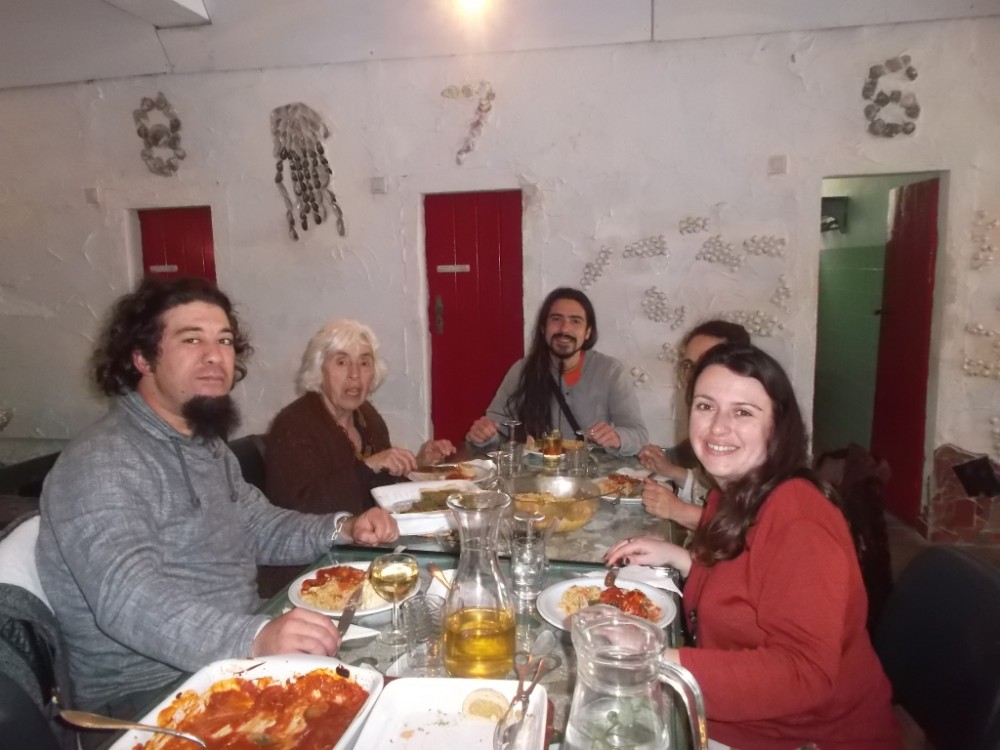 Recipe for chanfana
Ingredients for 4 people
1.5 kilos of goat meat – 75 grams chorizo in slices – 1 tbsp sugar – 2 onions – chopped parsley – 75 dl red wine – 4 tbsp olive oil – 1 tbsp fresh chopped coriander leaves – 200g bacon in small pieces – 2 cloves of garlic – 4 bay leaves – 5 cloves – 1 tbsp paprika (not spicy) – fresh black pepper and sea salt
cassarole or römer topf (in any case an oven dish with lid)
Preparation
Cut the meat into large pieces. Mix the salt, the paprika, garlic, sugar, crumbled laurel leaves, coriander and olive oil and marinate the meat with it. Place the strips or diced bacon between them, cut the onions into rings and grind the pepper over it. Shower everything with red wine. It must be completely under. Put the cloves in it and marinate for 6 to 8 hours in a cool place, but not in the fridge. You can do this in the evening, for example, then it's ready for the oven the next afternoon.
And further:
Preheat the oven to 180º C.
Put the lid on the casserole and let it cook gently in the oven. Check every hour that there is enough moisture in the casserole and add more wine, while stirring gently. When the meat starts to loosen from the bones (after about 3 to 4 hours) add the chorizo cut into pieces of 3 cm and the chopped parsley. Leave to cook until the meat completely falls off the lbones (another 1 to 2 hours). At this stage there are 2 possibilities: serve immediately.
And then I like to eat a simple cooked potato with that and a green salad. So good.