"Oh, it's just a bag of flower seeds … "said my brother while showing a colorful bag," it's a butterfly blend – so it attracts butterflies and bees. You could have a butterfly garden. Nice isn't it?"
"Well, sow it in the village square garden, who knows maybe something nice comes out of it", I replied, "than it's close, and it gets water every day, when it needs it. Then it has a chance …"
I was not super enthusiastic because I suffer from the NGF-syndrome
No Green Fingers.
If a plant survives with me, then it's a strong one. I love strong plants, especially those who crawl over the earth and other plants that can be neglected. I'm very good at actively neglecting green.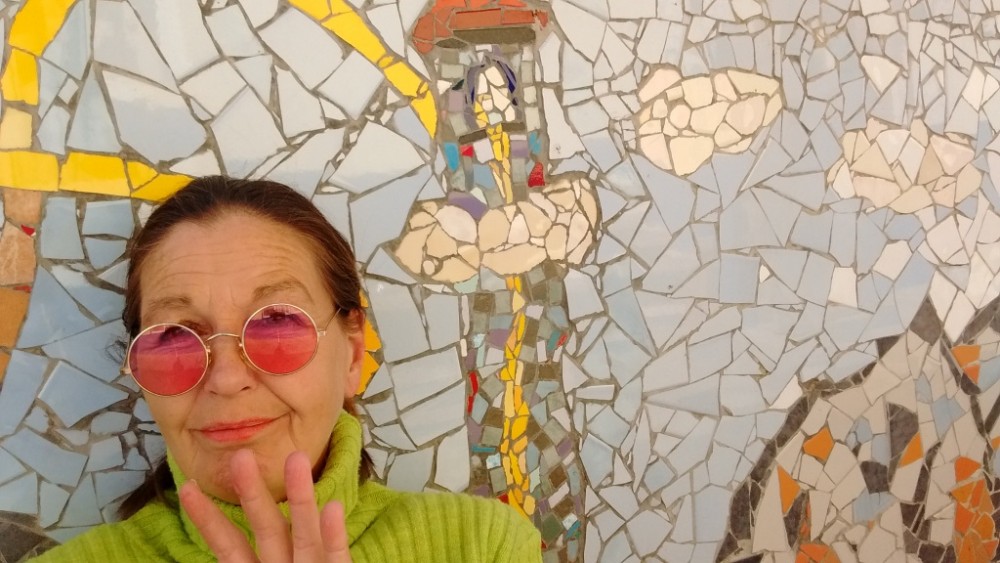 I do have a green sweater, but I don't have green fingers
My brother knows, but nevertheless, does an attempt to brighten the Termas. I think that's very kind. He said: "Okay, great, then I'll plant it." And then he's busy with making a piece of the garden in the  square grassless and gets to sowing.
Now there are growing a lot of flowers spontaneously
The hydrangeas on the village square have survived 30 years of neglect. They proved to be strong, and are also very enthusiastic in making whole lot of big pink flowers. The blue vine dies in sunny  (and therefore cold) winters, but always returns, and doesn't stop making those beautiful purple-blue colored flowers. Now, they always want to crawl the wrong way, so you have to keep an eye on them, but their big plus is that insects find them very attractive.
The pink roses look cute but have a prickly character
They apparently don't make a nice nectar, but they can stay. First of all, they can handle me, and secondly they are beautiful in the spring months – full of pink little roses. Oleanders are fine, arums are weeds here, and if you don't pay attention, your whole garden is full of yellow clover. Nice detail: There are butterflies in exactly the same color – flying flowers.
1 plus 1 plus 1 plus 1= a butterfly garden
The butterfly mixture hasn't done badly, especially if you think that those seeds have only had water. I never spoke to them, or gave them a little food. The idea of a butterfly garden was born because my brother arrived with that bag of butterfly blend. It has fueled my desire for an exuberant flower garden; something that I always thought was not for me.
I have a look on the internet. A buddleia requires little or no attention, becomes almost 2m high, produces an incredible amount of flowers in all rainbow colors from June to October, and does exactly what promises the name. That's what we should have!

So I ordered 10
They get quite big, so we have to reasonably spread them over our 2,5 ha. They can be used as terrain divider for the archery track, which is now in the making. There may be one or two in the village square garden, renamed as Butterfly Garden. We ordered seeds, and with some effort and good will all these will come up in spring. Just do your utmost, and put them in a place where you come every day.
So I already made my new year's resolution: creating a Butterfly Garden
I'm going to strengthen my ties with the green world. I've been able to grow rucola and lettuce, cherry tomatoes and cucumbers for years, so it should be possible.
Should you have good tips – I would appreciate it. If you respond: put it on our Facebook page, everyone can join. The more people have a butterfly garden, the better it is for these beautiful creatures!