It comes to me when I'm in bed in the evening. I can't help it, the images are coming. They must have been incredibly scared. First transferred to a strange environment, where everything is different from what you're used to. Country life instead of living in a huge shed.
Better, but very different.
Running outside is not an option. First of all, stay together in a safe dark corner for the certainty. You never know.
These are disadvantaged youth, all girls in this case
They weren't treated well during their short life. With us they would get a better life, they'd live in  paradise, they could develop themselves, they would finally be secure and safe …. oh, we were full of good intentions! We did our best to make their accommodation as beautiful and comfortable as possible, the volunteers and us.
Raquel and Desi were cutting bamboo to make a nice fence, I had bought a lot of food and Broes had taken care of the rest.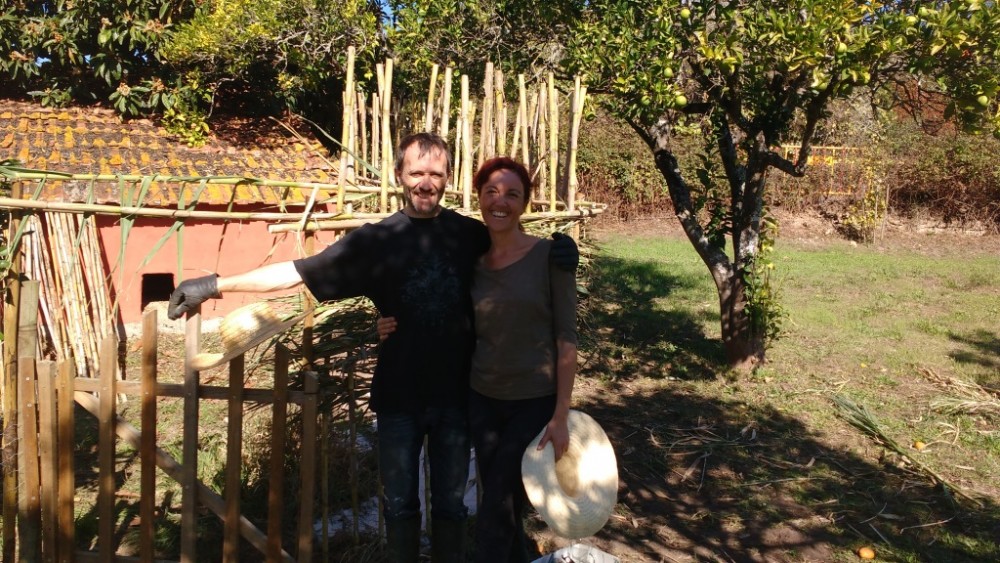 But a hunter was on the prowl
She knew she had to stay away. She was told very clearly again and again. She behaved, that first day, but that was mainly because we were in the neighbourhood, at work with the upcoming archery track.
She was curious, interested, but we thought it was safe. We know her well enough, we know she has a dangerous character. Not for us, we don't run any risk.
That afternoon I saw her in the cot, when I came back from my lunch break
"How did you get in here?" I cried angrily, "away with you, you nasty creature!" She was already through the door, which I had difficulty going through. We made it that way on purpose, that it wouldn't be possible for her to get in. Ha! Apparently it was the other way around.
I checked on the girls first and then went looking for a hole
She betrayed herself by sneaking back to her secret entrance when she thought I was gone again. But I'm not stupid, I was around the corner, ready to catch her.
She did not wait for a long time.
"Ha! Caught red handed", I cried triumphantly, and started the repair work. Everything safe, I thought, well worth the effort. The next morning there's no one in sight. No chicken, that is.
Ai! What is it … ? How is this possible? Who has … ?
"No, I do not want anything to do with her," I say disappointed, sad and angry. Gentle Raquel, the Spanish volunteer, tried to talk me into forgiving Donkeydog.
"She's a mass murderer, and she did it on purpose. She just waited until it was dark, she's a  sneaky little devil. "
I didn't talk to her for a week
I kept on chasing her away: "Just go, you nasty girl! Killer! "" I did give her food (why I don't know, she had 7 fresh chickens!), but for the rest I ignored her.
Yes, I know, it's instinct, it's nature, it's country life, and I knew the risk in advance, but it's a disappointment. Most likely, I have to give up the idea: a cozy little group of chickens, walking in the orchard, taking sandbaths in the sun, and fresh eggs every day.
My so-called punishment has little to no effect
She gets more and more an air of: "Well, okay, if you do'nt want me any more … then not!" I have to get over myself and forgive her.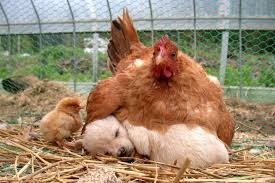 .
.
.
Thanks to: hondenblogo.nl
I'm not giving up yet! This must be possible. There must be a way to get a dog and a few chickens to live in peace? If you have ideas, if you're an expert on the matter, pass it on! Any advice is welcome!