The first campers of this year were very early
Family Zomerdijk planned to drive their camper here, stay for a day, and then walk to the nearest station, to go to Coimbra from there. They weren't going to stay there, no, they were going to walk all the way to Santiago de Compostela.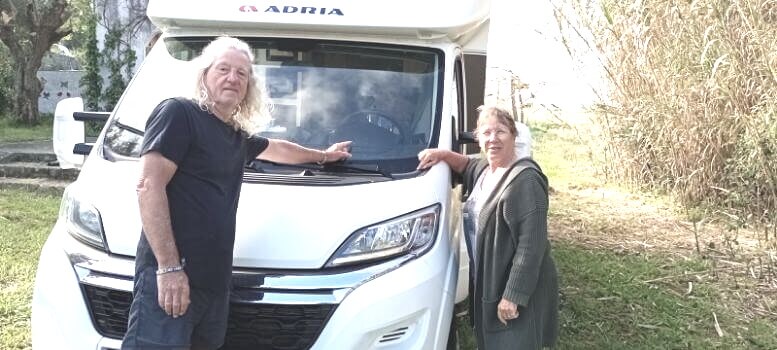 More people walk to Santiago than you might think, but mostly from the north.

In Portugal people walk to Fátima, our own place of pilgrimage. Slightly less famous than Santiago de Compostella, but – if you believe the stories – just as effective in terms of its meditative aspect, and the eventual forgiveness of your sins.

This couple is doing this, not so much about the forgiveness part of it, but more because of the beautiful journey and the meditative aspect. "You get to be completely calm, close to yourself," Gertha said last week, when they were back. "And it's beautiful hiking, so many different landscapes, quiet everywhere … only sometimes you have to keep going because then you have to go through a city. And sometimes the accommodation was very simple or primitive."

I offer them a nice cold glass of something, because the weather has turned around and we're enjoying summer temperatures. "We thought walking back was a bit too much of a good thing," says Frans with a laugh, "we just took the train." A moment later he's standing in front of me again, this time with a less good message.
"There is a crack in our windshield," he says, somewhat disappointed, "and we don't think it was there when we got here."
I walk along to take a look, because well … that's a thing to pay attention to.

"We should just call the insurance company," says Gertha after we have talked for a while about the how and why of this mysteriously appearing crack. "It can't have been stones from mowing, there's only grass here." I add: "Besides, I don't run that fast with that mower thing to throws stones in all directions …"
It's not a huge crack, and it's at the bottom of the windshield
In addition, the camper is all-risk insured, so there's not too much to worry about. "But it once happened to me that I was driving, with another car by the way, on the highway, and boom, the windshield broke into tiny pieces. Just like that, without a crack and without warning," says Gertha, and then I can imagine that you are a little more careful when you discover this in your windshield.

"No, that's not trauma, I just want to know what the insurance company thinks, because they are supreme, aren't they?" Frans is still in a good mood, thankfully. Unfortunately, that has changed a bit after calling the insurance company, because they told him at the helpline that they are not allowed to drive.

"You'll keep us here for a few more days" they report a little later, "we have to go back home by train, and the camper will be picked up, brought to the Netherlands, and the windshield will be replaced there."
They are admirably stoic about it. Perhaps the effect of their walking tour?
We all think it's a bit exaggerated. "Shall I call Glassdrive in Figueira to see if they can do something about this?" I ask, "Figueira is nearby, if they could do that, the problem would be solved in the easiest way." Unfortunately, it is a bit more complicated than we laymen think. They don't know the motorhome brand, so they don't have a windscreen in stock. That has to be ordered, and that takes a while.

Frans and Gertha call the insurance company again. The next helper on the helpline tells them that although they can go home by train, they can claim all costs, but that it is not mandatory. If they prefer to ride with their crack, there is no one to stop them.

"Completely different story from the first one," laughs Gertha, "but okay, so we're just going to drive, and then we'll see. It'll go well."

I secretly think to myself: I should also go and walk to Santiago de Compostela one day. It does wonders for your calmness level and your peace of mind, it seems!
.
We moved here in 2000 from Rotterdam, Holland to the Termas-da-Azenha, Portugal.
A big step, especially with two small children.
We are busy to rebuild one of portugals cultural heirlooms: Termas-da-Azenha, an old spa which has been turned into several holiday houses, rooms and a campsite.
You'll find mosaics and paintings everywhere.
Since 2018 we call ourselves the first B&B&B in the world – Bed & Breakfast & Bathrobes. You can buy a home-made unique bathrobe/housecoat with us.
Each week a little blog about what is happening around us. An easy read. A few minutes in another world. A little about what it going on in Portugal. If you plan your holiday to Portugal, it might be a nice preparation
You can subscribe to this blog- see at the right side of this page »
You'll get it every weekend in your mailbox.
On Sunday morning we publish it on our Facebook and on Instagram.