In May all birds lay an egg – over there maybe, but here they have long since hatched those eggs, and the adolescent birds are ready on the edge of the nest to start their own lives. In May we always did a lot of mosaicmaking. In May – as it was before the C-risis – the first guests arrive. And before that time we had to complete all maintenance.
May was always a high season for summer
We are now still finishing, in May. After the C-risis life has become a bit different on the Termas. Fewer holidaymakers, more permanent tenants who in turn attract holidaymakers. Also nice. Less work for us, in terms of maintenance and cleaning, etc.

More time to spend on details.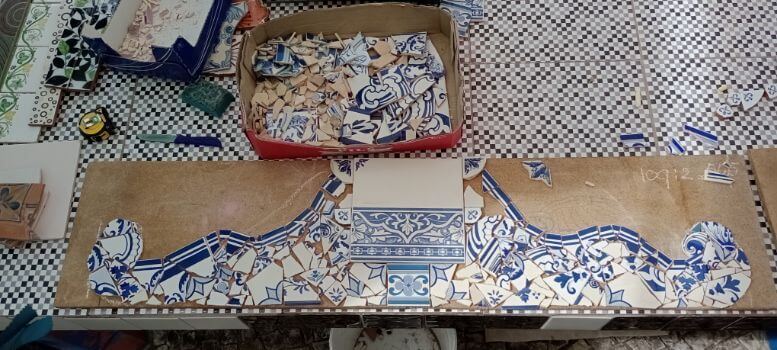 We have found a pearl: Sérgio the master builder. Spaniard by origin; portuguese resident because of his wife. And skillful builder. Remember the burnt down chicken coop? That was right next to the roof of the outdoor workshop. The roof was destroyed by the fire. Fortunately, the outdoor workshop was spared.
The roof is to be repaired, and improved at the same time. By Sérgio and Broes
We have a workshop and an outdoor workshop. The first is more like a big walk-in closet for the tools, the second is a place to put the things you want to do. Sanding wood, for example, is done under the roof of the outdoor workshop. Then all the dust goes into the wide world, and not in your tools. Because tools don't like that.

Sérgio starts at 9, and goes to do his things with the help of Broes, and at the end of the day you suddenly have a roof of the outdoor workshop again. As long as I take care of the material, everything will be fine.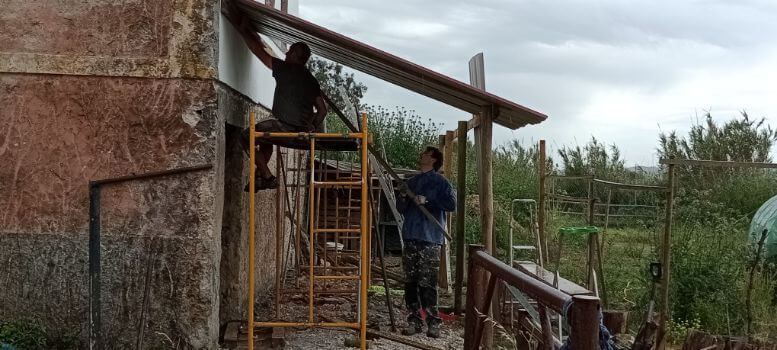 And then things will be combined: shelter and mosaic.
On a roll! That frieze above the windows is inspired by the large mosaic I'm working on now, and for which Astrid provided the inspiration. On the last night of her holiday, she filled a board with a "wild" mosaic, as we call it. No idea, no real plan, more of an experiment, let's see how this works.

That was left there, like it was in my head.
An egg, so to speak. An idea that has yet to be hatched
Together with two of the same typical portuguese blue tiles, it became a beautiful frieze above the windows, because Sérgio had suggested that there should be something above it, because that's the way it goes with windows, and because Astrid had left her egg behind.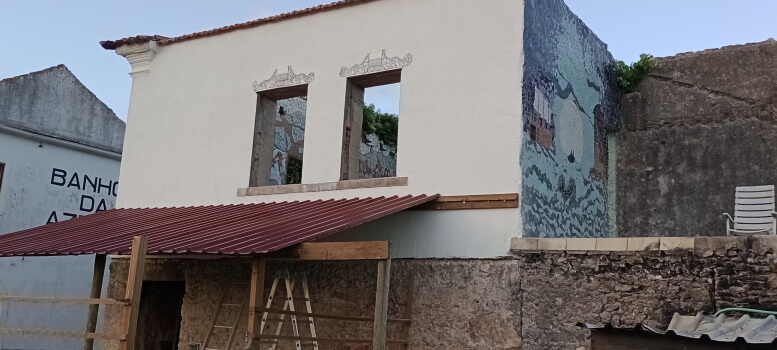 That's how things go sometimes.
.
An egg sometimes grows up very differently than you think.
.
We moved here in 2000 from Rotterdam, Holland to the Termas-da-Azenha, Portugal.
A big step, especially with two small children.
We are busy to rebuild one of portugals cultural heirlooms: Termas-da-Azenha, an old spa which has been turned into several holiday houses, rooms and a campsite.
You'll find mosaics and paintings everywhere.
Since 2018 we call ourselves the first B&B&B in the world – Bed & Breakfast & Bathrobes. You can buy a home-made unique bathrobe/housecoat with us.
Each week a little blog about what is happening around us. An easy read. A few minutes in another world. A little about what it going on in Portugal. If you plan your holiday to Portugal, it might be a nice preparation
You can subscribe to this blog- see at the right side of this page »
You'll get it every weekend in your mailbox.
On Sunday morning we publish it on our Facebook and on Instagram.