It was at the very last minute, but I thought it would be better to send a warning. This booking had arrived a few days ago, via the SVR – a dutch intermediair to find a simple, natural or special campsite.
They want to come camping; fine, but it's raining
Hello Maria,

it's Sunday morning, and it's raining hard. That was announced, and it also has something cozy, but I'm not contacting you to tell you that. 😉

With this weather it's a bit difficult to leave the campsite with a caravan. No problem to get in, but when you get out, you have to take a bend and up a bit. For some people this is difficult, others don't care. I'd rather spare you to waste your time.

Most people arrive at the end of the day. If you decide after arrival and viewing that you prefer to camp somewhere else, you'll be stressed. And we don't want that, during the holidays! However, I'll leave it to you, but I wanted to warn you. The weather forecast shows rain throughout the day.

Nevertheless, sunny greetings, Ellen

Less than an hour later, Maria is standing in front of me. Mira has seen her first, and goes to meet her with a wagging tail. "Oooo, my husband is afraid of dogs", is the first thing she says, and I: "Maybe not this one, because it's a sweetheart. But we do her in the kitchen, then it's no problem. Hello welcome! Have you received my email yet?"

"Yes, but we were about to leave," replies Maria, a smiling woman from the south of the Netherlands with a friendly face. "So we thought we'd see." Meanwhile, her husband has also joined, and Mira has somehow managed to escape from the kitchen. I probably didn't close the door properly.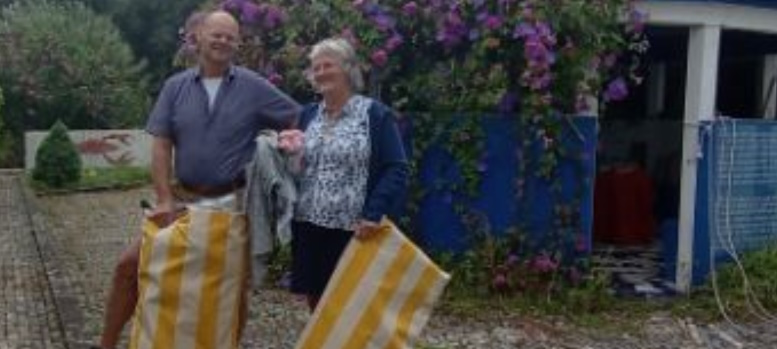 No scenes of panic, though, or nasty words, but a statement: "My father had a bakery, and we children always had to deliver bread. By bike. And then you have to deal with dogs a lot! That can be scary!" I get it: "Sure, being confronted by a barking dog as a boy, and then you have to keep your balance as he tries to bite you in the calves … and you can't even throw the bread at him as a distraction! "

So you see, you know each other for five minutes, and everything goes by itself. Mira even smells Jacques' (bare!) calves, but he doesn't budge, and she (of course) doesn't do anything at all. I know that, but yes, as a traumatized ex-bread delivery boy you have to believe it from a loving dog owner ….
"Let me show you the camping area" I invite them,
and I lead them through the steady pouring rain. "Camping in the rain can be fun too" I say over my shoulder. Jacques inspects the entrance and exit of the site, an unpaved road that climbs a little to the access road. "The trick is not to stop", I explain, "It doesn't have to be fast, of course, but just keep driving, don't stop, until you get to the top."

"It'll be fine," say Maria and Jacques unissono, and they are right.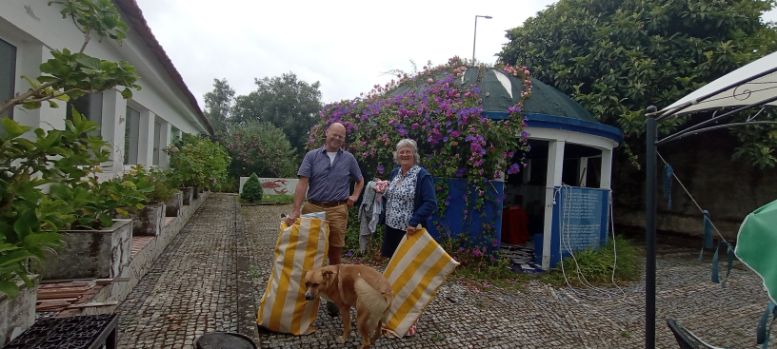 They leave early every day for the next few days, to visit the canal town of Aveiro, Figueira da Foz, the quiet beach of Costa de Lavos, and each time – apparently – no problem getting out of the campsite. Maria also has time to choose a kimono at her leisure.

"One for me, and one for my daughter. And maybe one more for a friend, but we're taking the pictures for that now, so she can choose," she explains, when I meet them with a pair of kimonos held high in the air and Jacques clicking on his mobile. I smile. "Great" I say, "I love this project, but it hasn't been that easy since Covid. At first, all guests would naturally pass by this rack, but we have had a lot fewer guests in recent years."

Maria chooses a double-sided portable. One side white viscose with green flowers, the other side green chiffon with flowers. One of my favorites. And for her daughter a shiny dark turquoise one-sided with golden yellow flowers. "No cotton?" asks Maria, and no: "Cotton creases. And if there's one thing you want to avoid in your life, it's ironing. Especially during the holidays. Don't you agree?" Yes, we can easily agree on that. "And it's not good for the planet either. Then viscose is a better choice."
Covid has also had quite an impact on Maria's life
"We will continue driving on Wednesday. Then we're here a bit shorter than planned, but I have a zoom appointment with one of my clients on Thursday, and I can't handle that – a travel day and a zoom appointment. And well … the weather is indeed not really cooperating, but normally we would stay a little longer, you know."

I've gotten used to her smiling sympathetic face by now, and I get it. You can sometimes keep symptoms of such a miserable virus for a long time. We agree that I, also an early riser, will stand on the road to stop the traffic (!) when they leave, so that they can just keep going. "Don't stop!" we all say laughingly.

We pull a face at each other. Like it's so busy here, but still, it only takes one vehicle to bother you. Better safe than sorry.
It all went well, theory and practice. Only, at the top of the hole, the engine shut off. What?! Why?!!
Fortunately, a tractor was just around the corner mowing the roadsides. They offered help, and luckily it was done in no time with a nice yellow lashing strap. Pfff.

Bye! Until next time!
.
We moved here in 2000 from Rotterdam, Holland to the Termas-da-Azenha, Portugal.
A big step, especially with two small children.
We are busy to rebuild one of portugals cultural heirlooms: Termas-da-Azenha, an old spa which has been turned into several holiday houses, rooms and a campsite.
You'll find mosaics and paintings everywhere.
Since 2018 we call ourselves the first B&B&B in the world – Bed & Breakfast & Bathrobes. You can buy a home-made unique bathrobe/housecoat with us.
Each week a little blog about what is happening around us. An easy read. A few minutes in another world. A little about what it going on in Portugal. If you plan your holiday to Portugal, it might be a nice preparation
You can subscribe to this blog- see at the right side of this page »
You'll get it every weekend in your mailbox.
On Sunday morning we publish it on our Facebook and on Instagram.