"We like it here so much, we want to come on roughly the same dates next year," says Annuska, "then it's set, I think that's a nice idea."
With this, the ladies of room two officially have the scoop of the first booking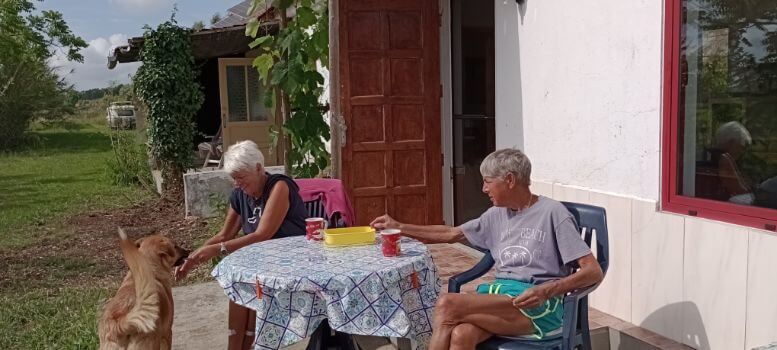 I like it too. I have yet to meet the B&B owner who finds it annoying, such an early booking. Of course that's nice, especially when it comes from nice guests. Secretly I think there is no other way, because if you find your guests annoying, it is often mutual.

Luckily I don't have much experience with that.

"We like to hike," says Annuska upon arrival, "do you have any nice walks nearby? I would like to walk around those lakes …" and she points to the flooded rice fields in front of their room. "Magnificent, with all those birds, storks, herons, ibises, coots, what's not there…"
I silently thank the gods again for their gift in the form of Mira
because that's why I've walked quite a bit this winter, and discovered beautiful areas. Nearby! You walk around the bend, and a world opens up for you! That is, if you like walking, because it does mean getting off the tarmac of course.

I have learned to keep to the well-trodden paths (terra batida), otherwise it is impossible to make a description. And also to avoid things like: left at a green fence, because before you know it someone has painted that fence blue or even removed it.
Making trips, sight seeing, that's also fun
You can see a few things in the area. The castle of Montemor-o-Velho is beautiful, and with luck there is a market in the town. Soure is nice to stroll through, we have the beaches of course, Figueira, Coimbra, Conimbriga, but they liked the Ecomuseu do Sal the most.

"What a beautiful place, how special to see that," says Annuska, and I enjoy how the ladies in room two enjoy themselves. "Tomorrow we want to go to that beautifully colored lake, near Maiorca. Google says it's a 26 minute drive, and 15.7 miles away. So, not so far, and a nice drive."

If you set up the satellite images, you see that you have to cross a "terra batida" exactly along the Mondego. Nice, such an unpaved road. Those are always beautiful places.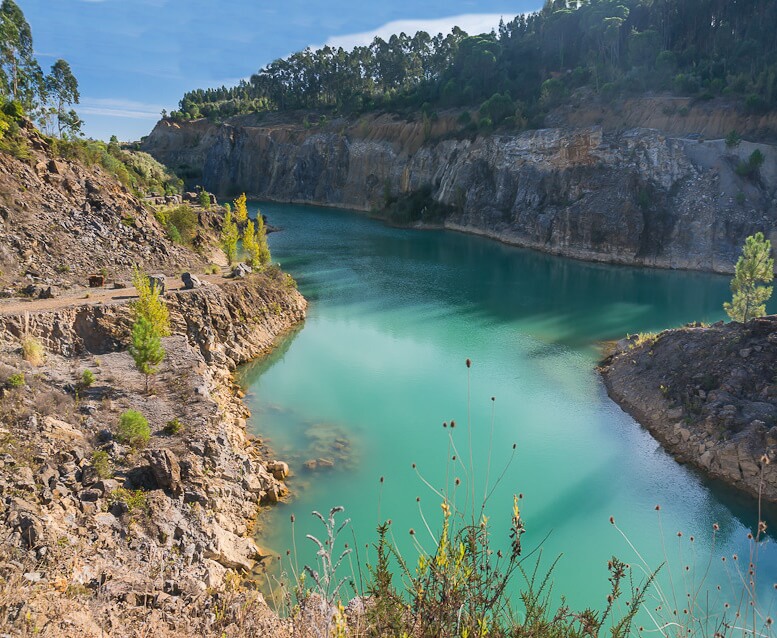 The color of the water is widely praised. A beautiful turquoise, a feast for the eyes. Whether it is also such a pleasure for the rest of your body is seriously doubted, because it is an old quarry, and that color could well have to do with the chemicals that were used there.

The ladies in room two don't mind, because they're not going to swim anyway. They just couldn't reach the whole lagoa! On YouTube you will find a few videos from years ago in which people show the lagoa and how to get there. "The volunteers often went there, and they also swam there", I tell about life pre-Covid, when we still regularly had volunteers around. "It should be easy to find."
Something different from their experience, because the access road to the lagoa is currently completely overgrown with nasty prickly bushes
That's a real shame, because it's a beautiful spot, and you don't necessarily have to go for a swim to enjoy it, do you? "We went back when I hurt my legs for the third time," says Sonja, showing all the band aids. "Great, if we're going to do this, we have to wear strong pants and good shoes," says Annuska.

Bad luck, ladies, because from the sound of hearing, seeing and reading (done some research) enjoying that beautiful turquoise water is over. It could well be that nasty chemicals were indeed used, and that the government simply left it to nature.

That fence won't stop many people, but brambles will!
So, I'm afraid it'll be only enjoyable digitally from now.
.
We moved here in 2000 from Rotterdam, Holland to the Termas-da-Azenha, Portugal.
A big step, especially with two small children.
We are busy to rebuild one of portugals cultural heirlooms: Termas-da-Azenha, an old spa which has been turned into several holiday houses, rooms and a campsite.
You'll find mosaics and paintings everywhere.
Since 2018 we call ourselves the first B&B&B in the world – Bed & Breakfast & Bathrobes. You can buy a home-made unique bathrobe/housecoat with us.
Each week a little blog about what is happening around us. An easy read. A few minutes in another world. A little about what it going on in Portugal. If you plan your holiday to Portugal, it might be a nice preparation
You can subscribe to this blog- see at the right side of this page »
You'll get it every weekend in your mailbox.
On Sunday morning we publish it on our Facebook and on Instagram.