The church and cemetery of Samuel are situated in a beautiful spot. I have cherished memories buried there.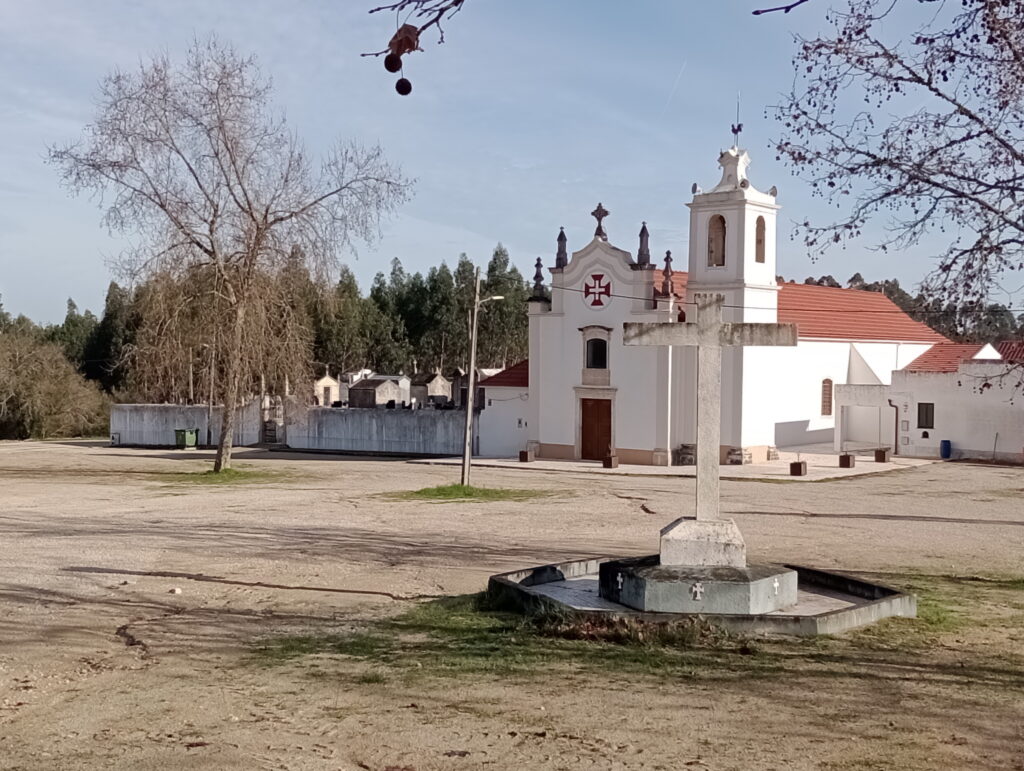 We once held a surprise picnic on October 31 with the whole group. The whole cemetery was decorated with candles and flowers, with a majestic full moon above it. Good times. I'm quite early for this trip down Memory Lane – it's only 9 o'clock. Exactly 9 o'clock. Any idea what that means?
I walk unsuspectingly close to the tower, and am almost knocked out of my socks
The church is quite a distance from Samuel, and that village is spread over the hilly landscape. So the church bells always had to do their best to reach everyone. For many years now, bells have not chimed anywhere, but have been replaced by loudspeakers.
Although there must be at least one bell tower somewhere with real church bells and a carillonneur
Otherwise they can't record it, can they?
I'm glad it's only 9 now, because it hurts my ears. It rumbles through your body, and you can hear that they have set the installation to maximum power. I almost feel the Avé Maria more than I hear it.
The new dog Mira is not bothered by anything and is happily sniffing everywhere with a wagging tail. She listens well, comes right when I whistle, responds immediately to a command, so it can't be her hearing. Dogs are insensitive creatures.
In recent months we have had all kinds of tunes on the surrounding bell towers
The Avé Maria is the normal tune, but by November it's replaced here and there by Silent Night, Holy Night, Jingle Bells, Alle Menschen were Brüder and O Come Together All Ye Faithful.
I personally get very annoyed by Jingle Bells, because it gets stuck in your head so easily.
When you're lying in bed and try to sleep, those stupid bells are still jingleling
Glad the festivities are over, if only for that reason.
In recent years, we have also experienced that they apparently forgot about the tapes, so the nights in mid-march were still Holy, and the shepherds kept watch all the time.
Let's rather Come Together then. After all, you can do that all year round.
See you then, dear readers, see you in the new year. We also keep a faithfull watch, like the little sheperds in the fields, but then all year round.
.
We moved here in 2000 from Rotterdam, Holland to the Termas-da-Azenha, Portugal.
A big step, especially with two small children.
We are busy to rebuild one of portugals cultural heirlooms: Termas-da-Azenha, an old spa which has been turned into several holiday houses, rooms and a campsite.
You'll find mosaics and paintings everywhere.
Since 2018 we call ourselves the first B&B&B in the world – Bed & Breakfast & Bathrobes. You can buy a home-made unique bathrobe/housecoat with us.
Each week a little blog about what is happening around us. An easy read. A few minutes in another world. A little about what it going on in Portugal. If you plan your holiday to Portugal, it might be a nice preparation
You can subscribe to this blog- see at the right side of this page »
You'll get it every weekend in your mailbox.
On Sunday morning we publish it on our Facebook and on Instagram.